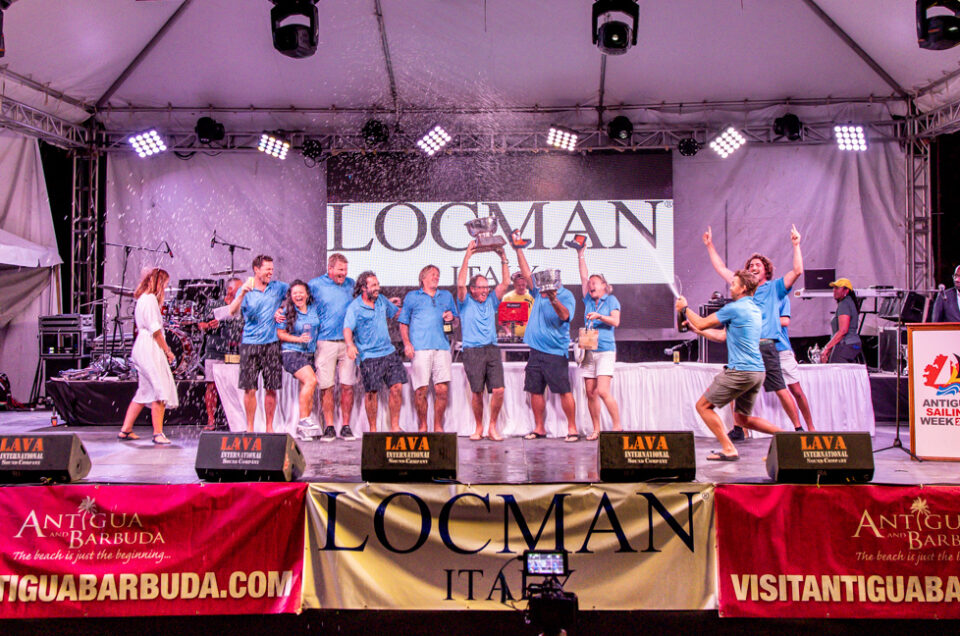 After a two-year hiatus the 53rd edition of Antigua Sailing Week was brimming with success. The trade winds blew all week, with the international fleet enjoying exhilarating racing in sailing paradise. The compliments from sailors from the four corners of the earth are over-flowing for Antigua Sailing Week which is back and here to stay. All of the class winners, bareboat overall and the Lord Nelson Trophy winner at Antigua Sailing Week were awarded Locman Italy watches at the Antigua & Barbuda Tourism Final Awards Ceremony in Nelson's Dockyard, Antigua.
Guests of Honour at the ceremony were: Hon. Chet Greene Minister of Foreign Affairs, Immigration and Trade and Hon. Darryl Matthew, Minister of Sports, Culture, National Festival and the Arts. To a loud applause by the capacity crowd, Chet Greene announced: "After two years Antigua Sailing Week is back. I commend the organisers, Alison Sly-Adams and her team, and the event sponsors. Racing this year were 85 boats from 20 countries. It has been an incredible week and the Government of Antigua & Barbuda will continue to invest in Antigua Sailing Week as a main element of our chosen events. I welcome all competitors and look forward to their return in 2023."
The overall winner of Antigua Sailing Week was Peter Corr's invincible team racing the King 40 Blitz from St Thomas USVI. Scoring straight bullets in CSA 4, Peter Corr and his team lifted the Lord Nelson Trophy and was awarded a Locman Italy watch.
'This is a total surprise," commented Blitz's Peter Corr. "We have had a wonderful set of races and the team have raced hard all week to make this award happen but it has not been easy. It has been about 10 years since I have been to Antigua Sailing Week and I really don't know why it has taken so long to come back, however, I am delighted we did. A big thank you to all the people who have put this regatta together. Winning the Lord Nelson Trophy is really touching."
Ross Applebey's Scarlet Oyster also scored straight bullets in CSA 5; an amazing achievement for a Corinthian crew from Guernsey Yacht Club in a 35-year-old Oyster 48. Besides winning CSA 5 and the Governor General's Cup, Scarlet Oyster was also the best British yacht at Antigua Sailing Week, winning the Fletcher Trophy, and was second overall in CSA by just one point, winning the Peter Deeth Trophy, plus the Royal Southern Yacht Club Shield. Second in CSA 5 was Andy Middleton's Global Yacht Racing Team racing First 47.7 EH01 (GBR) winning the Grant Thornton Trophy. Third was Carlo Falcone's legendary Antiguan boat Caccia a la Volpe.
"This is the fifth time for the Guernsey Yacht Club team and they have scored straight bullets for two regattas in a row; and they have got stronger and stronger," commented Scarlet Oyster's Ross Applebey. "I would go as far to say it is the best performance this boat has ever had in the Caribbean. Conditions were perfect for the boat, starting on the money-trucking upwind and sliding downwind, there was not much more we could have done."
Winner of CSA Racing 2, lifting the English Harbour Rum Trophy and third overall in CSA was FAST40+ Tschuss (USA), with Christian Zugal at the helm. Tschuss was also the overall winner of the Peters & May Round Antigua Race. Tschuss' skipper Johnny Mordaunt commented at the Prize Giving: "Tschuss was built to fly and blasting around the racecourse at Antigua Sailing Week has been very special; it's been magical. Many thanks to everyone involved in this great regatta."
CSA Racing 1 and the Curtain Bluff Trophy was won by VO65 Ambersail II, skippered by Raimundas Slugzdinis. This is the first time the famous Curtain Bluff Bell has been won by a Lithuanian team. Second in CSA Racing 1 and winner of the Global Bank Trophy was Steve Travis with a team from the Seattle Yacht Club, racing Volvo 70 Ocean Breeze.
"Lithuanian teams have been coming here for some time and this will not be the last," commented Ambersail II's Raimundas Slugzdinis. "The situation with Covid and Ukraine has made things difficult for us. It has not been easy for us, but it is so important for us to have come here and we are very grateful to the organisers of this great regatta."
CSA Racing 3 went to the wire with the class winner decided in the last race by just 18 seconds. Shahid Hamid's British Swan 58 was the winner lifting the Chippy Fine Yacht Woodwork Trophy. Second by just two points was British Lombard 46 Pata Negra, skippered by Jonathon Pudney with a team from the Itchenor Sailing Club. Third in class was Adrian Lee's Irish Swan 60 Lee Overlay Partners.
"This is my first Antiguan Sailing Week and it is an occasion and a half. A great end to our Caribbean season," commented OMII's Shahid Hamid. "We had to race the hell out of the boat to beat the competition. It was hard work and we have the greatest respect for our competitors. It was sheer concentration to get us through and this regatta has been stunning; unbelievable and we will definitely be back!"
The new CSA Sportsboat Class at Antigua Sailing Week was a roaring success with young bloods and also some wily foxes blasting through the surf for 15 short, sharp, windward leeward races for five days of high-octane action. Jules Mitchell's 1720 NSA Spirit knew they were in for a full-on battle when they got soundly beaten in the first three encounters with the highly polished young team from Martinique, racing Surprise 24 GFA Caraïbes – La Morrigane, skippered by Tristan Marmousez. NSA Spirit fought back scoring a string of five bullets over the last two days to win the class by three points and the Big Banana Trophy. GFA Caraïbes – La Morrigane was second winning the Henley Trophy. Ashley Rhodes' young Antiguan team, racing Melges 24 Whiplash, was third.
"We have had a range of conditions which really equalised the different advantages of all the boats, commented NSA Spirit's Jules Mitchell. "We have raced in a very competitive fleet and we are really satisfied with the result. The team from Martinique kicked our behinds on the first day so we had to bring it on after that. It was really beautiful racing. We had to sail the best we ever have in order to win. The sportsboat scene is getting bigger in the Caribbean and all the dinghy sailors are not going to stay in those boats, they will get into sportsboats."
Peter Corr's Blitz romped home in CSA 4 winning all 10 races, second was Pamala Baldwin's Antiguan J/122 Liquid, winning the Delta Cup and the Hightide Trophy for best CSA Antiguan Racing Yacht. Liquid beat Chris Body's sistership, El Ocaso (GBR), into third place by a single point after 10 races. El Ocaso missed scoring an additional point by just three seconds in the final race of the regatta.
Winner of the new CSA Pogo 12.5 Class was Hermes, skippered by Alistair Langhorne with a team from the Itchenor Sailing Club in the UK. Second by three points after nine races was Tim Knight's British team racing Kai, resplendent in their Japanese kimonos at the prize giving! Third was Chris Swallow's Akouavi, a boat he delivered singlehandedly across the Atlantic.
"It's been a beautiful week and the wind held, which was great for us," commented Hermes'Alistair Langhorne. "It was great to race against similar Pogos and it would be good if there were half a dozen next time, maybe a few Class40s as well. A big thank you to the Hermes team. I call them the bell ringers as they pull a lot of string! We have loved this week; I am sure we will be back."
Just two multihulls featured at the revival of Antigua Sailing Week, but what a sight as they streaked across the Caribbean surf on specially designed courses. The newly launched Gunboat 68 Tosca, co-skippered by Ken Howery and Alex Thomson, won the class. Michael Penman and Shane Young raced their Atlantic 72 Penmanship with all the family on board, beating Tosca twice and winning the heart and soul of everyone at the regatta.
"We had a couple of days when it really blew and that was very exciting," commented Tosca's Ken Howery. "This week we have been flying around on one hull, which was a new experience for me. We have had beautiful weather. This is a great setting for a regatta and it would be great to have more Gunboats here."
"The kids on Penmanship beat us fair and square on the water on Day 4," commented round the world sailor and Tosca co-skipper Alex Thomson. "Every time we went past them, the kids were smiling and waving, they are the future."
Sir Richard Matthews' is back winning at Antigua Sailing Week racing his ST370 Holding Pattern to eight victories in CSA Performance Cruising A to lift the American Airlines Trophy. Second, and aptly lifting the Baileys Cup, was another Knight of Antigua, Sir Hugh Bailey racing his Antiguan Farr 45 Rebel. Third was Jim Ryan's J/120 Jaguar, the original winner of the Antigua and Barbuda Hamptons Challenge.
"We have some good crew, a great boat and we love being here, we have really enjoyed it," commented Holding Pattern's owner Sir Richard Matthews. "We had good racing against Rebel which sailed really well, but the conditions were perfect for our boat. I have done over 40 Antigua weeks and this one is right up there with the best."
Teams from the neighbouring French island of Guadeloupe have a history of racing to Antigua even before the first edition of Antigua Sailing Week in 1968. Sacha Daunar's First Class 10 PepsiMax ~ Montebello wrote the latest chapter in that association winning CSA Performance Cruising B and lifting the Brysons Trophy. Second in class was Gerard Quenot's JPK 1030 Blue Skies from La Rochelle France. Remco van Dortmondt's J/105 Jenk from Curacao was third.
"At the beginning of the week, our goal was to win our class and now we are at the top it is fantastic," commented Sacha Daunar, skipper of PepsiMax ~ Montebello. "It has been difficult not having this regatta for the last two years and all the sailors are so happy that it is back. To win this year has been very special for of our team and we will be back. My next big race is the Route du Rhum."
Ten boats were racing in Club Class which is designed for teams that want to keep the racing fun and relaxed; one of two spinnaker-optional classes at ASW. An army of crew is not required and the class is an ideal way to introduce novices to racing regattas. All boats have a time correction which changes after each result, depending on their previous finish. Four teams won races and the top four boats were just one point apart after five races. The winner after tie-break was Torben Lundgren's Danish First 456 Daisy. Equal on points but second by the narrowest of margins was Sandy Mair's Antiguan First 35 Cricket, and third by a paper-thin margin was Nicholas' McGhee's Ranger 33 Java Jive from the Pequannock Yacht Club USA. Java Jive made the podium after countback from Eduardo Lentz's Jeanneau 44 Voilactus which hails from Lake Superior USA.
"It's the most fantastic feeling to win our class. The whole week has been full of happy people!" smiled Daisy's Torben Lundgren. "It is a long way to sail back to Denmark and we have not been home for a very long time, but this regatta will stay with us forever and we hope to be back."
Twenty-nine Bareboats were racing at Antigua Sailing Week, the biggest bareboat regatta fleet on the 2022 Caribbean circuit. A full report from the Bareboats is on the official Antigua Sailing Week website. Class winners in the Bareboat Class were from four different countries.
In Bareboat 2, Joaquín Vázquez's team from Madrid Spain was the victor racing Aproache Nevis, winning the AHTA Cup, and in a tight result was the winner of Bareboat Overall, lifting the Dream Yacht Charter Trophy and was awarded a Locman Italy watch.
"We are very happy and the ambience here has been so warm and inviting. It is wonderful to come and race in Antigua. I run a charter company and I have sailed all over the world and this is one of the best regattas I have been to."
In Bareboat 3, Neil Harvey and Michael Cannon's KHS&S Contractors ~ Girl was the winner of the BOAC Cup and was second overall. KH+P Culebra was the best German boat winning the KH+P Trophy and was third in Bareboat Overall. In Bareboat 4, Adrian Leutenegger's Swiss team from Lake Constance racing Braque was the winner, lifting the National Parks Authority Trophy. In Bareboat 1 Stevie Beckett's Royal Southern YC team racing Schrodinger was the winner lifting the Antigua Slipway Trophy.
The Caribbean's most famous regatta welcomes interest from supporting partners and race entries from around the world. Commercial Director & President of Antigua Sailing Week Alison Sly-Adams commented. "The trade winds kicked in, the racing was competitive and tight, resulting in some class decisions being fought right up to the wire, and the atmosphere was electric! It's been an idyllic comeback week and we're already planning for the next one."
The 54th edition of Antigua Sailing Week will take place April 29th – May 5th, 2023.
---