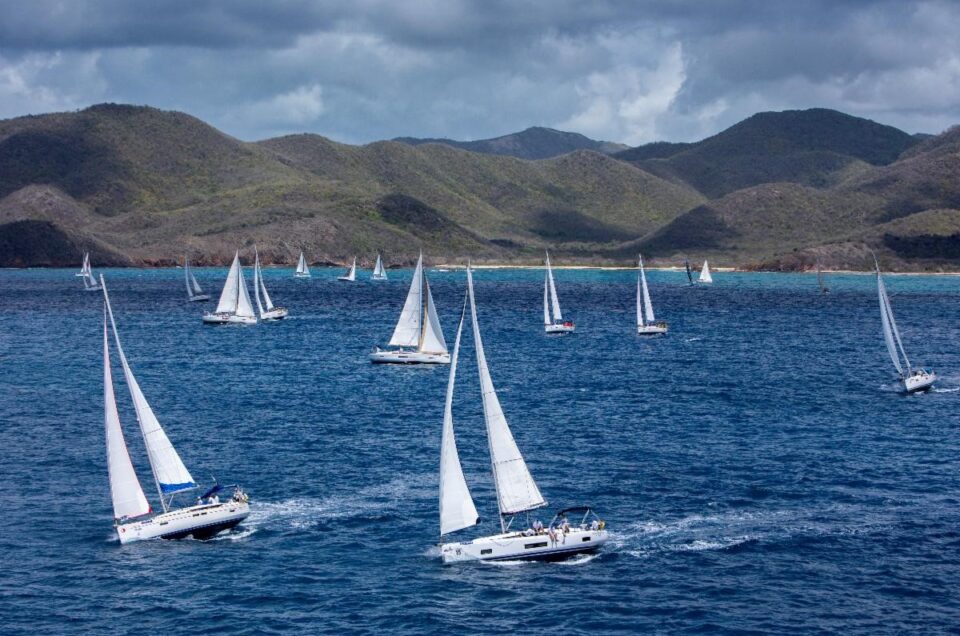 United Nations of Antigua Sailing Week
The final day of racing at Antigua Sailing Week featured a full schedule of racing for all classes. Teams from over 20 different countries have been competing this year; a welcome return after the disruption of travel for the last two years. On the final day, the trade winds delivered, as they have done all week, with competitors enjoying 18 knots of breeze and a moderate sea state. Provisional race winners on Antigua & Barbuda Tourism Race Day were: Ocean Breeze, Mahana, OMII, Blitz, Scarlet Oyster, Hermes, Kai, NSA Spirit, GFA Caraïbes – La Morrigane, Tosca, Holding Pattern, PepsiMax ~ Montebello, Schrodinger, Aproache Nevis, KHS&S Contractors, Braque, and Belafonte.
Provisional Final Results from Antigua Sailing Week, including overall class winners can be viewed at: https://yachtscoring.com/event_results_cumulative.cfm?eID=14323
Antigua Sailing Week Focus– CSA Bareboat Focus
With 29 entries, Antigua Sailing Week has the biggest Bareboat fleet of the 2022 Caribbean Season. Supported by Dream Yacht Charter, Bareboat teams raced in four classes. Hats off to Hartmut Holtmann's KH+P Yacht Charter which has organised the logistics for Bareboat teams at Antigua Sailing Week for over two decades. Half of the Bareboat teams at this regatta are organised by KH+P. Bareboat racing at Antigua Sailing Week is an international affair with teams competing from Germany, Italy, the Netherlands, Spain, Sweden, Switzerland, United Kingdom and the United States.
Racing in one design, or boats of very similar type and speed produces very close racing with seconds deciding the winners. With all of the Bareboats based in Nelson's Dockyard there is a party atmosphere after racing. Plenty of Carib beers on the dock ensures the Bareboat family enjoy a fun and friendly après-race party every day.
Double-Olympian Sir Karl James, Sailing Manager of Antigua Yacht Club has been racing in Bareboat 3 with Alice Martin's Painkiller team from Chicago, USA: "I believe Bareboat is the most competitive class here; there are some of the best people in the world in this class," commented Karl. "I have sailed with Alice's team before and I enjoy sailing with nice people, and racing as competitively as this is always good."
Quotes from all the class winners racing Bareboats at Antigua Sailing Week
Bareboat 1
Schrodinger, sailed by a team from the Royal Southern Yacht Club from Hamble UK and skippered by Stevie Beckett won the class, having scored five race wins. Second was Sweet Disposition with a team from Haarlem Netherlands, skippered by Rene Verbrugh. In third place was KH+P Bermuda with a team from Germany, co-skippered by Helmut & Christa Haas.
Way back in 2018, the young team from the Royal Southern YC won an all-expenses paid trip to Antigua Sailing Week, including a Dream Yacht Charter Bareboat entry, by winning their club's Summer Series. Due to the pandemic, they had waited so long to finally come to the regatta. The team normally race a King 40 Cobra in the Solent UK.
This was the first Antigua Sailing Week for Chloe Drakari-Phillips who raced on Schrodinger and commented. "It has been really, really good, hot, sunny, eventful. Nicer weather than the Solent for sure!" Team mate Hugh Ward added: "We were a bit jealous watching King 40 Blitz winning all their races. It would be brilliant to come back and race our King 40 Cobra or a decent raceboat here."
Bareboat 2
In the one-design Dufour 460 Class, Joaquín Vázquez's team from Madrid Spain, racing Aproache Nevis was the winner. The all-Spanish team scored eight wins out of nine races. Marcus and Suzan Zinth's team from Bavaria, Germany racing KH+P Culebra was second. In third place was Ulrich Dobler's KH+P Exuma with a team from Esslingen, Germany.
"It has been a fantastic week, the wind and the weather have been perfect, like always. I have come to Antigua many times. I organise Spanish teams to come here and I really recommend Antigua Sailing Week. I travel all over the world and this is one of the best regattas anywhere," said Joaquín Vázquez.
Bareboat 3
Neil Harvey and Michael Cannon's KHS&S Contractors ~ Girl, from Florida USA, scored eight wins out of nine races to win the class. Thomas Sparrer's KH+P Meant To Be, with a team from the Weiden YC Stuttgart Germany was second. A close third was Alice Martin's Painkilller 3 with a team from Chicago, USA.
"Thank you, Antigua! What a wonderful week this has been," smiled Neil Harvey. "We love coming to Antigua for the fantastic coastline, the consistent wind and the beautiful teal-coloured water, but most of all the people of Antigua and those that come here from the four corners of the world."
Bareboat 4
Adrian Leutenegger's Braque, with a Swiss team from Lake Constance, was the winner, scoring five wins out of nine races. In second place was Martin Sager's KH+P Rubens with a team from Segelclub Hallwil Switzerland. In third place was Fabio Muzio's SqueakyBrat II with a team from Circeo Yacht Vela Club, near Gaeta Italy.
"The whole team did a great job today as they have done all week," commented Braque's Adrian Leutenegger. "This has been a very nice regatta and we have really enjoyed our first trip to Antigua. I am sure we will return in the future."
After five days of thrilling racing, the 53rd edition of Antigua Sailing Week has come to a conclusion. Tonight, Friday 6 May, the Antigua & Barbuda Tourism Final Awards Ceremony will be held in Nelson's Dockyard, English Harbour. Class winners will be awarded trophies and Locman Italy watches. Special prize winners will be announced and the overall winner will be decided and lift the Lord Nelson Trophy.
---