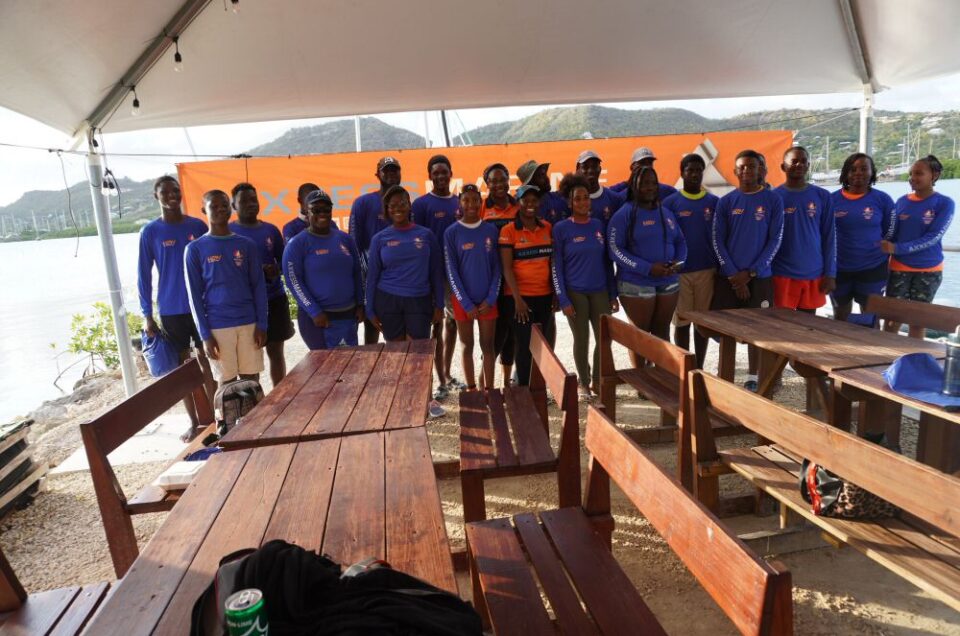 Press Release: St. John's, Antigua, April 26, 2023: "We, at Axxess Marine, are excited to sponsor Antigua Sailing Week's Youth to Keel (Y2K) participants. This is our second year as the title sponsor of this great initiative that encourages young people to become part of the sailing community", stated Reeva Armstrong of Axxess Marine.
Armstrong added that: "It is so good to see the experience they have gained since last year and how they have excelled."  Over 30 junior sailors attended the recent launch of the Antigua Sailing Week (ASW) 2023 AXXESS MARINE Youth to Keelboat (Y2K) programs, held at the National Sailing Academy (NSA).
Jamie Torres, ASW Race Manager, encouraged the participants to fully embrace the opportunity "You will have a full week of racing where you will have the opportunity to learn from some of the best sailors in the world. So be on time, learn, ask questions, and listen.  And as you have seen, quite a few of our Y2K alumni have gone onto skipper boats and work in other areas of the yachting industry."
Tajanica Thomas, a former Y2K participant and a sailing instructor at NSA will be on the Wingfoil team and Emily Gailard, 15 will skipper a boat in this year's race, making her the youngest skipper in the fleet, developments that are celebrated by Alison Sly-Adams, President of ASW: "This programme has evolved over the last five years where we started with a handful of youngsters keen on learning to sail. We have watched many of them graduate to become professional sailors, instructors as well as joining the industry both on the water and off. They are seeing the opportunities available to them career wise, and this is what Y2K is all about at its core – a development programme for youngsters across Antigua and Barbuda."
The participants received gift bags from Axxess Marine and were introduced to the Y2K coordinators Helen Spooner and Lorraine Mitchell, who will be their main contact at the Axxess Marine Y2K booth, which will be located at the Antigua Yacht Club (AYC) for the duration of ASW.
The 2023 crew of Y2K youths aged between 13-25 years old total 35, 17 who are placed on individual boats with ASW entrants and youngest of 13, and 18 who make up the crews of three boats, Ocean Warrior, Spirit and Absolute Properties, with the latter having 12-year-olds on board.
The Youth to Keelboat Programme (Y2K) was launched in January 2018 by Antigua Sailing Week in conjunction with the Antigua and Barbuda Sailing Association and the Caribbean Sailing Association.
END
---