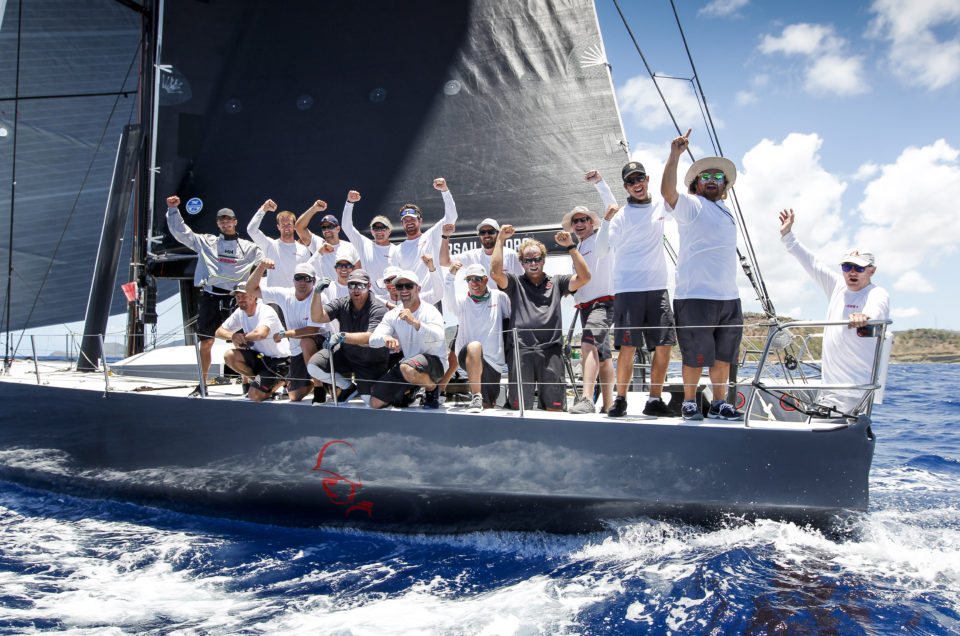 The Peters & May Round Antigua Race produced a record breaking start to Antigua Sailing Week. American modified Volvo 70 Warrior, sailed by Stephen Murray blasted around the 53-mile course in a record time of 3 hrs 55 mins and 38 secs, demolishing the previous record held by Peter Harrison's British superyacht Sojana by over 42 minutes. With 20 knots of trade winds pumping up to over 25 knots, Warrior was in her element and after CSA time correction was also awarded the Peters & May Trophy. Anthony McVeigh's GF51 trimaran 2 2 Tango took line honours for the multihull class.
"Today was just a perfect day, the breeze was just right, it was sunny and we couldn't have asked for more. We are here for Antigua Sailing Week but we also had our eye on winning today. It's a fun race with a lot of reaching which is what the boat was made for. What a happy way to start the week – today was in the brochure," said Warrior's Stephen Murray.
Warrior was the winner of CSA One, Stefan Jentzsch's German Carkeek 47 Black Pearl was second after an epic battle with Australian skipper Brian McMaster racing his Cookson 50 Riff Raff in third place.
CSA Two produced an incredibly close finish with Jeremy Thorp's British GP42 Phan taking class line honours, but after CSA time correction Peter McWhinnie's crew from Larchmont YC USA, racing JPK 1080 Leon was the class winner by just 44 seconds. Bernie Evan-Wong's Antiguan RP37 Taz took third place.
"This my first Antigua Sailing Week and it's a happy chance in many ways," commented Peter McWhinnie. "I bought Leon just a month ago when it was in Martinique and I have to get it back to New York somehow, so some of the crew will sail the boat back. Today the weather and the scenery were just fantastic. This is a great team, so kudos to them. It is the first time we have raced the boat and we are here to have fun, sail safe and see how the competition goes."
Victory in CSA Three went to Frank Loubaresse's French Sunfast 3600 TWINL – Jaws 2, representing the CNTL Yacht Club of Marseille. Irish skipper Dave Cullen from St.Barths, racing J/109 Pocket Rocket was second and Peter Hopps skippering Cal 40 Huey Too took third place.
In the Multihull Class, Anthony McVeigh's brand new GF51 2 2 Tango corrected out to win from the smallest multihull in the race, Dragonfly 28s Bobby Dazzler. Donato Paradiso's Northstar GF51 Immagina was third.
To celebrate the opening of Antigua Sailing Week crews took part in a procession, following dancers and drummers to the Peters & May Round Antigua Race Prize Giving and official Antigua Sailing Week Welcome Party in the historic Nelson's Dockyard. Perfect Storm cocktails, served at the Fever-Tree bar were courtesy of the day's sponsor, Peters & May.
During the evening, prizes were also presented to winners in the first Round Antigua Bike Ride before presentations were awarded to sailors in the Peters & May Round Antigua Race. The Minister of Tourism, the Honourable Charles Fernandez then welcomed sailors from around the world to Antigua and the 51st edition of Antigua Sailing Week.
The party atmosphere was buzzing with live music from Drastic and The Climax Band and DJ Nez spinning the tunes. Forty two teams entered the Peters & May Round Antigua Race and tomorrow, Sunday 28th April 119 boats will race on the first day of the 51st edition of Antigua Sailing Week.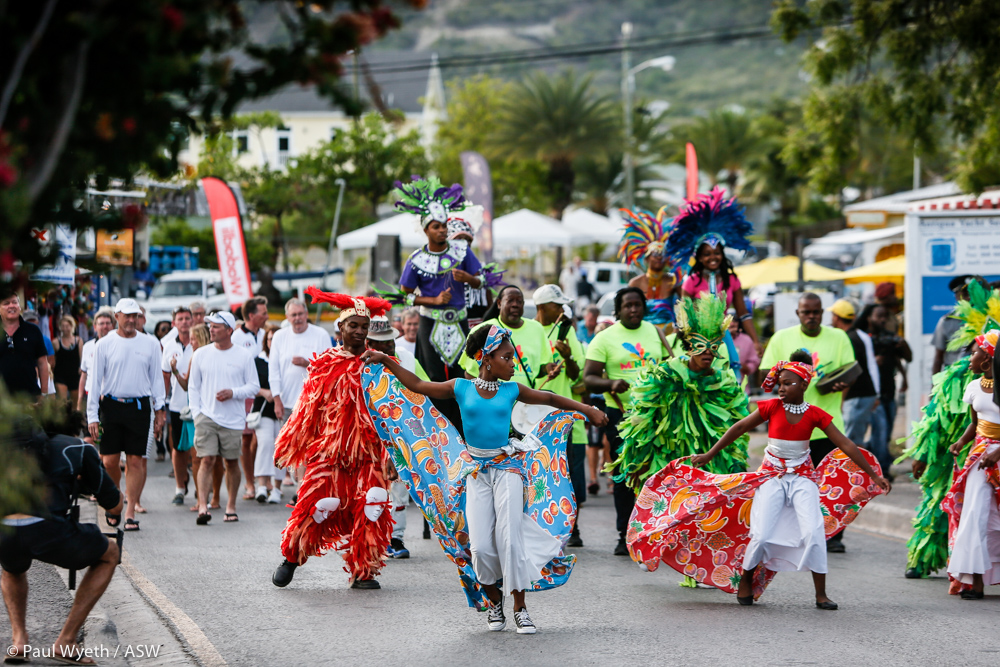 ---