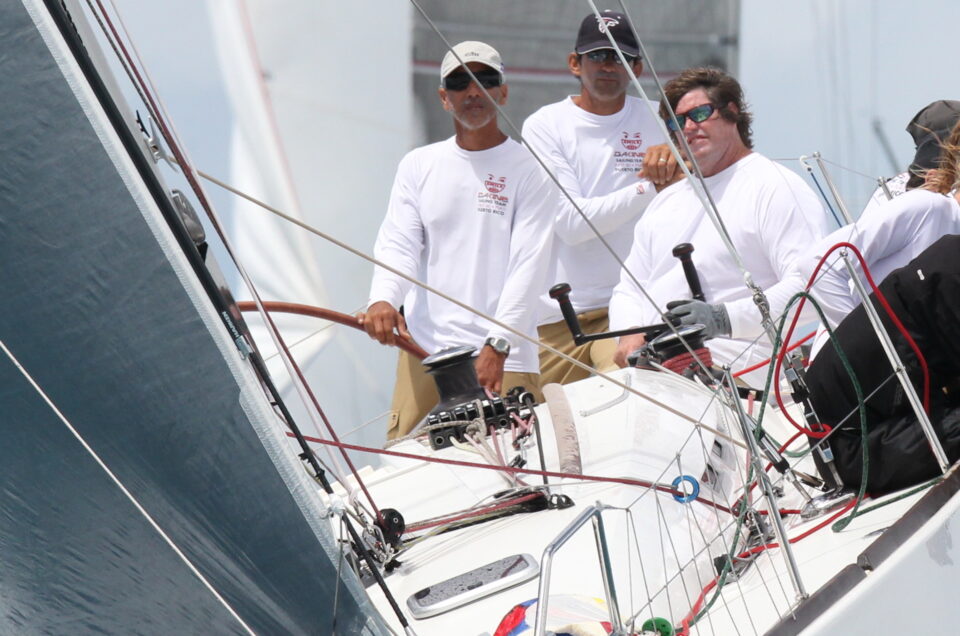 How did you go from racer to ASW Race Manager?
It's a simple story. The economy in Puerto Rico has been weak since Maria. That prompted the shutdown of my business, so I couldn't afford to keep racing my boats. But sailing is my life, and ASW is my favorite event. After so many years of coming over to race and being so vocal about EVERYTHING Alison, the President and fellow CSA board member figured I might be able to contribute and offered me the opportunity to fill the vacant Race Manager position. Frankly, I was honored but hesitant at first as those were some pretty big shoes to fill. I consulted with a few sailing-industry friends that I trust and respect. Their answer was clear: go for it! So here I am. I think that my perspective as a racer, charter skipper, and event organizer gives me an excellent base to contribute from. Plus, I am a list maker, a skill that is coming in quite handy.
Word on the street is you are shaking things up. Are you?
Not really. After 52 years of running a successful event, you know the team is doing most things right. I think my contribution has been to take the existing Race Management Team and give them more freedom and opportunity for each of them do what they do best. I came to listen to those with experience. What I heard was we were ripe for a refresh. To push growth in new areas, shake up our class structure, and make the racing more fun for more people. I became a yes man to anyone that wanted to push improvement even when that came in the form of significant changes or breaking with tradition that was not meeting our current needs. But it is hardly me originating the changes. I am more of an enabler.
What is new?
The overall theme of our plan is tailoring the regatta to the racers on a class by class basis. Let's start with the Sport Boat Class. These pocket rockets like the Melges 24 and the J70 are fun, and fast boats, and their numbers are growing. They are good for the sailors and the sport of sailing. They are tiny and wet but super exciting to sail. But these boats are not meant to be out there in long races on the same courses or starts, with slow cruiser racers. They need to have their separate starts, shorter races, and more of them. So, give them that: a regatta that is just right for them.  And we are doing this across the full spectrum of classes from multihulls to Volvo 65s to cruising boats. Our team is speaking to boat captains, owners, sailors, and opinion leaders. We are responding by customizing the racing experience to the needs of each class so that everybody goes home with the best memories possible. We are particularly proud that we will have a level-rated bareboat class, a Club Class that offers variable ratings so that everybody has a chance for a podium position, a dedicated full race boat class for several 40 footers that sail like 50 footers. And, at the request of the sailors themselves, opening several CSA classes to be Spinnaker Optional so that most sailors that want to sail with their Jib and Main rating can still have a full Antigua Sailing Week joy ride.
Wow, those are massive changes!
Some are, but most are just minute adjustments to what we were already doing. It's only possible when you work with high-level talent at the organizational level — more evolutionary than revolutionary.
What other goodies do you have for us?
Glad you asked! We are now awarding a 1st Overall to a multihull for the Peter's and May Round Antigua Race. And we are taking off the shroud of mystery on how the Lord Nelson Trophy is awarded. It used to be awarded on partly subjective parameters that sometimes left a few worthy boats out of the running. But now we have 100% numerical calculation based on Corrected Time expressed in Seconds/racing mile. On the water, we are raising the bar by separating finish lines from start lines, offering new courses that will create fairer and more fun racing conditions, and having movable marks so that winds from weird directions don't automatically result in off-axis courses that don't work. Every single one of those changes came from a Race Management Team member that was listened to. We are even streamlining our check-in process. We all agree that our guests need to spend more time having fun and less time administrating their racing!
It looks like ASW 2020 will be a stellar event!
Some fascinating boats are pushing our early registration numbers up slightly, our party schedule is off the charts, the class splits are looking good, and the weather we ordered should arrive just in time! We are looking forward to delivering an exceptional event this April!
---