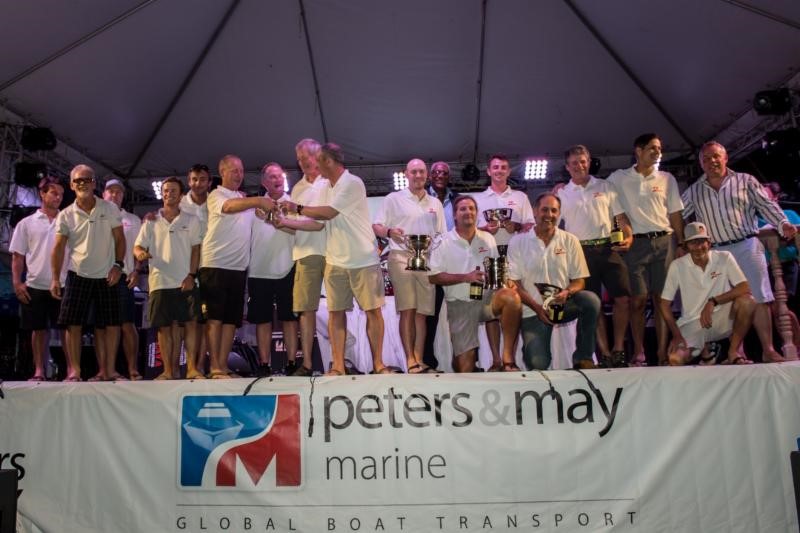 The Bajan TP52 Zingara (Conviction), chartered by Canadian Richard Reid, won the Peters & May Round Antigua Race in dramatic style. The team including Olympian and Volvo Ocean Race winner Richard Clarke, took Line Honours and the Peters & May Trophy for the overall win, after a tangle with the 100ft SHK Scallywag right at the start. Second overall was Pamala Baldwin's J/122 Liquid, with a young team skippered by Jules White. Ker 46 Lady Mariposa, skippered by two-time Olympic Gold Medallist Jesper Bank, was third.
The Peters & May Round Antigua Race is the spectacular prequel to Antigua Sailing Week. The five-day regatta with a full cast of entries will start on Sunday 28 April. Thirty three yachts entered the 53-mile race around Antigua, with high drama right from the get-go. The Dovell 100 SHK Scallywag tore their enormous mainsail after a tangle with TP52 Zingara (Conviction). The magnificent 115ft Farr ketch Sojana was noticeably absent after fouling their propeller before the start.
"We didn't really expect to have a run-in like that with Scallywag, we ended up having to race with no instruments after the windex was ripped off the top of the rig," commented Richard Reid. "However after that it was awesome! First of all because we raced around a beautiful island and we worked really well together as a team. You know, adversity always does pull a gifted team together – we are really looking forward to a great week!"
Pamala Baldwin's J/122 Liquid, skippered by Jules White, put in a great performance, scoring second overall and winning CSA 2 ahead of two well sailed teams; Ross Applebey's Oyster 48 Scarlet Oyster and Bernie Evan-Wong's RP37 Taz.
"We didn't really sail to our potential but we came in first place for our class. There is plenty to come from Liquid because it's a great crew. We have come in on podium the whole season and we are definitely here to sail hard this week, work her really hard on our home at Antigua Sailing Week!"
In CSA 1, Zingara (Conviction) was the winner, with Lady Mariposa, a newcomer to Antigua Sailing Week, in second place. On Deck's Farr 65 Spirit of Juno, skippered by Arran Chapman was third; a great start to the defence of their class win at last year's Antigua Sailing Week.
In CSA 3, Michael and Chloe Hough's Spirit 64.5 Chloe Giselle, class winner at last week's Antigua Classic Yacht Regatta was the winner, ahead of Swan 60 Lee Overlay Partners II, skippered by Adrian Lee who has won class several times at Antigua Sailing Week with his former yacht, a Cookson 50. Mark Jagger's Bordeaux 60 Theia of London, skippered by James Richmond, was third.
In the Double-Handed Class, Philip Asche's Swan 44 Freebird was the winner, racing with Ronald Canizares, representing the New York Yacht Club. Hotel California too was second. Owner Stephen Schmidt is famous for sailing around the Caribbean single-handed and was joined for the race by Han de Bruyn Kop. In third place was Henry Rourke's Open40 Raucous, racing with Mark Hodgkin.
Race sponsor Peters & May was represented by Craig Stanbury, Global Operations Director for Racing, who explained the attraction of supporting Antigua Sailing Week:
"Antigua Sailing Week is the last big regatta of the Caribbean season and we have brought many of the yachts over here and we will be taking many of them back home. It is great for us to support the event, and personally I have been coming to Antigua for 18 years and it holds a big place in my heart; it's a second home for me," commented Craig Stanbury. "By supporting Antigua Sailing Week, people have got to know who Peters & May are, and we have seen a gain in momentum. Sailors from Europe and North America know we can get their boats out here and back again. Peters & May have been transporting yachts for over 45 years; we have a fleet of about 3,000 shipping cradles for all different designs of boats in Miami, Genoa, and Southampton."
A cultural parade from the Antigua Yacht Club to Nelson's Dockyard, showcasing Antiguan carnival and folk traditions, made for a vibrant and colourful start to the regatta entertainment. The Peters & May Round Antigua Race Prize Giving and the Official ASW Opening Party was held on the lawn of the historic Copper and Lumber Store Inn. After the Antigua and Barbuda national anthem, the day's winners were announced in the presence of his Excellency Sir Rodney Williams, Governor General of Antigua and Barbuda.
President and Commercial Director of Antigua Sailing Week, Alison Sly-Adams gave her thanks to all the sailors for choosing to come to Antigua Sailing Week and to all the hard working team in Antigua that have made the event possible. Senator Mary Claire-Hurst spoke on behalf of the Government of Antigua and Barbuda, offering a warm welcome to visitors from overseas.
Antiguan Reggae and Rock sensation, The Strays played a high octane set to give a lively ending to a memorable day with DJ Kaspa spinning the tunes into the night. English Harbour Rum Race Day, kicks off the 52nd Antigua Sailing Week on Sunday April 28.
---
You might also like