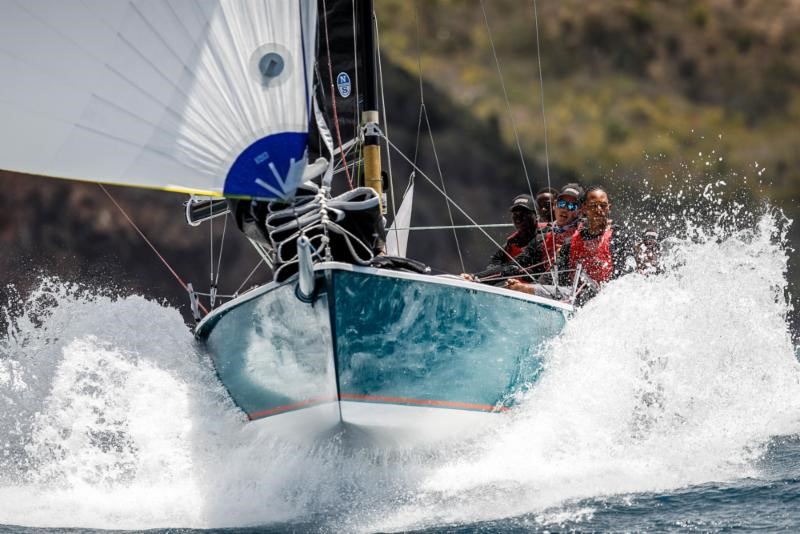 Big breeze and huge Caribbean surf spiced up the action for KPMG Y2K (Youth to Keelboat) Race Day, the penultimate day of racing at Antig­ua Sailing Week. Y2K is all about getting young Antiguan sailors into the yachting industry. Aptly two youth teams showed tremendous camaraderie and quick thinking in the face of adversity. The dismasted NSA Valiant gave their rudder to replace the broken one on NSA Spirit, keeping the young National Sailing Academy (NSA) team in with a chance of lifting the Lord Nelson Trophy. NSA Spirit is one of several teams still in contention for the overall win at the 52nd edition of Antigua Sailing Week.
"That was our race, we were flying, but a big gust blasted into the spinnaker and the top of the rig snapped off," explained NSA Valiant skipper Joshua Daniels. "We were gutted and then it just got insane when we saw Spirit had lost their rudder. We gave them our rudder and they won the next race, so a piece of us won that race with them," continued Joshua.
"Just crazy, what a wild day," commented NSA skipper Jules Mitchell. "Our rudder came fully off but we managed to steer the boat just using the sails. Rocco Falcone's father was watching from his motor boat and had the tools to fix the other rudder on. A big thank you to the Race Committee for giving us a bit of time to get into the last race. If the Valiant team had not helped us, we would have been out of contention for the class, so big respect and thank you to Valiant."
Two races were held for most classes with the CSA Racing fleet starting off Rendezvous Bay. The big boat class and the multihulls enjoyed one long race to the west coast of Antigua. The Bareboat Classes had two technical windward leeward races off Windward Beach. The Double-Handed and Club Classes had one long race offshore, tasting full-on ocean conditions.
Robert Szustkowski's Polish HH66 R-SIX is unbeaten in the Multihull Class and thoroughly enjoying Antigua Sailing Week. "The courses have been great, we have raced around the windward and leeward coasts and plenty of short technical legs on the south coast. Today was just spectacular racing. Even though R-SIX has a full interior, we were flying a hull in over 20 knots of  amazing conditions, it just doesn't get better than that," smiled Szustkowski.
In CSA 1, Sir Peter Harrison's British superyacht Sojana continued their impressive form racking up two bullets today. However Race 6 went to the wire with Sojana winning on time correction by just six seconds from Lithuanian Volvo 65 Ambersail2, skippered by Simonas Steponavicius. The 115ft superyacht Sojana has scored seven straight bullets and will be looking for a perfect eight tomorrow to defend their Lord Nelson Trophy win from last year. Ambersail2 is second in class, Jean Pierre Dick's French JP54 The Kid is third.
In CSA 2, Ker 46 Lady Mariposa, skippered by Dane Jesper Bank, scored another brace of bullets today to take a commanding lead in the class and challenge for a first Lord Nelson Trophy win. Astonishingly there is now a four-way tie on points for runner-up in class between Sir Hugh Bailey's Antiguan Farr 45 Rebel, British Lombard 46 Pata Negra, skippered by Adrian Fisk, Jeremy Thorp's British GP42 Phan and Vittorio Biscarini's Italian Mylius 15E25 Ars Una.
In CSA 3, Adrian Lee's Irish Swan 60 Lee Overlay Partners II secured the class win today having scored two bullets. The team have secured the class win and are contenders for the Lord Nelson Trophy. Mark Jagger's British CNB 60 Theia of London and OnDeck Antigua's Farr 65 Spirit of Juno both scored two podium finishes today and are second and third respectively in class.
In CSA 4, Ross Applebey's British Oyster 48 Scarlet Oyster won both races but had to come back from a bad hoist in Race 6 which saw their red spinnaker ending up in the water. In arguably the most competitive class, Scarlet Oyster is in with a chance of the Lord Nelson Trophy win. Pamala Baldwin's Antiguan J/122 Liquid, skippered by Jules White scored a 3-5 to fall behind Scarlet Oyster at the top of the class. Performance Yacht Racing's British First 47.7 EH01 scored a 2-5 to remain in third for the class.
In CSA 5, Sir Richard Matthew's British ST37 Holding Pattern won the first race of the day by less than a minute. The second race of the day went to Jonty and Vicki Layfield's Antiguan J/11s Sleeper by just 12 seconds after time correction. Sleeper leads the class from Holding Pattern by three points going into the final race tomorrow. The Layfield's won the Lord Nelson Trophy in 2015 and are in with a chance of winning again this year.  British First 40, Optimus Prime, skippered by Martyn Oldroyd is third in class.
In CSA 6, octogenarian Geoffrey Pidduck competing in his 50th Antigua Sailing Week had a stellar day racing his modified Antiguan Six Metre Biwi Magic, winning Race 6 and coming runner-up in Race 7. Tanner Jones' Antiguan J/30 Caribbean Alliance Insurance (Blue Peter) also had a good day, scoring 2-3. Raymond Magras and Patrick Bernier's St.Barths' Dufour 34 Speedy Nemo had a consistent day to stay second in class.
In the Double-Handed Class, Henry Rourke racing Open 40 Raucous with Freddie Mills scored his first win at Antigua Sailing Week. Philip Asche's American Swan 44 Freebird was third today, but still leads the class from David Kinsey's American Oyster 49 Buckaroo. All three teams have the ability to win the class in the last race tomorrow.
In the Club Class, Markus Bocks' German Swan 48 Montana won today's race. Guenter Babinski's German C&C 57 Acapulco was second, and Jon Constantine's Feeling 39 Imagine of Falmouth was third. James Gardner and Jerry Bethell's Jeanneau 54 INDY – Loosha Sails leads the class by just one point from Imagine of Falmouth going into the last race.
In three Bareboat Classes, today's two races were both windward leeward courses of Windward Beach. In Bareboat 3, Hans Steidle's KH+P Barbuda won both races to clinch the class. Cannon and Harvey's KHS&S Contractors, the reigning overall Bareboat champions will have to settle for second place this year. The battle for the last podium place will go into the last race as Andreas Hofmann's Hawking is currently in third place, just a point ahead of Roberto Maxera's Miaw.
In Bareboat 2, Peter Zauner's Tintoret had a consistent day scoring a 2-3 to lead the class by three points going into the last race. Jakob Oetiker's Swiss team racing KH+P Botero won the last race to stay in with a chance of class victory. Nicholas Jordan's Ananda won the first race today to all but claim the final podium position tomorrow. In Bareboat 1, Gerd Eiermann's KH+P Odin II won both of today's races and leads the class by two points from Alexander Pfeiffer's KH+P Bavastro. Karl Puertz's team racing KH+P Lascaris put in a great day, scoring runner-up in both races to move into third.
KPMG was well represented at the daily prize giving by KPMG Global CIO, John Applegate, Lisa Brathwaite, Christopher Brome, Michael Edghill and Bertram Alexander. Today's winners were presented with celebratory bottles of champagne and all of the 40-strong young sailors racing at Antigua Sailing Week were invited onto the stage to much applause. Antiguan guitarist Joshu provided the sounds with a perfect acoustic set from the main stage. After the prizegiving, a Captains' Cocktail Party, sponsored by CIU, took place at the historic Mollihawk Villa in English Harbour.
Racing at the 52nd edition Antigua Sailing Week will come to a conclusion tomorrow, Friday 3rd of May with Antigua & Barbuda Tourism Race Day 5.
---
You might also like