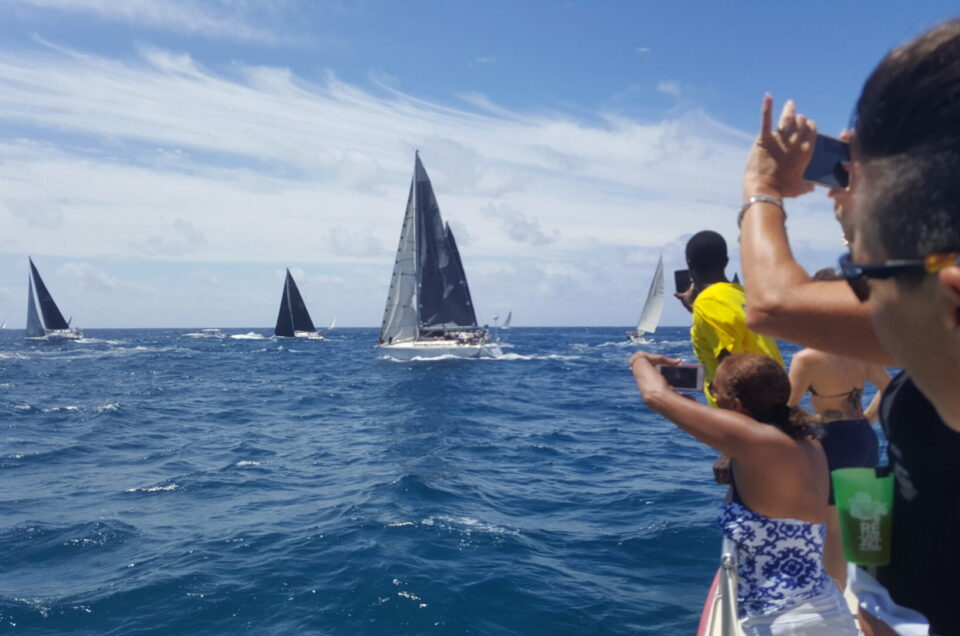 Antigua & Barbuda, the backdrop of Antigua Sailing Week is the place to Race, Chase & Celebrate in 2023. With less than 4 weeks to go, regatta organisers are very excited to share all of the ways that spectators and those not racing can have an unforgettable time by opting into any or many of the array of activities for the 54th Antigua Sailing Week from April 29 – May 5th. 
BEST VANTAGE POINTS
Individuals looking for a vigorous start to their day, can hike or walk up one of our established nature trails to elevated points over-looking the start area for the races. Both have spectacular views, but Blockhouse is extremely popular for tailgating while Shirley Heights Lookout allows you to enjoy drinks from their bar. On Sunday from 8am – 11am during the English Harbour Rum Race day you can discover delicious local Antiguan styled breakfast.
FOLLOW THE RACES
The thrill of Antigua Sailing Week isn't limited to competitors. We have organised  a number of ways for non-mariner guests to taste the action during the week.  For the thrill seekers who want to get close to the racing, they can book for our original Chase the Race on board a Wadadli Cats.


New for 2023, Antigua Sailing Week and CalvinAir get high above the Caribbean sea with an adrenaline filled aerial chase for individuals or groups of 6. Tours are about 30 minutes long and leave from the western coast at the CalvinAir launch pad.  Places are limited – so reserve your adventure by calling 268 789-HELI  or emailing reservations@calvinair.com referencing CHASE THE RACE. 
For an upscale experience at ASW the VIP Chase the Race for 8 guests with curated food and drink with an option to upgrade to include  a fabulous Rocks Group Dining Experience, this is the option for you! Participate while celebrating any of your special occasions – a birthday, a reunion, and corporate team building day.
BEACH STUFF
If a "sand in your toes at the beach day" is more your interest head down to Pigeon Point Beach on May 1st to witness or participate in the first ever Antigua Wingfoil Championship (AWC) which will take place for the next 3 days once the racing boats leave Falmouth Harbour. The AWC  will culminate at Lucky Eddi's Lay Day – when the beach will come alive with beach games, dinghy races, SUP challenges and the final awards for the Antigua Wingfoil Championship.
BE A YACHTY FOR AN AFTERNOON
Whether you're a spectator, a competitor, or simply in need of refreshment, be sure to check out the bars at Antigua Yacht Club every day from 3pm until. You will find friends & spectators gathering to support their favourite crews in a jovial atmosphere while enjoying ice cold Carib beer, English Harbour Rum & Day Chaser Cocktails. There will also be live with entertainment after our daily 5:30 prizegivings. Come enjoy some of our best local artists including Dread & the Baldhead, Those Guys Again, 1761 Degrees and more. And of course delicious food!
REGGAE IN THE PARK
For a lively and energetic night time experience don't miss out the 12th Annual Reggae in the Park concert in Nelson's Dockyard on May 2nd. The line-up of Protoje, Jesse Royal & Lila Ike as part of their One World Tour will not disappoint.  You can get your early bird tickets via the TickeTing Events App  before you head to the island.
WINE-ING AND DINE-ING
All of the regattas activities take place in the gastronomic capital of the island – so you can simply book in with one of our partner restaurants for lunch or dinner followed by a digestive in one of the many lively bars
Hopefully our motto 'Not a Sailor, Not a Problem' makes it clear that the thrill isn't limited to competitors. So, whether you're a first-timer visitor or a seasoned veteran, you are welcomed to join us in any and all of the activities.  See you here!
---