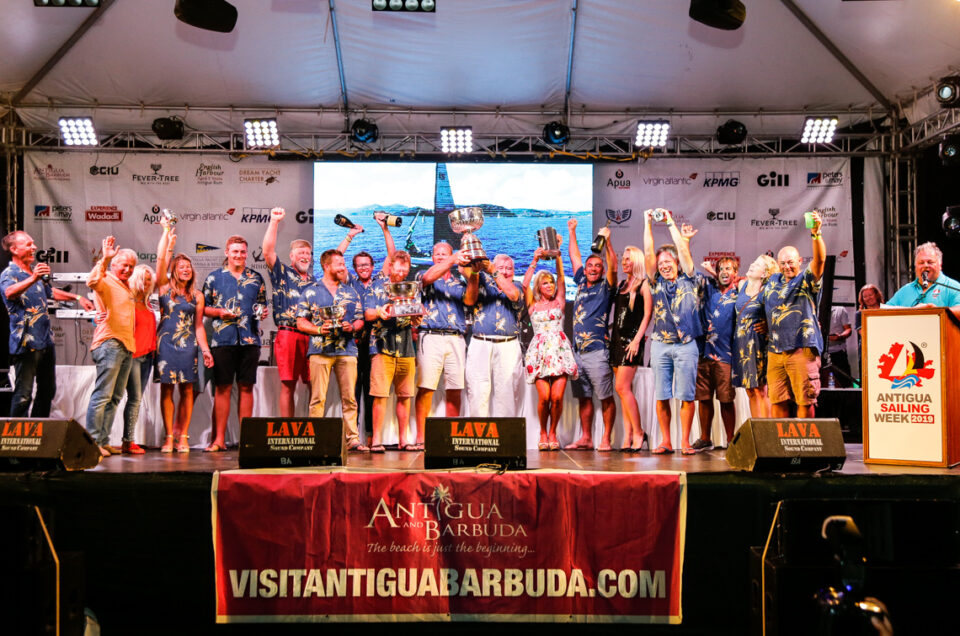 The 52nd edition of Antigua Sailing Week will be remembered for a cocktail of superb sailing, thrilling racing and a great party atmosphere ashore. Teams from 21 different countries from all over the world chose Antigua Sailing Week as their destination. The trade winds blew for all six days of racing; mixed in with tropical heat and a rollercoaster ride of Caribbean swell, Antigua delivered world class sailing. Racing was incredibly close with the majority of the classes enjoying thrilling competition. New marks introduced provided the opportunity for longer coastal courses, allowing the boats to stretch their legs and take in the beautiful west and rugged east coasts of Antigua. The introduction of new top and bottom marks on the Windward Course allowed for better windward-leeward race tracks, testing the technical abilities of the international fleet.
Peter Harrison's Farr 115 Sojana was the overall winner of Antigua Sailing Week, retaining the coveted Lord Nelson Trophy. It has been 20 years since Larry Ellison's Sayonara achieved the last successful defence, and Sir Peter and the Sojana crew were ecstatic with their achievement:
"It's fantastic; we won the Trophy last year and in 2011, so this is a hattrick. I didn't think we would ever do it!" exclaimed Sir Peter Harrison. "The wind has been very strong all week, so Sojana has been powering along and there hasn't been a day when we haven't done well. I am absolutely delighted," he concluded.
Sojana was the best boat racing in CSA Overall, winning the Corum Cup, second overall in CSA winning the Peter Deeth Trophy was Scarlet Oyster, and third overall winning the Catamaran Marina Cup was Lady Mariposa. The Bareboat Overall Champion, winning the Dream Yacht Charter Trophy, and a voucher for one week's bareboat charter from Antigua Sailing Week 2020, was Hans Steidle's KH+P Barbuda.
Sojana was the winner of CSA 1, scoring six race wins. Lithuanian Volvo 65 Ambersail2, skippered by Simonas Steponavicius won the last race to take runner up. With Jean-Pierre Dick's French JP54 The Kid in third.
In CSA 2, Ker 46 Lady Mariposa, skippered by Jesper Bank, scored six bullets to lift the English Harbour Rum Trophy. Lombard 46 Pata Negra, skippered by Adrian Fisk's Itchenor SC team won the last race to claim second, a point ahead of Jeremy Thorp's British GP42 Phan.
"We are pretty ecstatic right now. It's been an awesome week!" commented Jason Rowed, Lady Mariposa. "We have had a great time in a fantastic location. Great wind, great courses and we have all really enjoyed the week with hospitality from friendly people."
In CSA 3, Adrian Lee's Irish Swan 60 Lee Overlay Partners II scored five bullets and was also declared Best Swan at Antigua Sailing Week. Mark Jagger's CNB 60 Theia of London was second, and OnDeck Antigua's Farr 65 Spirit of Juno was third.
"It could not have gone better; all of the team have really enjoyed the regatta," commented James Hemmingway, Boat Captain Lee Overlay Partners II. "Great people, great week, great sailing!"
In CSA 4 Ross Applebey's British Oyster 48 Scarlet Oyster won arguably the most competitive CSA Class, lifting the Sanhall Trademarks Trophy and the Hinckley Cup for best racing charter yacht. Pamala Baldwin's Antiguan J122 Liquid was second and also the winner of the CSA Travellers' Trophy. Andy Middleton's British First 47.7 EH01 was third in class.
"This is my tenth Antigua Sailing Week," commented Ross Applebey, skipper and owner of Scarlet Oyster. "It has been a fabulous week with amazing sailing and competition. We have had our 'gum-shields in' the whole way around the course, but off the water we have been such good friends."
CSA 5 featured close racing with races won or lost by seconds. Jonty and Vicki Layfield's Antiguan J/11s Sleeper battled to a class win, lifting the Governor General's Cup. Sleeper was also awarded Best Caribbean and Best Antiguan Yacht. Sir Richard Matthews, competing in his 40th Antigua Sailing Week with his British ST37 HoldIng Pattern, was runner-up. Martyn Oldroyd's Royal Yorkshire YC team racing First 40 Optimus Prime was third and the first time Martyn has made the big stage after 30 years of trying.
"It's been brilliant with so much wind!" commented Sleeper's Vicki Layfield. "The team has sailed together for years and this week we have performed well," added Vicki. "Young Shannoy Malone has been sailing with us for five years and he is only 11, but really contributes to how the boat sails," commented Jonty.
CSA 6 was won by Jules Mitchell's team who are all under 20 and racing the National Sailing Academy's modified Cork 1720 Spirit. The all-Antiguan team scored six bullets to win the class, lifting the Henley Trophy. Second was Raymond Magras and Patrick Bernier's St.Barths team, racing Dufour 34 Speedy Nemo. Raphael Magras' x-34 Maëlia CEPAC Antilles, also from St.Barths was third.
"This is my sixth Antigua Sailing Week and the third as skipper of Spirit," commented Spirit's Jules Mitchell. "It's been awesome, Antigua came good with amazing trade winds and the excellent organisation to capitalize on that. Big respect to NSA Valiant and the team for lending us their rudder when ours broke."
Robert Szustkowski's Polish HH66 R-SIX won all five races to dominate the Multihull Class. Stephen Bourne's Rapido 60 Ineffable was second, and Fredrik Moe's Gunboat 60 Moementum was third.
The inaugural Double-Handed Class was won by Philip Asche's American Swan 44 Freebird, winning the National Parks Trophy in the very last race. David Kinsey's Oyster 49 Buckaroo was second, and Henry Rourke's Open 40 Raucous was third.
"We are feeling really good having won our class. It's strong sailing down here, which we know. The boat was built for it, but we are not quite as built for it as we used to be! It's been a very good week and we have enjoyed it a lot," said Philip Asche.
Bareboat Overall was won by Hans Steidle's KH+P Barbuda, racing with his two sons and their friends who have been racing together through Optimists, 420s, and J/70s. This was their first Antigua Sailing Week for the team from Lake Constance in Germany, and it will not be their last. As winners of Bareboat Overall, lifting the Dream Yacht Charter Trophy, the team also won a voucher from Dream Yacht Charter for a free charter at Antigua Sailing Week 2020.
"This is an amazing event, just insane!" commented Matheus Steidle. "We have enjoyed all of it; the racing was intense, the parties great fun, it's been unbelievable. We are really happy with our win and the whole regatta has been well above expectations."
Bareboat 1 went right to the wire. Gerd Eiermann's KH+P Odin II won the Antigua Slipway Trophy, scoring three race wins and five second places to win by a single point from last year's class champion, Alexander Pfeiffer's KH+P Bavastro. Karl Puetz's KH+P Lascaris was third.
"Fantastic racing, what a week! The racing was really tough, this was our first time, but not our last!" said Gerd Eiermann.
Bareboat 2 was won by Peter Zauner's Tintoret, lifting the Antigua Hotels & Tourist Association Cup. Tintoret scored all podium finishes, including three race wins. Nicholas Jordan's Ananda won the last race to claim runner-up for the class, and Jakob Oetiker's KH+P Botero, with three race wins was third.
"This is my first time in the Caribbean and I like it very much; nice races with great weather, so it was really fun for all of us," explained Peter Zauner. "It is amazing to win. The team did an excellent job. It was quite tricky but we all pulled together to get the success."
Bareboat 3 produced a terrific battle for the class win. Hans Steidle's KH+P Barbuda won, lifting the BOAC Cup, but was pushed hard in every race by Michael Cannon and Neil Harvey's KHS&S Contractors which has won Bareboat Overall for the last two years. KHS&S Contractors was second in class and in the Bareboat Division overall. Andreas Hofmann's Hawking was third in Bareboat 3 and in Bareboat Overall.
The nine-strong Club Class was won by Ian Galbraith Scottish Oyster 53 Jigsaw, second was last year's winner Jon Constantine's Feeling 39 Imagine of Falmouth. James Gardner and Jerry Bethell's Jeanneau 54 INDY – Loosha Sails was third. Ian Galbraith was racing Jigsaw with his family and friends.
"Yesterday we were down the pan, but today we cleaned up," laughed Ian Galbraith. "I am so lucky to have a lovely crew. I have been coming here for over 20 years and this year the organisation was fantastic!"
After magnificent racing all day, the fun continued on shore at Antigua Sailing Week. The Daily Prize Giving at Antigua Yacht Club were wonderful opportunities to meet new friends and catch up with old ones. The big party night was Reggae in the Park and the tenth edition was a fantastic night with thousands of fans enjoying top Jamaican reggae acts Christopher Martin and Junior Kelly performing in Nelson's Dockyard. Wadadli Lay Day on Pigeon Point Beach was a fun-filled break in the middle of the regatta with RS  Zest racing and beach games including Tug-of-War. The Final Awards Ceremony is a momentous occasion for any sailor making it onto the big stage in Nelson's Dockyard. The English Harbour Rum was flowing, the Antiguan Party Band, 1761 fired up the vibe, and the historic Georgian Nelson's Dockyard hosted a memorable party.
The 53rd edition of Antigua Sailing Week will take place on April 25th – May 1st, 2020.
---