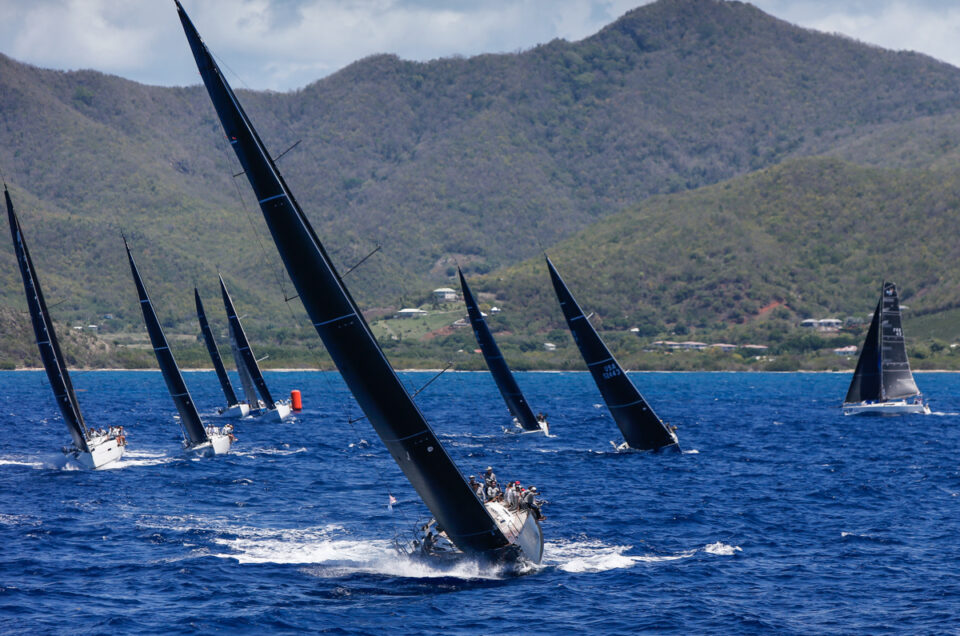 Antigua Sailing Week, one of the most exhilarating sailing events in the Caribbean, is thrilled to announce the publication of the Notice of Race for next years 55th edition. From April 27 to May 3, 2024 sailors and spectators from around the globe will gather on the  south coast of Antigua for a week of thrilling races, vibrant festivities, and unforgettable experiences.
Antigua Sailing Week has long been revered as a pinnacle event in the sailing community, attracting participants and visitors alike for over five decades. Known for its professional organization, competitive courses, favourable trade winds, and warm Caribbean hospitality, the event has established itself as a must-attend on the international sailing calendar.
The regatta attracts a diverse fleet of yachts, ranging from high-performance racing machines to elegant cruising vessels. With divisions and classes tailored to accommodate different boat types and skill levels, the event ensures that everyone can participate and revel in the thrill of competition.
In recent years competing at Antigua Sailing Week has become even easier with the availability of a wide variety of reputable charters, offering everything from bareboats to a single berth for individuals to high performance  for top racing crew.
Next year promises an action-packed schedule that combines fierce racing on the water with lively celebrations on land. Sailors will navigate the stunning azure waters of the Caribbean Sea, showcasing their skill and determination in a variety of challenging courses designed to test their mettle.
Jaime Torres, Race manager, says, "For many people, time to race is a limited resource, so the concept of chartering a boat means you can literally 'Rock up and Race'. There are direct flights into Antigua from North America, the UK, Europe, and of course the rest of the Caribbean, and with a 30-minute drive from the airport, you are at the dock and ready to race. There are several charter companies offering different packages, with itineraries including practice or training days before the race,  so you can make the most of the event. Options to rock up and race include crewed charters, bareboats, and individual places or head boats."
"This not-for-profit event continues to make its' mark within an ever-growing list of regattas and enables us to showcase the best of Caribbean sailing to a global audience while making a significant economic impact on the local economy and fostering the development of the sport" said Rana-Jamila Lewis, Event & Marketing Manager.
Whether you're an avid sailor, a supporting partner, or simply seeking an unforgettable experience in a breathtaking setting, mark your calendars for April 27 to May 3, 2024. Antigua Sailing Week awaits, offering an unparalleled opportunity to witness the exciting world of competitive sailing while soaking in the warmth and beauty of the Caribbean.
Entries for Antigua Sailing Week 2024 are now open. For additional information and updates please visit the official website at www.sailingweek.com.
---