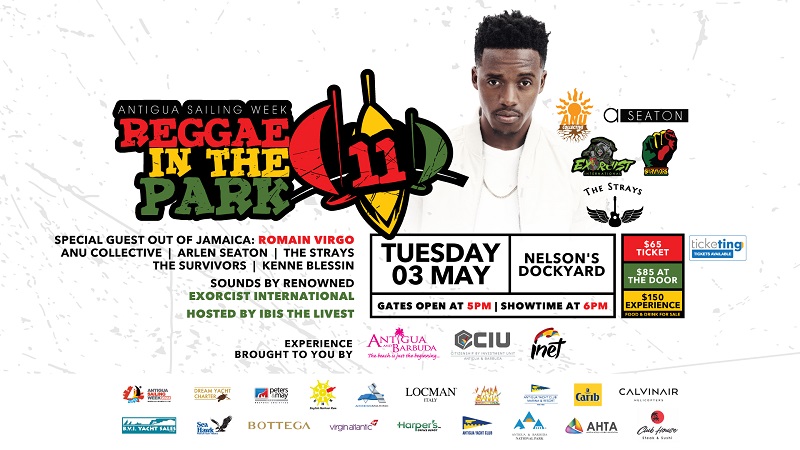 With the launch of Reggae in the Park last week and the growing momentum as the start of Antigua Sailing Week draws near, Minister of Tourism Charles Max Fernandez, declared his delight at the comeback of the end of season regatta.
"As we have reached nearer to the event, our ability to put on all of the favourite elements of Antigua Sailing Week has become more and more possible. To that end we have decided to make an addition to the line-up of Reggae in the Park,  Romain Virgo, out of Jamaica." He continues, "Because we know including an additional artist means we need a bigger venue, we have also decided to move the party back down into Nelson's Dockyard as the venue has a capacity of up to 5000 people."
Reknowned reggae artist Romain Virgo met Donovan Germain, early in his career, who produced his first hit record "Mi Caan Sleep" on the Penthouse label. Several hit singles followed, including "Wanna Go Home", "Live Mi Life", and "Alton's Medley". In June 2010, VP Records released his debut self-titled album.
In 2014 his cover version of Sam Smith's "Stay With Me" produced by Nicholas Browne of Lifeline Music, topped the charts in several Caribbean countries.  Virgo's 2018 album Lovesick gave him his first number one album on the Billboard Reggae Albums chart.
He joins the exciting line-up of Antiguan artists for the night to include, ANU Collective, Arlen Seaton,  Kenne Blessin, The Strays and Exorcist International. The host for the evening festivities will be none other than local treasure IBIS The Livest!
General admission tickets cost EC$65 in advance, EC$100 on the door and the Experience EC$150.
Sponsored by the Antigua and Barbuda Tourism Authority, Citizenship by Investment Unit and INET, The Experience will provide access through the Copper and Lumber Hotel  into the Courtyard Bar, an elevated up close and personal viewing platform and the added side stage area giving a unique viewing aspect to the artists. Food and drinks will be on sale in both The Experience and the general access areas.
All tickets are being sold on The Ticketing App. To buy, download here: http://download.ticketingevents.com/
A park and ride and one way system will be in place. Full details to follow.
---