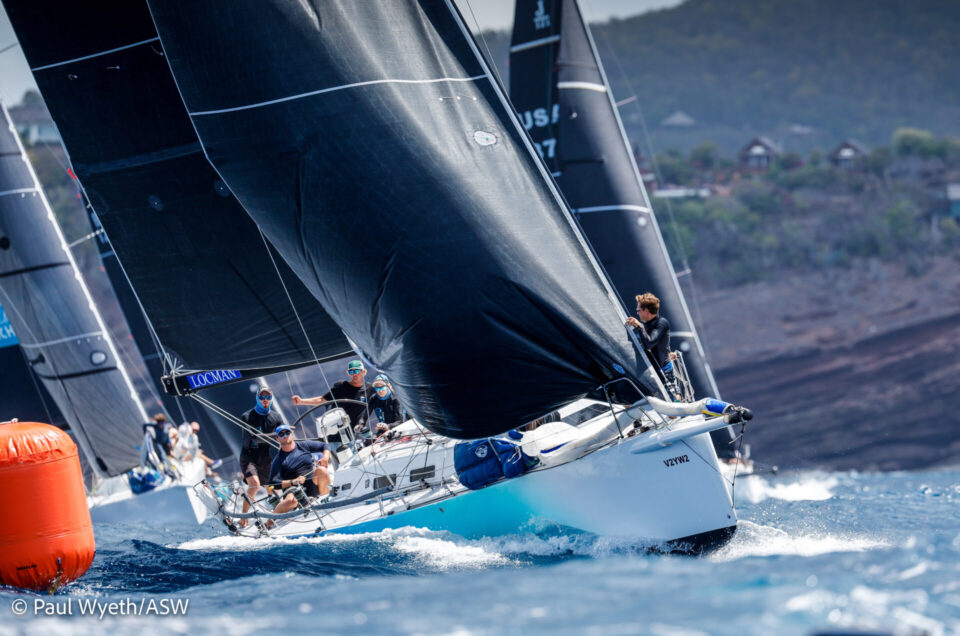 Hot off the heels of last week's RORC Caribbean 600 race entries for Antigua Sailing Week 2023 are building into a great spectrum of exciting and competitive classes for the 54th edition of this, another iconic Caribbean regatta. The event kicks off on 29th April and runs until 5th May.
The class splits offer virtually level boat-for-boat racing to just about everybody joining the action of ASW. Dedicated race boats, pro-crewed racer-cruisers, race-ready charter boats, and the latest generations of comfy but fast Swans and Bénéteaus are all finding a lot of competition in the CSA racing classes.
"Antigua Sailing Week is a well-proven yacht racing event that continues to deliver consistently superb race organization in world-class sea and wind conditions," says Race Manager Jaime Torres. "The regatta appeals to a huge variety of skippers and attracts boats of all sizes and types. Frankly, I wish I was taking part instead of working there but I look forward to welcoming everyone and wish them a fantastic racing experience!"
The highlights of the 2023 classes include:
CSA Racing
The high-performance Solaris 72 cruiser racer Black Pearl, skippered by Karl Pisec, joins a strong fleet of yachts in her class which include ASW notables such as Daniel Gribble's Tripp 65 Prevail from the USA and Adrian Lee's Irish Swan 60 Lee Overlay Partners.
The super-competitive CSA class that captures the core of the 40 to 45-foot racers that regularly travel the Caribbean circuit is packed full of past winners and well-known names, including Antigua's Bernard Evan-Wong with TAZ, Pamela Baldwin's J122 Liquid, and top performing race charter boat El Ocaso, being sailed by owner Chris Body.
We look forward to a battle royale between Sir Richard Matthews ST370 Holding Patternand Sir Hugh Bailey's Farr 45 Rebel. These two institutions of ASW racing went head-to-head last year, together dominating the Performance Cruising Class. This year they will pit their fast boats and top crews against each other but are now facing the competition against the much tougher CSA racing division. May the best Sir win!
2023 will be the second year for the only slightly more relaxed Performance Cruising class. This division also has a wealth of high-level talent demonstrated by Andy Middleton's First 47.7 EH01 and Raymond Rhinelander's J133 Bella J.
Multihulls
Fast multis will be flying hulls again this year. We are pleased to welcome several spectacular Gunboats including two 60s, Fredrik Moe's Moementum from Jamaica and Rob Merwin's Cui Bono from the US, plus Michel Larroche's Gunboat 62 Tribe. A newcomer to the Caribbean circuit, Oceans Tribute, a Crowther Tri, has been brought all the way from New Zealand by her owner Guy Chester.
RS Elite One Design
New to Antigua Sailing Week is a dedicated start line for the fast and nimble one-design RS Elite class. These unique keelboats are available for charter and only require two or three crew so it's a brilliantly cost-effective way to rock up and race with your favourite sailing buddies. Reach out to the ASW Race Office to get assistance with organizing a charter from owners of the local fleet of RS Elites. Crews can pitch themselves against some serious home-grown talent with the Caribbean's best skippers at the helm. One of them is St. Martin's Robbie Ferron, sailing Oozlumbird, who comments: "Everybody wants to sail and race in the Caribbean. It is sometimes prohibitive due to costs and manageability especially if you want high standards of your boat. But racing in Antigua in a RS Elite is financially easy and provides a high tech boat that is a real pleasure to sail. And then there's the huge advantage of having one design racing. It can't get much better than this!"
Bareboat Fleet
If sailing one design in a wet boat is not your thing, you are lucky! ASW's bareboat fleet is vast and splits into four classes, three of which are made up of practically identical boats! ASW charter sponsor Dream Yacht Charter has been working hard to supply a range of boats, while individual crew spots and whole boats are still available including some additional Dufour 460s which you can charter to go like-for-like up against the strong fleet of 460s, 412 and 520s already entered. You can keep your beers cold but the racing of these boats is hot – and highly competitive! Fun, fun in the sun! There is no easier way to step aboard a boat to enjoy the best Caribbean racing experience. Contact the race officefor more information on charters.
Club Class
Club Class is one of ASW's greatest success stories and thanks to the variable rating system, there were five different Club Class daily winners last year. Skippers and crews loved it, and most of them are back in 2023 to gently challenge themselves. From huge, fast and classy big boats over 65 foot to the tiniest cruisers, sailing the boat you have with the people you love on easy-peasy courses is what Club Class is all about.
Planning to join Club Class is Oyster 675 Seabird. Jonathan Hutchison and his crew are making their way towards Antigua across the Atlantic from Cape Town to the finish of the Oyster World Rally. They can look forward to meeting stiff boat-on-boat competition from Matthias Maus's classic S&S Swan 65 Alpha Centauri of London, celebrating her 50th year in style. "We are very excited about Antigua Sailing Week," says Jonathan. "During the Rally we entered a regatta in Tahiti, challenging our abilities, but we still managed to win the Cruisers Division. We can't wait to put her through her paces again in Antigua. Not to mention how much we look forward to all the fun events and parties at the end!" ASW hopes to welcome other Oysters tempted to some racing as they finish their world tour.
Colin Baldwin's Archambault 40 Sete Mares will be racing those big boys too. "As a crew, we love ASW," says Colin. "We are all but guaranteed fast, exciting courses, varied classes of yachts, and as for the après sailing, it's simply legendry!"
The action-packed programme opens with the Peters & May Round Antigua Race on Saturday 29th April followed by the English Harbour Rum Race Day and Welcome Party on Sunday. Monday 1st May sees the Axxess Marine Y2K Race day with daily prizegiving and Captain's Cocktail, followed by another race day on Tuesday and entertainment with Reggae in the Park. After the challenging first few days of racing crews can look forward to heading down to Pigeon Point beach for Wednesday's legendary Lay Day Beach Party to enjoy the hot barbecues, cold beers and fun games throughout the day, or simply relax with a glass of champagne on a beach lounger. The week finishes up with the Locman Italy Women's Race Day on Thursday and racing, prizegiving and the big Closing Party on Friday 5th.
Antigua Sailing Week first took place in 1968 and more than 50 years later is firmly established as one of the 'greats' of the world sailing calendar. The high standard of racing is matched only by the spectacular party scene.
---