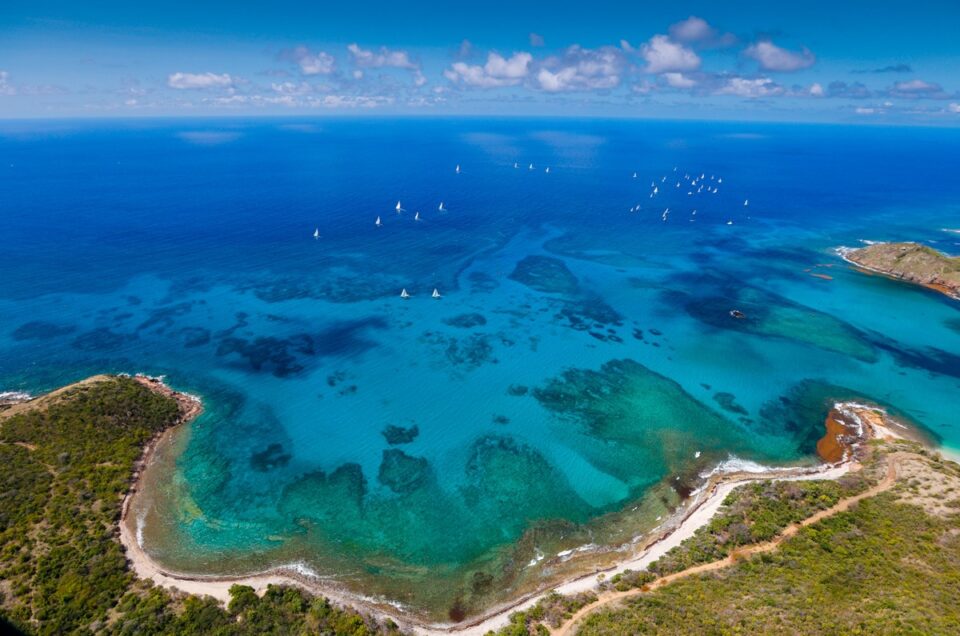 Tuesday 02 May: Solid trade winds over 15 knots blessed the third day of Antigua Sailing Week. With racing now past the halfway stage, the action was as hot as the air temperature, with teams pulling out all the stops. Reggae in the Park Race Day was full-on as sailors will wind down tonight for Reggae in the Park, followed by Lucky Eddi's Lay Day tomorrow.
RESULTS HERE
The CSA Racing Classes started off Windward on the third day of racing at Antigua Sailing Week. In full view of race fans at Shirley Heights, the pocket rockets in CSA 5 enjoyed multiple-leg windward leeward racing in full view of the race fans. In today's first race the high performance keelboats and multihulls were set top marks up to five-miles offshore. The wet beat to windward was rewarded by pulling the trigger for a memorable sleigh ride in salt spray back to Antigua. The Club Classes and Bareboats raced off Rendezvous Bay. Courses included a technical windward leeward element, with the added excitement of exhilarating reach legs to Old Road. The RS Elite Class raced inside Falmouth Harbour on a tight and shifty windward leeward course.
Racing in CSA 5, Tristan Marmousez's Archambault Surprise GFA Caraïbes – La Morrigane is from Martinique and has won five races to lead the class by five points. Jean François Terrien's J/109 Sang Neuf, also from Martinique is second. The National Sailing Academy 1720 NSA Spirit, with a young Antiguan crew, is skippered by Jules Mitchell and is lying in third.
This year is unfinished business for GFA Caraïbes – La Morrigane; last year they came second to NSA Spirit. "We are full of passion to win and we are here for revenge," commented Tristan Marmousez. "Last year we lost by two points, but now we have made a very good start. However, as the lowest rated boat in the class we have to fight for everything to stay with the other boats on the water. Today there was a lot of current, so we went really close inshore to avoid it."
Guy Chester's Crowther Australian 46 Trimaran Oceans Tribute is leading the CSA Multihull Class from two hi-tech catamarans. Michel Larroche's French Gunboat 62 Tribe is second, with Fredrik Moe's Jamaican Gunboat 60 Moementum in third. Guy Chester left New Zealand in June 2022 and literally sailed Ocean Tribute to the Caribbean on his own.
"I have been on a bit of an adventure; it took six months to sail to here!" laughed Guy. "I have raced Antigua Sailing Week on other people's boats and loved it, but I wanted to do the whole Caribbean season on my own boat. This regatta is huge for me as it's the last of all the regattas I am doing in the Caribbean. Antigua Sailing Week has great courses, nice parties and there are a lot of good people here, plus I love the Sushi at the Antigua Yacht Club! Tonight I am going to Reggae in the Park; it doesn't get better than that!"
In CSA 4, the J/120 J-Aguar is chartered to a team of dinghy sailors from Sag Harbor, Long Island USA and they are having a blast. J-Aguar has won five races. It would have been six but for a tie for first place in Race 2 with close rivals, Colin Baldwin's British A40 Live Love Antigua (Sete Mares). Patrick Holloran's First 40.7 Caipirinha is third in class, just a point ahead of Germaine Williams' First 40.7 Escapado.

Team J-Aguar commented: "There was a lot of current today so hugging the coast going to windward and getting offshore to leeward really worked. We have dry suits when we race dinghies at this time of year in Sag Harbor, but it is a little warmer here! For us dinghy sailors, a J/120 is a big boat, but we heard about the dinghy racing for Lay Day, so who knows, you might see us there!"
Tonight is the big party night at Antigua Sailing Week with the 12th edition of Reggae in the Park. Over 2,000 sailors, Antiguans and visitors to Antigua & Barbuda will be dancing the night away to a sizzling line-up of top Reggae artists from Jamaica. Live on stage in the historic Georgian Nelson's Dockyard will be British MOBO Awards nominee Lila Iké, Grammy Award nominee Jesse Royal, and Billboard Reggae Chart Topper Protoje. Competitors will enjoy Lucky Eddi's Lay Day tomorrow with fun and games off Pigeon Point Beach.
For more information about Antigua Sailing Week: www.sailingweek.com
---