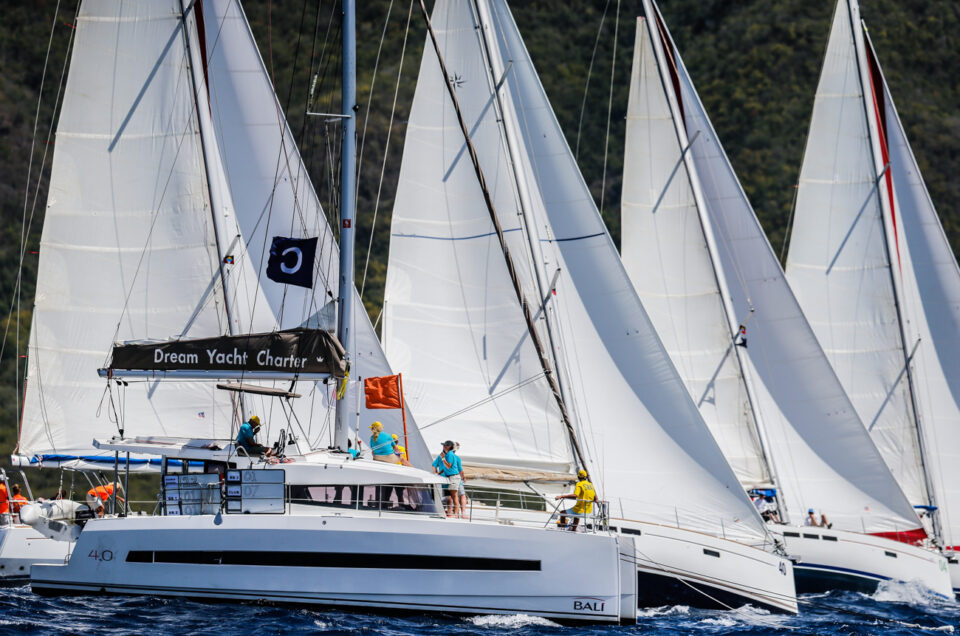 The Dream Yacht Charter committee boat at the race starts during ASW 2019 photo by Paul Wyeth
Antigua Sailing Week is delighted to announce a new three-year agreement with Dream Yacht Charter to continue as the Official Exclusive Bareboat and by the Cabin Charter Sponsor of Antigua Sailing Week through May, 2022.
The Dream Yacht Charter fleet consists of 1000+ yachts in 50+ locations worldwide, many of which have actively participated in Antigua Sailing Week and won in respective classes over a number of years.  Dream Yacht Charter has called Antigua home with a charter base for the past 6 years.
Dan Lockyer, General Manager, North America has this to say about the continued partnership, "Antigua is a special sailing destination, known for its sheer beauty, attractive sailing grounds and thrilling events. Antigua Sailing Week is a must-sail regatta and a premium event in the Caribbean sailing calendar.
"We are proud to be a long-term official bareboat sponsor. This year those racing with Dream Yacht Charter boats won first, second and third place in bareboat 3, as well as overall bareboat class. First and third places were also won in the bareboat 2 class. I'm sure 2020 will see even more exciting sailing from everyone and even if you're not racing, the atmosphere is such great fun."
The announcement is perfectly timed as the Antigua Sailing Week team is currently engaged in a summer marketing activation – The Road to 2020 which consists of three world wide events, offering the trip of a lifetime to race at Antigua Sailing Week 2020.  The events are being held in Hamble UK, Hamptons, USA &  Lake Constance, Germany and one winning crew in each market will win the coveted prize which includes access to a Dream Yacht Charter Bareboat to participate in the 53rd edition of the event.
Of the partnership Rana Lewis Marketing Manager says, "The summer events were designed to raise awareness of the competitive but fun bareboat fleets in Antigua Sailing Week as we aim to grow these classes each year. The ease of flying into the island and having a charter readily available is the perfect option for sailors with limited vacation time who want to experience the ultimate Caribbean regatta."
The prize also includes flights to Antigua plus dockage in UNESCO heritage Nelson's Dockyard which is the perfect base for participants and spectators both as a great marina and as an entertainment venue.
Sailors wishing to participate in the 53rd Antigua Sailing Week from April 25  to May 1 on a Dream Yacht Charter can check specifications and availability on our site at  https://sailingweek.com/bareboat-charter/
For more information about Dream Yacht Charter and its charter packages visit www.dreamyachtcharter.com or call 866-469-0912 to talk in more detail about your requirements.
For more on the Road to 2020 visit https://sailingweek.com/asw2020/
---