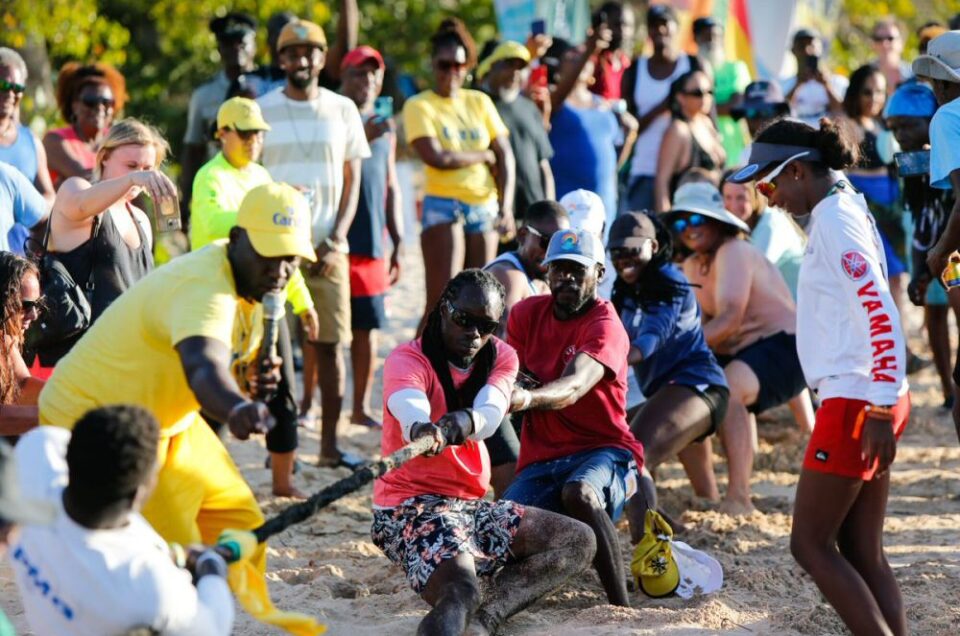 Press release – St. John's Antigua, May 04, 2023: The Antigua Sailing Week (ASW) action switched to Pigeon Point for the traditional midweek pause – Lucky Eddi's Lay Day- where sailors, spectators and community members tried their hand at winning an assortment of activities including dinghy races, individual and team challenges ending with the much-anticipated tug of war.
Eight crews took part in the Dinghy challenges, followed by a series of fun games that included arm wrestling, giant Jenga, hula-hoop, feats of dexterity and team work, plus domino sessions! The victors were rewarded with Carib Beer, Day Chaser Cocktails as well as spot prizes from The Covent Garden and the National Sailing Academy.
"Lay Day is an integral part of our regatta as it gives the racers a day to fully recharge and make necessary repairs. It is also an event that the competitors and locals really enjoy as much for the fabulous food, atmosphere, crazy competitions and being able to focus on having fun. We could not do this without our fabulous sponsors who work alongside us providing the prizes and creating the atmosphere." commented Jaime Torres, ASW Race Manager
The third and final day of the Antigua Wingfoil Championships, being held for the first time at ASW, was a race from Pigeon Point to Turner's Beach – 11 wingfoilers competed in two classes – Leisure and Pro. "We are really excited to be here in Antigua to showcase what our sport is all about! When ASW reached out to us we were thrilled with the opportunity to work under the umbrella of such an historic event," commented Max van den Pol of Caribbean Foiling Championships.
Van den Pol added that: "The event was sailed under challenging conditions. The wind was really light, and we had a lot of seaweed on the course. However, we made the most of it and spirits were high! The long-distance race was the highlight of the event, the wind switched on just a tiny bit more and it made all the difference. Seeing the competitors out there in the pristine waters with a stunning backdrop was quite impressive. I think it was a great display of the versatility of the sport."
Two teenagers placed in both classes – 14-year-old Mark Mains came second in the Wingfoil Leisure class behind Seamus Mahreg.  In the Wingfoil Pro class 16-year-old Idani Edwards came second before Eli Fuller and after Anthony Smith the winner, from Martinique. The winners were awarded a brand new North Wing provided by Kelsick Kiteboarding.
The full day event, hosted by DJ WHO was streamed live via WTP 95.5 FM with the music of Dave VJ, DJ Adrian, Johnny Cubanero and Riddim Master.
---