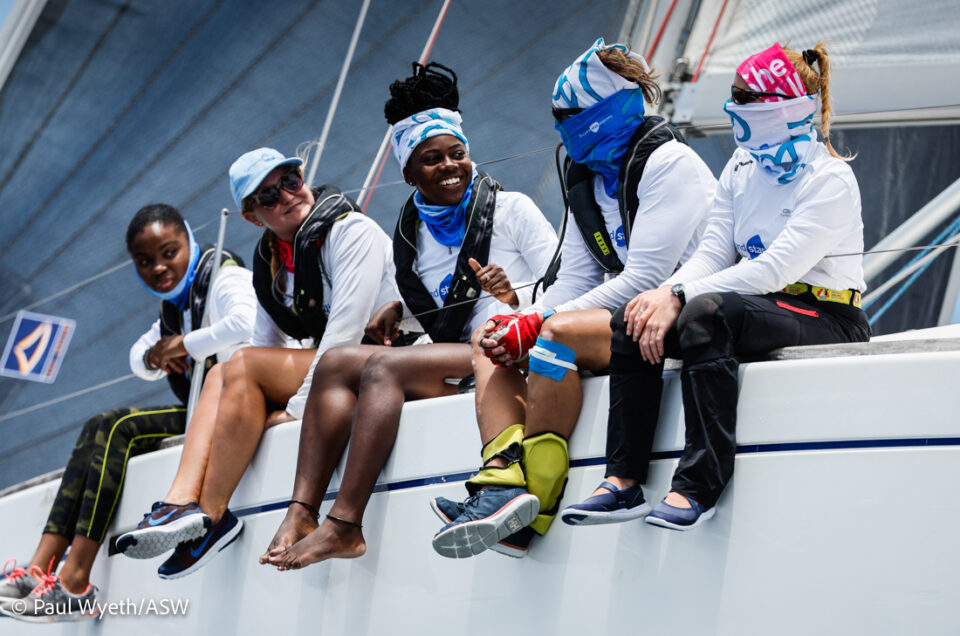 Celebrating Women on the Water
Locman Italy Women's Day at Antigua Sailing Week was blessed with solid trade winds of 15-18 knots, just north of east, with squall activity raising the tempo during the day. All 15 classes completed their full programme of races with hot action right through the fleet. "A great spectacle today," Race Officer Neil Andrew commented. "Six OCS, including four in one class (CSA 5) and one boat OCS in both races! All boats returned to start correctly." Class winners are emerging after four days of racing and tomorrow, Friday 6 May, two more races are scheduled to conclude the series at Antigua Sailing Week.
Provisional winners on Locman Italy Women's Race Day are: Ambersail 2, Ocean Breeze, Tschuss, Mahana, OMII, Lee Overlay Partners II, Blitz, Scarlet Oyster, Hermes, NSA Spirit, Tosca, Holding Pattern, PepsiMax ~ Montebello, Blue Skies, Schrodinger, Sweet Disposition, Aproache Nevis, KHS&S Contractors, Braque, Tintoret and Daisy. Results from Antigua Sailing Week: https://yachtscoring.com/event_results_cumulative.cfm?eID=14323
The penultimate race day at Antigua Sailing Week celebrated women on the water at the world-famous regatta, generously sponsored by Locman Italy who will be giving watches to all class winners at the final prize giving. Women racing at Antigua Sailing Week is on the rise and this year 70% of the fleet have women crew. Six boats are skippered by women: Susan Glenny on Olympia's Tigress; Katy Campbell on Panacea X; Lyssandra Barbieri on Hatha Maris; Melanie Rensing on KH+P Nolde; Alice Martin on Jack Tai II/Painkiller and Jocelyn Mclaren on Belafonte.
"Throughout the world, organisations in the sport of sailing are working to address the gender inequality. ASW is no exception. The Locman Italy Women's Race Day is simply about inclusiveness and inspiring more women to participate," commented Alison Sly-Adams, President of Antigua Sailing Week.
Locman Italy have set up their first Duty Free Flagship Caribbean store at Antigua Yacht Club Marina. "We are right in the heart of the sailing community in Antigua and Locman already supports Antigua Classics and the National Sailing Academy, so it made perfect sense to support the Caribbean's most famous regatta, Antigua Sailing Week," commented Locman Italy Representative Camilla Holme. "Locman products match island life, they are made on an island and inspired by the sea. The store in Falmouth is a true copy of our store in Elba, Italy, which has so many similarities with Antigua. Locman Italy are also delighted to support Women's Race Day because we believe that anyone who wants to race should have the opportunity. By having a Women's Race Day this makes them feel welcome and we hope this focus will encourage more women to race at Antigua Sailing Week."
Quotes from the boats – Locman Italy Women's Race Day
CSA Racing Four
Chris and Caroline Body's J/122 El Ocaso has an all-amateur crew with four members of the Body family on board, including daughters Jessica and Annabelle. With one race day to go, El Ocaso is lying third in class, two points behind another J/122 Liquid, owned by Pamala Baldwin. The Body family are all members of the Royal Southern Yacht Club in Hamble, UK.
"We won our class at Antigua Sailing Week in 2016 but we have waited two years without a regatta, so it's fantastic to be back this year. Seeing everyone back on the water and in the race village is just great. It looks like we are racing for second as Blitz is really looking unbeatable, but we have a great battle with Liquid, for second place," commented Annabelle Body. Jessica Body said: "It's great to be back in the sunshine and we are enjoying Antigua. In 2016 we did get a bit dehydrated after lay day, so we have learnt our lesson and made sure we didn't make that mistake again!
CSA Racing Five
This is Susan Glenny's sixth Antigua Sailing Week and this year First 40 Olympia's Tigress has a majority women's crew. "We are loving it and we are still in with a chance of making the class podium," commented Glenny. "Antigua Sailing Week is quite unique with good trade winds and great courses; you usually get a bouncy day on the Windward course and a flatter day on Rendezvous. Of all the regattas in the Caribbean this is the one you want to do as a first timer; it has a great combination of superb sailing and a great social programme. It really is a sporting holiday and a great networking opportunity to meet other sailors."
Caterina Rota was skipper today for Global Yacht Racing's First 47.7 EH01. Two second place scores on Locman Italy Women's Race Day have put the team into second place, just three points ahead of Carlo Falcone's Caccia a la Volpe. Caterina Rota and her partner Neil Maher have been running EH01 for the season. "We are having a great battle with Caccia a la Volpe and Olympia's Tigress, but Ross (Ross Applebey – skipper of Scarlet Oyster) is hard to beat. We are hoping to get good results on the last day (Friday) to take second place in our class. EH01 has a mixed bag of crew; we have sailors who have a lot of experience at Antigua Sailing Week and also three novices who are mucking in as much as they can, and they are doing a really good job."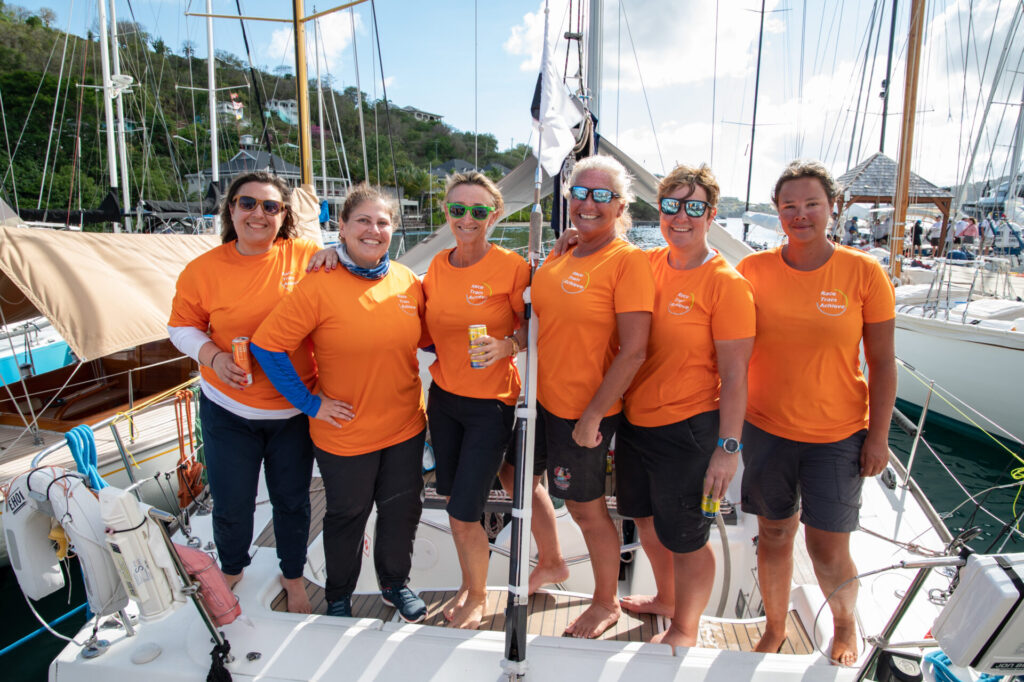 CSA Racing 1
Volvo 70 Ocean Breeze, chartered to Steve Travis with a team from the Seattle YC, won their second race today. Ocean Breeze, with six women on board is just two points behind the V065 Ambersail II with an all-Lithuanian male crew. Christina Travis runs the pit on Ocean Breeze and commented: "Ambersail gives us a bit of time after CSA correction, so the big picture is to try to stay with them. Ocean Breeze is an all-amateur team racing a boat that we are not familiar with, so it has been a bit of a learning curve, but we are giving it our best shot and we are just loving this regatta."
Prior to the Locman Italy Women's Race Day Prize Giving all of the women sailing at Antigua Sailing Week were invited to the Locman Lounge and later enjoyed the prize giving where the top three teams in all 15 classes took to the stage to receive their awards. There was a very special award of a Locman Italy watch to Lyssandra Barbieri in recognition of her contribution to inspiring other women to sail. Lyssandra Barbieri is the owner of Second Star Sailing a women's keelboat training programme, which operates from Italy and Antigua.
"I really was not expecting this award," commented Lyssandra as she was awarded her Locman Italy watch. "I am really proud of the work we do. We are trying to encourage more women to come into sailing, not just as a sport, but also as a business career. With that in mind we have two internship positions available for Antiguan women over the age of 18. After completing eight months of the programme, interns should have enough knowledge to qualify for a job in the yachting industry."
Tomorrow, Friday 6 May, racing at the 53rd edition of Antigua Sailing Week will conclude with Antigua & Barbuda Tourism Race Day. The Final Awards Ceremony will be in Nelson's Dockyard where class champions will receive their trophies and Locman Italy watches. The overall winner of Antigua Sailing Week will also receive a Locman Italy watch and lift the Lord Nelson Trophy.
---