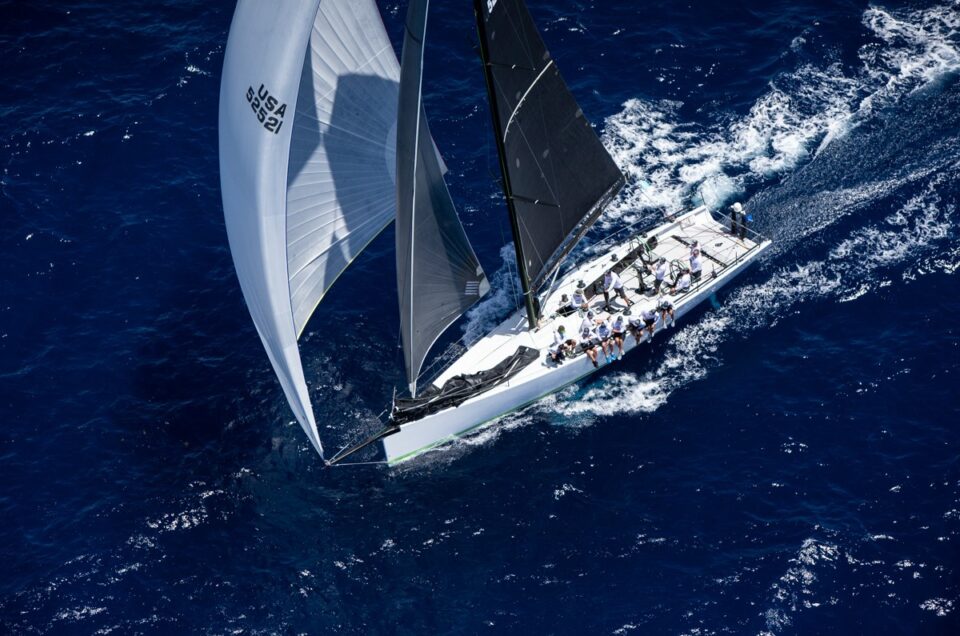 Sunday 30 April: The first day of racing at the 54th edition of Antigua Sailing Week was held in sublime tropical heat, with a stable easterly wind and a calm sea state. Coupled with the natural beauty of Antigua, this was the perfect cocktail to celebrate English Harbour Rum Race Day.
The international fleet enjoyed thrilling racing off the South Coast of Antigua, with the CSA Raceboats taking on technical courses, and the Bareboat and Club Classes enjoying competitive coastal courses. Spectators gathered at Shirley Heights Lookout for the traditional breakfast gathering and Chase the Race Wadadli Cats gave spectators a ringside seat to watch all the action.
The CSA Racing Classes start was off Windward Beach, with predominantly windward leeward courses of various lengths on an east to west course axis. Spectators at Shirley Heights got a bird's eye view of the raceboats for numerous highly competitive starts, as the big boat fleet hugged the cliffs along the southside of Antigua. Destined for their respective top marks and out of the lee of Antigua, the racing fleet wicked-up to speed for superb downwind spinnaker action.
John Evans & Trey Sheehan's TP52 Hooligan (USA) won both of today's races in CSA Racing 1.
"It's snowing at home and I am in paradise!" laughed Hooligan's Trey Sheehan. "Today with a lot of upwind and downwind. We had perfect conditions for Hooligan. The boat handling was great today; we have a fabulous crew that has been together long enough that everyone works well as a team. We are having a ball and not just on the water. The people are so friendly and we love the venues like Shirley Heights – it's a good time!"
The Bareboat and Club Classes start was off Rendezvous Bay, with the natural beauty of Shekerley Hills as a backdrop. The fleet raced past Cades Reef, one of the Antigua's best snorkelling and diving spots and Boggy Peak, which at 400 metres is the highest point of Antigua.
Today will be one that a young crew will never forget. Sailing with two adults, seven of the crew on the J/30 Absolute Properties (BP) are just 12-15 years old. Absolute Properties (BP)  won today's race in CSA Club Class 2. The team of top Optimist sailors will be going to the 2023 World Championship in Spain this summer. Skipper Carrack Jones is just 12 and spoke about their first win at Antigua Sailing Week.
"We normally race each other so it was different to race as a team, and I think it worked out okay," commented Carrack. "Being Optimist sailors the spinnaker is new to us, but that went okay and we are really excited and looking forward to racing tomorrow."
Today's winner in Bareboat 2 was Coleman Garvey's KH+P Nolde. Coleman and the team are all from the Royal Cork Yacht Club in Ireland. The Irish team had a close battle with today's runner-up Alexander Pfeiffer's KH+P Nevis from the Chiemsee Yacht Club in Germany, and Anna Seidl's all-women crew from the Deutscher Touring Yacht Club.
"The first leg was hard work today, just boat lengths in it. These are big heavy boats but nobody was giving anybody any room; they all know what they're doing," commented Coleman Garvey. "After the leeward mark we managed to put a bit of distance between us and extended as the race went on, but the first half of the race was very tight. It looks like we are going to have good racing for the week, so we are looking forward to that. We are as keen as mustard."
For almost four decades Antigua Distillery has been in partnership with Antigua Sailing Week. English Harbour 5 year old Rum is the exclusive rum for Antigua Sailing Week and will continue to be following the renewal of a multi-year sponsorship. Calbert Francis, Global Export Manager, Antigua Distillery Ltd commented: "This year is very special as Antigua Distillery is celebrating its 90th anniversary. As the name suggests, English Harbour Rum is matched with sailing and Antigua Sailing Week is the most iconic regatta in the whole Caribbean. The synergy between English Harbour Rum and Antigua Sailing Week is a perfect match. When we make our plan for the year, Antigua Sailing Week is always the first event that we plan. We are very proud to be a part of Antigua Sailing Week."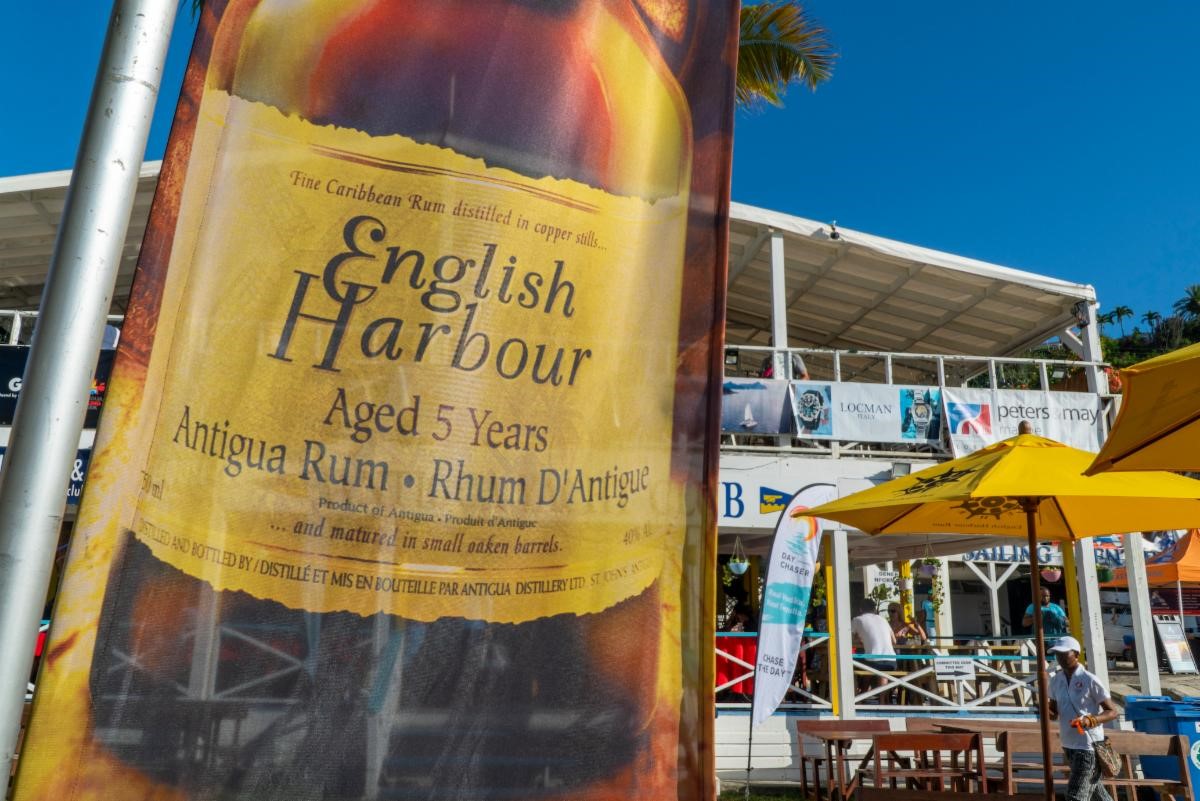 The English Harbour Rum Race Day Prize Giving was held on the lawn of the Antigua Yacht Club and included a cocktail bartender competition. There was a close draw between the crew of Hawking, with their Mooro's Magic cocktail, and Team Liquid, with their concoction, Mutiny. The crews shared their booty of a case of English Harbour 10 Year Old Rum.
A live set from Antiguan party band Hypa Active on the main stage brought the dance floor to life. Racing at Antigua Sailing Week continues on Monday 1st of May with Axxess Marine Y2K Race Day. For more information about Antigua Sailing Week: www.sailingweek.com
---