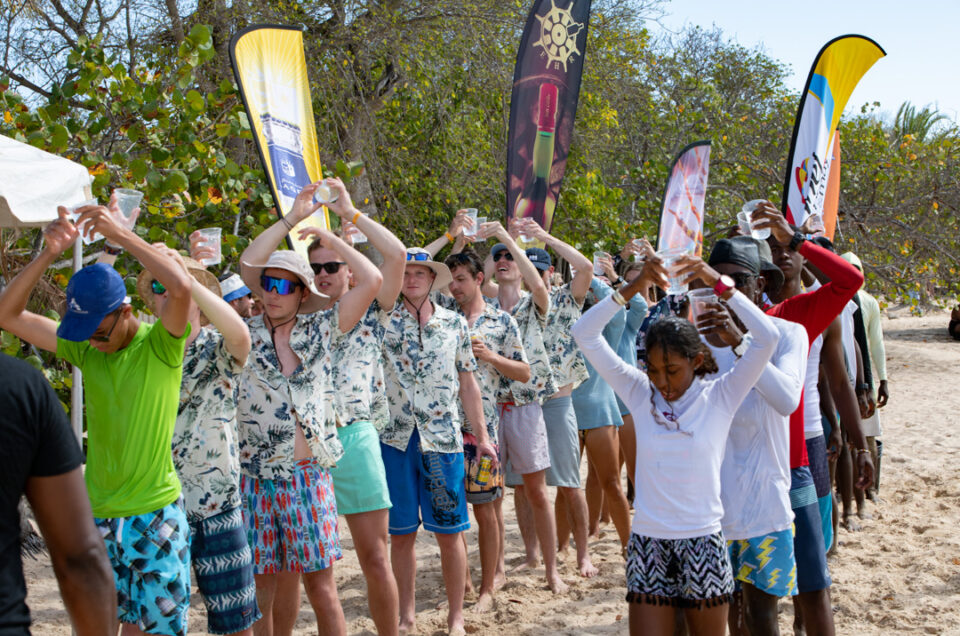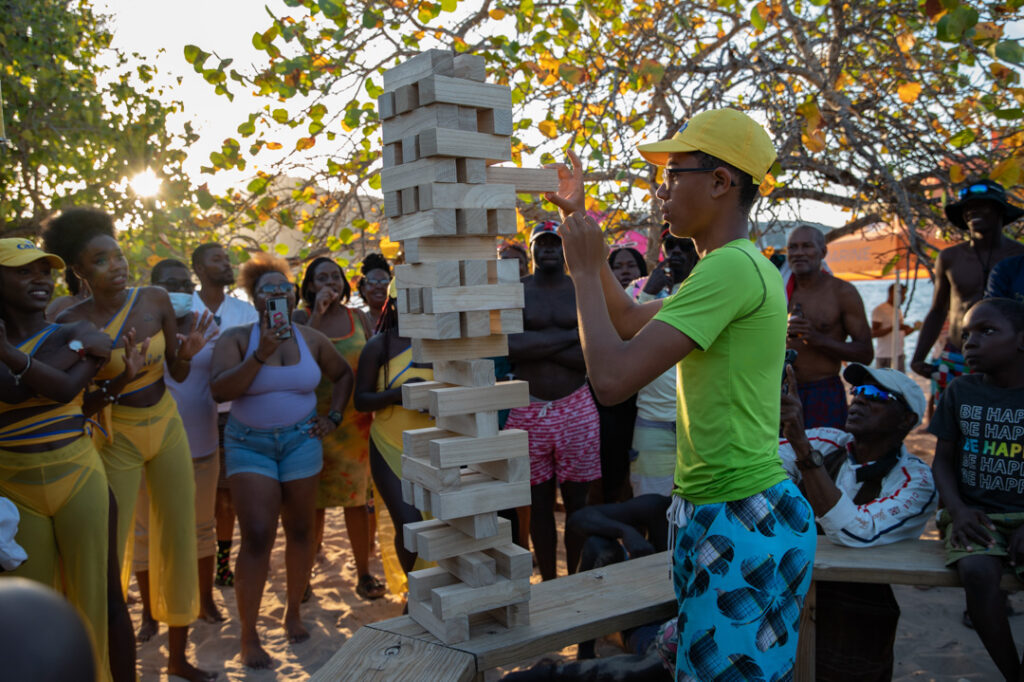 Press release, St. John's, May 05, 2022: Racing crews and fun lovers joined forces on Pigeon Point beach for a day of water and land-based challenges on Lay Day, the traditional rest day during Antigua Sailing Week (ASW). This year's activities were extra special as Carib Beer hosted activities that tested the participants' skill, strategy, and strength.
Jaime Torres, Antigua Sailing Week Race Manager explained the importance of Lay Day "It is an opportunity for the crews to fix their boats, bodies, and souls after three days of hard racing. It also allows them to make connections outside of the racing bubble as they compete in more fun-filled events that test their mental as well as physical abilities. There is a great atmosphere, and we want to express thanks to Carib for being a part of our key social event, providing giveaways during the tug of war, beer drinking and the "giant Jenga" challenges."
The FUN-ATHON began with Kayak racing and 100 meter swimming relay – ten crews participated. In addition to traditional relay Sack Race, new games included a fill the bucket team challenge a keenly fought contest between the young sailors from the National Sailing Academy and a German team, racing on Polygala which cheekily re-named themselves with a funathon alias "Male Escort Service". The latter are members of the Wurttembergisher yacht club on Lake Constance and were the recipients of a delayed prize trip to race in ASW for 2020, courtesy Antigua and Barbuda Tourism Authority (ABTA), ASW, National Parks Authority and Dream Yacht Charter. Although they lost the first challenge, they were victorious in the highly competitive Tug of War event. The fun day ended with a "giant Jenga" contest won by the youngest player. .All the winners received Carib goodie bags.
There were also giveaways by the ABTA and Virgin Atlantic with music and live coverage provided by WTP 97.3 radio station deejays. "It's been a fantastic afternoon and a much-welcomed break in the racing program. Our sponsors have really added to its success and everyone, participants and spectators had a good time" confirmed event manager, Rana Lewis "I am really pleased with the engagement and participation from both locals and visitors at our new central location on the beach. It will certainly go down as one of the more memorable Lay-days."
Friday, May 06 is the Antigua and Barbuda Tourism Race Day, the final day of racing followed by the Awards ceremony and closing party with live performances by Irie Fire & DJ Purist.
---