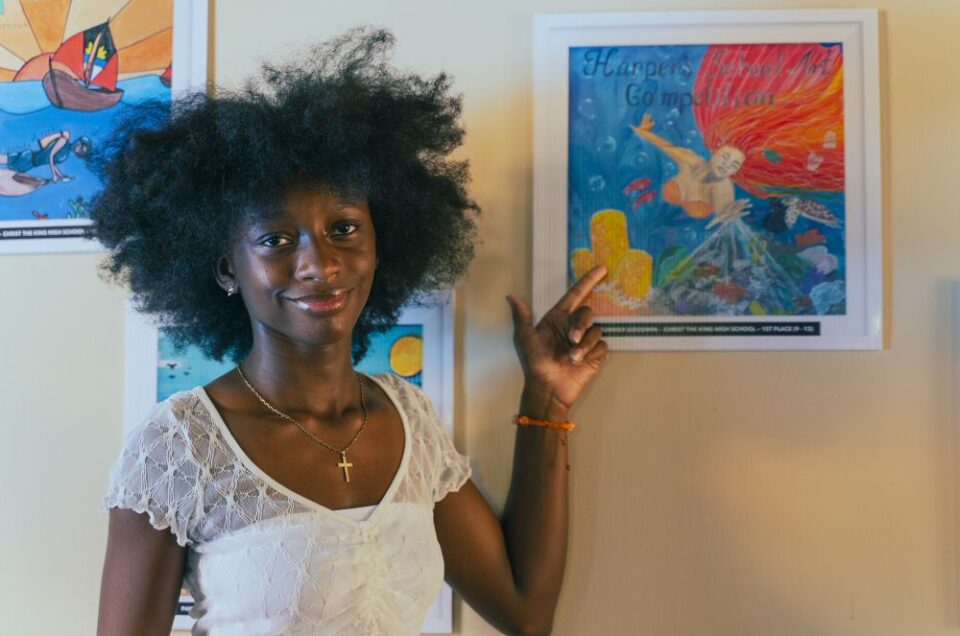 Press release, St. John's, May 08, 2023: Young artists from several schools in Antigua attended the Harper's Office Depot School Arts Competition awards ceremony and exhibition during Dockyard Day. Overall winner Summer Goodwin received art supplies from the title sponsor.
Harper's Office Depot representative, Adelaide Marsh congratulated all the winners and participants: "We at Harper's, are committed to the development of young artists and wish to congratulate not only the participants as we recognize the support provided by parents, and teachers that helped these young people to produce their prize-winning work."
The Top three entries in the three categories – 5 – 8, 9 – 13 and 14 – 18 received art supplies from Harper's Office Depot and gift items from Axxess Marine, Antigua Sailing Week (ASW) and the Antigua and Barbuda Tourism Authority (ABTA) .
People's Choice Winner, Paris Turner, of CKHS also received a prize package from Harper's as well as a gift package from ASW, and sponsors – Axxess Marine and Antigua Barbuda Tourism Authority.
The top four entries including the People' choice winner were exhibited in the Copper and Lumber Store Hotel.
There were more than 70 entries received from schools including: Island Academy; Christ the King High School; Antigua Girls High School; Post Millennial Academy and Freetown Primary.
"A big thank you to Harper's Office Depot for their continued support and to the teachers and schools that encourage their students to participate. We also wish to thank the National Parks Authority and the management and staff of the Copper and Lumber Store Hotel for incorporating our award' ceremony into the historical Dockyard Day event."  Commented Cassandra Ryan, ASW School Arts coordinator.
This award ceremony was held at the start of Dockyard Day, the official closing event of Antigua Sailing Week (ASW). With model boat races, tug of war, competitons, a children's activity area and the Royal Police Force of Antigua and Barbuda bringing ASW to an official close as they delivered the  Beating of the Retreat. The salute this year was given to the Honorable Darryl Matthews, Minister of Education, Sports and Creative Industries.
This was the 54th Annual School Art Competition, which started in 1968 to build awareness of the event within a younger non-sailing demographic and encourage students to get creative.
---