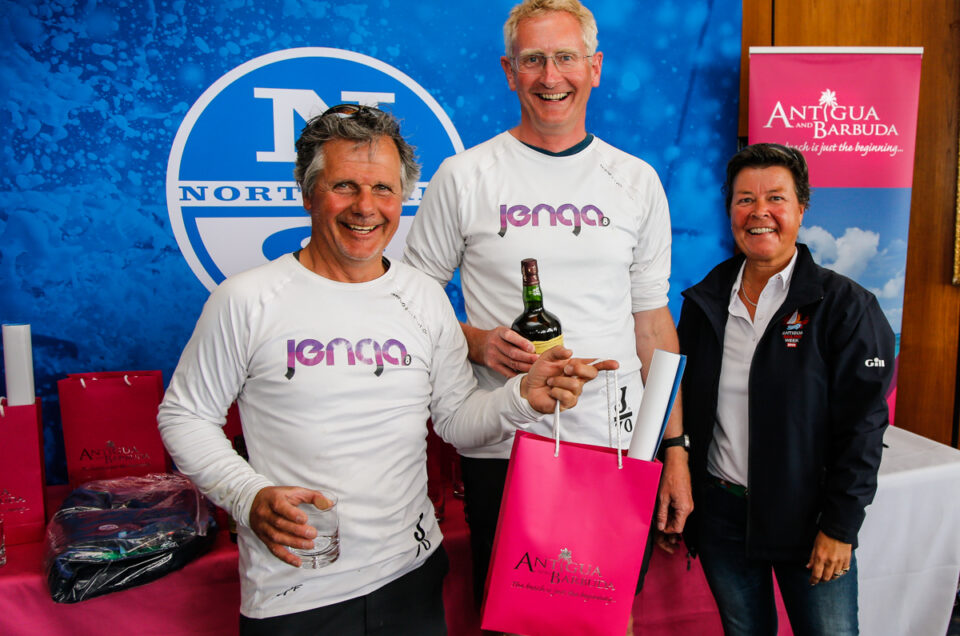 Lack of breeze but plenty of fun
Despite the lack of wind for the second day of the Antigua Sailing Week May Regatta, the good humour from the crowded Royal Southern Yacht Club's Upper Bar was very much in evidence. Well over one hundred competitors, volunteers and members enjoyed a perfect atmosphere, even though the lack of wind had shortened the number of races. With the wind barely touching 5 knots, just one race was completed today for White Group and the Black Group's attempt at getting the fleet away had to be abandoned.
In the J/70 Class, Andrew Barraclough's Jenga8 won all three races at the regatta. Graham Clapp's Jeepster was second, and Alexander James Polaris was third.
"Delighted to win but in all honesty one of our crew is ill and could not sail, and the lack of weight was a distinct advantage in light airs," admitted Jenga8's Andrew Barraclough. "We had a brand-new set of North Sails, just to try out, but we will be tucking those away for the Nationals and the Worlds. It was very tricky for the race committee this weekend, but they did a great job to get in three good races. It has been a lovely weekend, especially as it's so nice that the J/70 teams get in the bar for a beer afterwards. There are so many good people racing in the class, we are all learning all of the time, and it is a brilliant boat, we love it to bits."
With no racing on the final day, the Black Group results remained unchanged for the regatta. Jan van Berne's J/111 Red Herring was the victor in IRC One. Blair and Beckett's King 40 Cobra was second, and Paul Griffiths' J/111 Jagerbomb was third. In IRC 2, Malcolm Wootton's Farr 30 Evo Pegasus DekMarx was the winner from Bruce Huber's new J/112e Xanaboo. Alex Mathers FarEast 28 Mittens' Revenge was third.
In the Club Class, Steve Masters racing First 40.7 Spiritwalker was the winner over last year's class champion, David Hitchcock's XP-38 Red Five. Teresa Whelan's X-342 Xarifa was third. Mark Greenaway's Grand Soleil 34 was the winner of the Double Handed Class and Simon Bottoms SB20 Gold Digger won Mixed Sportsboat.
Picture guide to below, all by Paul Wyeth.Malcolm Wootton (Pegasus DekMarx) with Lorna Saunders (Antigua Sailing Week).Steve Masters (Spiritwalker) with Lorna Saunders (Antigua Sailing Week).Red Herring crew with Lorna Saunders (Antigua Sailing Week).
In IRC 3, Catrina Southworth's Quarter Tonner Protis, with Ian Southworth of the helm, was the winner. Martin and Cara Moody's Beneteau 25 Scallion was second, and Ian Handley & Tim James Mustang 30 Gr8 Banter was third.
There are some real characters racing in the Quarter Ton Class, and racing on Protis are three highly experienced sailors. Whilst enjoying a beer at the Royal Southern YC, the trio gave some serious and not so serious tips for light air racing.
"Always use the S2 when it's below 5 knots of breeze but not if Led clips it on wrong!" commented RORC Caribbean 600 winner Ben Wood. "Put the biggest guy on the keel," commented Sardinia Cup winner Led Pritchard. Mike Stannard has competed in multiple Admiral's Cup campaigns but claims his greatest victory was as a youngster. "The 1983 May Cup at the Brandy Hole Yacht Club, when I beat my dad's Solo with my Mirror dinghy is my biggest win," commented Mike. "Led just stole my tip, as the boat seems to go much faster when I am down below! However, I used to hold the clew of the jib with a plastic trapeze handle, so as to control it and stop it flapping. In general, when it's super light, try to stop the sails bouncing around in swell, try to keep the energy of the boat going in the right direction."
Mike Stannard (Protis) with Lorna Saunders (Antigua Sailing Week).
At the final prize giving, Royal Southern YC Commodore Graham Nixon thanked both race officers, Peter Bateson and Paul Ward, along with their teams, for all their efforts in difficult conditions. Graham introduced Antigua Sailing Week Racing Manager Lorna Saunders and Peter Bateson to give out the prizes to the top three teams in each class. Winners received English Harbour 5 Year Old Rum and commemorative crystal glasses, and all of those invited to come up were presented with sponsors' goodies including North Sails bags and clothing.
Racing for the Royal Southern Yacht Club Summer Series continues with the Rigit June Regatta 15-16 June 2019, the second in the four-part series which concludes in September. This year's prize for the overall winner of the Royal Southern Yacht Club's Summer Series is an all-expenses entry to the 53rd edition of Antigua Sailing Week for seven people, including a bareboat charter from Dream Yacht Charter as well as entry fee and dockage at Nelson's Dockyard.For more information including full results: www.royal-southern.co.uk
The prize for the overall winner of the 2019 Royal Southern YC Summer Series will receive a voucher from Antigua Sailing Week, which generously includes:
Flights to Antigua, funded by Antigua & Barbuda Tourism Authority,
Bareboat Dream Yacht Charter,
Dockage in UNESCO designated Nelson's Dockyard, and free entry to the 2020 edition of Antigua Sailing Week, April 25 – May 01, 2019.
---