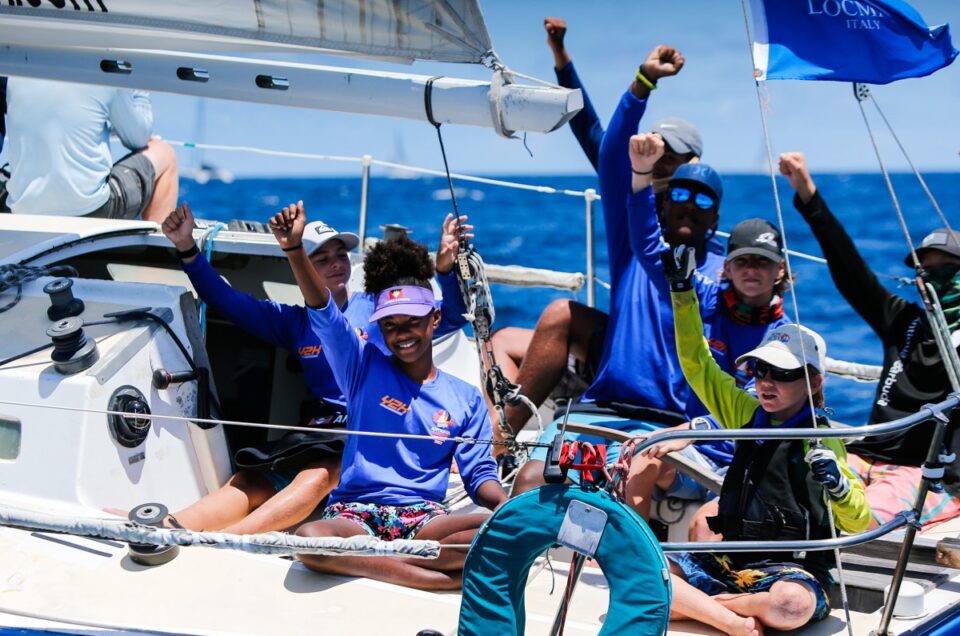 Monday 1 May: The second day of racing at Antigua Sailing Week was blessed with fabulous sailing conditions. The trade winds were in, gusting up to 17 knots from the east. With over a metre of ocean swell and an air temperature in the high twenties centigrade, it was a marvellous day to be out racing at the Caribbean's most famous regatta.
Supported by Axxess Marine, today Antigua Sailing Week celebrated the Youth to Keelboat (Y2K) initiative. Since 2018, Y2K has provided over 100 young Antiguan sailors with the opportunity to participate in Antigua Sailing Week, and provide an insight and inspiration  into yacht racing and employment in the marine industry.
Multiple races were held for all classes, with the CSA Racing boats off Rendezvous Bay. Racing along the stunning South Coast of Antigua, land effects and local knowledge came into play. The Bareboat and Club Classes started off Windward Beach, stretching their legs offshore on long windward leeward courses in the ocean swell. On Axxess Marine Y2K Race Day, two new classes were introduced to Antigua Sailing Week. The RS Elite Class raced off Windward Beach along with the Wingfoil Class competing in the inaugural Antiguan Wingfoil Championship.
After the first day of racing in the RS Elites, Outdoor World Yamaha is in the lead. The team of three young Antiguans have a bright future: Emily Gaillard, Shannoy Malone, and Alistair Knoblauch are all just 15 years of age.
Quotes from Outdoor World Yamaha
Bowman – Shannoy Malone: "I have not done much RS Elite racing, but when we heard the class was being introduced, we have been training in the boat a lot. We have been trying to transfer our skills in dinghy sailing over to the RS Elite. Normally I am racing against Emily and Alistair in Lasers, so this is really interesting and it's working out fine."
Main Trim – Alistair Knoblauch: "Besides trimming the main I am on all the control lines, so I am pretty busy at the bottom mark. A lot of the technique comes from dinghy sailing, so it becomes second nature."
Driver – Emily Gaillard: "I felt confident in my team and we felt good today, and things went how we had planned. We might be racing in Falmouth Harbour tomorrow, and we will go with whatever they decide, we will be ready to take it on."
CSA Racing 2 is arguably the most competitive class at Antigua Sailing Week with proven winners right through the scratch sheet. Chris & Caroline Brody's El Ocaso (GBR) is leading after five red-hot races. In second place, just two points behind is Pamala Baldwin's Liquid (ANT). Both boats are J/122s and the racing is super-close with less than a minute between them in every race. Running the bow on Liquid are two sailors from the Y2K initiative: Zidane Martin and Malik Charles.
Liquid's Mid-Bow Zidane Charles commented: "We had a lot of sail changes today and we had some mess-ups, but we fixed them. The important thing when it happens is to recover and minimise the loss. We chased El Ocaso down, we didn't let them get away from us."
Liquid's Bowman Malik Charles commented: "It was tight today on the starts, we had three general recalls. The Black Flag was in use, so that is a lot of responsibility to make sure the boat is not over. I have been racing on Liquid for a year. We have a few days racing left to try to win, and we are going to go hard."
This is the 2nd year that Axxess Marine has generously supported the Y2K program. Their commitment to the development of youth sailing, will hopefully produce future gatekeepers of the local yachting industry. Founder of Axxess Marine Dennis Henri shared his motivation for partnering with the world-renowned Antigua Sailing Week:
"Supporting local yachting events has always been a key focal point for our team, especially those events closely associated with Antigua & Barbuda, the home of our main office branch. We are proud to be the 2023 sponsors of the Y2K Race Day, as well as providers of the Official Antigua Sailing Week Video Boat. Being involved with sailing has inspired many Antiguan youths. I hope that more young people from this community will get involved in a sport that brings lifetime benefits."
The Axxess Marine Y2K Race Day Prize Giving was held on the lawn of the Antigua Yacht Club. Simon & Garfunkel, Bruce Springsteen and Johnny Cash were not on the main stage, but the Folk Rock Duo Those Guys Again were playing a live set to get the party going. Racing at Antigua Sailing Week continues on Tuesday 2nd of May with Reggae in the Park Race Day. For more information about Antigua Sailing Week: www.sailingweek.com
Results from the Axxess Marine Y2K Race Day 2 HERE
For more information about Antigua Sailing Week: www.sailingweek.com
---