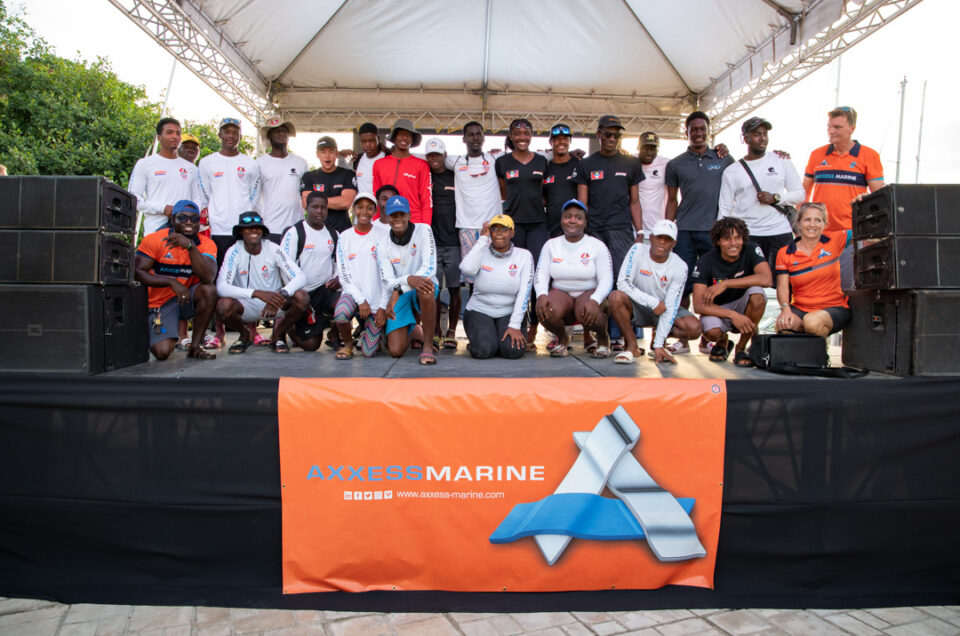 Opportunity knocks for Y2K at Antigua Sailing Week
The third day of Antigua Sailing Week delivered yet another king-size helping of outstanding racing conditions for hundreds of sailors from all over the world. 15 knots of trade winds, pumping up to 18 in the gusts gave exhilarating racing to all 15 classes at Antigua Sailing Week. Axxess Marine Y2K Race Day is also a special celebration for Antiguan youths racing at the world-famous regatta. Under the banner of the Axxess Marine Y2K (Youth to Keel Boat) Programme young Antiguans are inspired to develop as members of the sailing community.
Winners on Day 3: Ocean Breeze, Tschuss, Pata Negra, Blitz, Scarlet Oyster, Hermes, Kai, GFA Caraïbes – La Morrigane, Tosca, Holding Pattern, Jenk, PepsiMax ~ Montebello, Schrodinger, Talitha, Aproache Nevis, KHS&S Contractors, Braque, Tintoret, and Daisy. Results from Antigua Sailing Week: https://yachtscoring.com/event_results_cumulative.cfm?eID=14323
Since the first regatta in 1968, Antiguans have been racing and winning at Antigua Sailing Week through connections made at Antigua Yacht Club, but the Y2K programme goes far deeper than offering young sailors the opportunity to take to the stage at Prize Giving.
Y2K was launched in 2018 at Antigua Sailing Week and is supported by the Antigua and Barbuda Sailing Association. Y2K aims to give local youth sailors keelboat experience during Antigua Sailing Week. This year over 30 local Antiguans are racing on a huge variety of boats.
"The Y2K programme is progressing the latest crop of talented Antiguans," commented Alison Sly-Adams, Antigua Sailing Week President and General Manager of the National Sailing Academy (NSA). "Y2K opens the door for young Antiguans to enter the maritime industry by accessing the network of experienced sailors racing at Antigua Sailing Week. These young Antiguans learn more than just top-level racing. Potentially the Y2K programme gives them access to working in Antigua's thriving maritime industry."
Quotes from the boats – Y2K Special
CSA – Bareboat 3
Neil Harvey & Michael Cannon have enjoyed tremendous success at past editions of Antigua Sailing Week. After three days of racing this year KHS&S Contractors ~ Girl has scored six straight bullets. The crew are incredibly experienced, including Kiwi Tink Chambers, who last sailed with Neil Harvey on the record-breaking Maxi Kialoa III.
17-year-old Y2K sailor, Jhempsey Parades is racing with these legends and is given a quote/mantra each day. Such as, Olympic and America's Cup skipper Sir James Gilbert Hardy who once said: 'Measure twice, cut once.'
"I am trying to figure out what that means," commented Jhempsey Parades. "I think it means you should always double check everything that you are doing before you make a final decision. This is my first Antigua Sailing Week and racing with this team is absolutely amazing. I couldn't ask for anything better. Being the youngest, the crew are like a father to me. I want to take sailing as far as I can go and learn from the greats."
CSA Sportsboat
The new Sportboat Class for Antigua Sailing Week has a significant number of Y2K sailors racing including many of the very first Y2K sailors from 2018. Cork 1720 NSA Spirit is skippered by Y2K protégé Jules Mitchell and is currently second in class, fiercely defending their class win in 2019. This year, racing on NSA Spirit with him are Xavier Athill and Junella King, all of whom are Y2K alumni.
"Y2K has really helped me a lot," commented Xavier Athill. "I started racing on Team Valiant and I am now getting more experience; up a level racing on Spirit. I would love to race around the world one day, out there in the ocean, like Shannon (Falcone) has done."
"I started sailing in the Y2K programme in 2018 when I was 17 and it was a wonderful opportunity to sail on Sojana (Peter Harrison's 115ft ketch). Since then, I have joined the Maiden crew as an apprentice and I am learning from the amazing female sailors. I have sailed on Maiden from Dubai to Palma Majorca – 5,500 nautical miles. In the future my dream is to race in the America's Cup – that would be mind-blowing"
Racing on Ashley Rhodes' Melges 24 Whiplash is 14-year-old Emily Gaillard who this year became the first female to win the Antiguan Optimist National Championship. Emily has already competed at the Optimist Worlds in Italy and subject to getting the funding together, will be competing this year in Turkey.
"Usually, kids only get to race dinghies. It's great to have a go on a Melges 24 and see how it works out," commented Emily Gaillard. "Whiplash is very fast, it's both scary and exciting, but really fun and I am learning a lot. My friend Daniel Smit left Antigua a few days ago on Comanche (100ft Maxi) and that really inspires me because just a few years ago he was racing Optimists just like me."
CSA Racing Four
Pamela Baldwin's Antigua J/122 Liquid has been a bed-rock of the Y2K programme and is currently lying second in class. This year Liquid's crew this year includes 17-year-old Malik Charles who has already competed on Liquid in the RORC Caribbean 600, BVI Spring Regatta and Les Voiles de St Barth.
"The Y2K Programme has helped me to understand big boats and maybe one day I will own a boat myself," commented Malik Charles. "When I got the call from Liquid I was so excited. I help the bowman and I would love to take that role in the future. My dream is to race on a Volvo-boat. At Antigua Sailing Week you see these big sails coming past you with great speed, but I need to work through the process to get a position on a boat like that."
CSA Racing 1
Volvo 70 Ocean Breeze, chartered to Steve Travis with a team from the Seattle YC won their first race today. On board the powerful 70ft canting keel ocean racer is Y2K sailors Shanae Jervier and Daniel Brown.
"We had a fun time today, especially winning the race. Ocean Breeze is a crazy boat; big and fast and I have never been on a yacht this size. I normally sail dinghies like Fevas and Zests, so this has been a big step up for me."
The Axxess Marine Y2K Prize Giving was held on the lawn of the Antigua Yacht Club. The top three teams of the day from all 15 classes took to the stage to receive their awards. All of the Y2K sailors at Antigua Sailing Week received a long and loud ovation from their fellow competitors and team mates.
Founder of Axxess Marine, Dennis Henri, together with Andrea Carmichael, COO of Axxess Marine was on the stage for today's Prize Giving. Dennis Henri commented. "I am humbled at the prospect of supporting the continuation of this grass-roots endeavour and providing avenues for the future yachting careers of Antigua Nationals. The entire Axxess Marine team fully supports the initiative of Antigua Sailing Week towards the Y2K programme dedicated to the enhanced sailing experience of Antiguan Youth."
Tonight, Tuesday 03 May, Reggae in the Park kicks off with live performances from Jamaican reggae sensation Romain Virgo and local live acts ANU Collective, Arlen Seaton, The Strays and Kenne Blessin. Plus sounds by renowned Exorcist International, hosted by Ibis the Livest. The pause button will be on for Wednesday 4 May with the beach party on Lay Day at Pigeon Point, but for those racers who still need their fix, RS Feva Racing is on with prizes and big bragging rights for the winners! Lay Day features barbecues, cold beers and fun games throughout the day. Fun activities include tug o'war and much more!
---