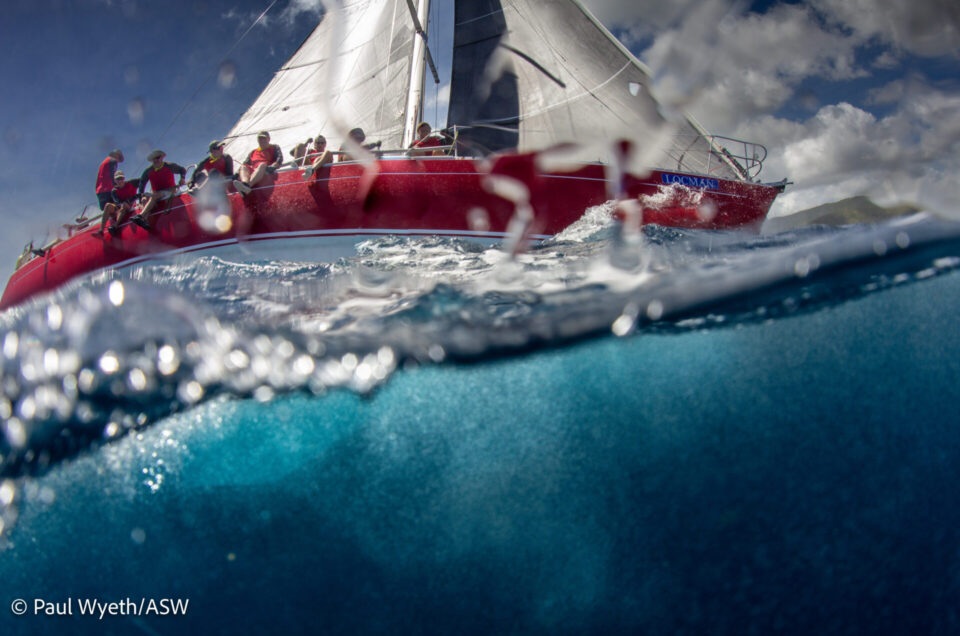 The second day of Antigua Sailing Week was blessed with stunning conditions with 15-20 knots of wind from the east. Bright sunshine, ocean swell and solid trade winds provided the perfect cocktail for thrilling racing at the world-famous regatta.
Winners on Day Two: Ambersail 2; Tschuss; Pata Negra; Lee Overlay Partners II; Blitz; Scarlet Oyster; Hermes; Kai; NSA Spirit; Whiplash; Tosca; Rebel; Holding Pattern; Blue Skies; Libertas; KH+P Bermuda; KH+P Culebra; KHS&S Contractors; SqueakyBrat II; KH+P Rubens and Voilactus. Results from Antigua Sailing Week: https://yachtscoring.com/event_results_cumulative.cfm?eID=14323
Quotes from the boats
CSA – Racing 3
Jonathon Pudney's Itchenor SC crew racing British Lombard 46 Pata Negra scored a race win and a second place today to take the class lead from Shahid Hamid's British Swan 58 OMII which retired from the first race. Adrian Lee's Irish Swan 60 Lee Overlay Partners II scored a race win to join OMII on equal points, but is third on countback.
"A fantastic day with 15-20 knots and we like a bit of wind on Pata Negra," commented Jonathon Pudney. "We really enjoyed today and we came away with great results. It was much more like our conditions today as we were able to surf on the waves into double-digit boat speed. We are the smallest boat in the class and we were going around the marks with the big Swans which is always pleasing. We are making a few errors but getting better as a team and that showed as we won the last race of the day."
CSA – Racing 5
Ross Applebey's Oyster 48 Scarlet Oyster is unbeaten in the class after his Guernsey YC team scored another pair of bullets today. Andy Middleton's British 47.7 EH01 scored two podium finishes today to establish the team in second place. Carlo Falcone's Antiguan one-off Caccia a la Volpe is third.
"It is great to be back racing in Antigua and today reminded us why; 18 knots of wind at times and blue skies, exactly what we come here for," commented Ross Applebey. "We are working hard, sailing cleanly and we are pretty happy. We started well today, got away and sailed in clear air. Once anyone is in front it is an advantage as you decide where to sail on the course, but especially with Scarlet Oyster as she is a hard boat to chuck around corners, so it is great to have some sea room."
CSA – Racing POGO 12.50
Three British crews are enjoying fantastic racing in downwind flyers at Antigua Sailing Week. Hermes skippered by Alistair Langhorne, with a team from Itchenor SC is winning the new Pogo 12.50 Class after four races. Tim Knight's Kai from the Lymington YC won the last race of the day to finish the day second in class, just two points off the lead. Chris Swallow's Akouavi from the Burton Sailing Club is third.
"One bullet and then second by five seconds; it is amazing how every second counts," commented Alistair Langhorne. "It was great fun, perfect conditions for Hermes. The boat has a big sail area and really fast downwind. The first time Itchenor SC came here was 2016 and after the wait due to the pandemic, coming back here again was sold-out to the group in 24 hours! We love it here."
CSA – Bareboat 2
Marcus and Suzan Zinth racing KH+P Culebra are having a ball at Antigua Sailing Week. The team from Bavaria, Germany are one of 15 teams that have been organised by one of the stalwarts of Antigua Sailing Week. KH+P Yachtcharter have brought over 400 crews to Antigua over the last two decades. KH+P Culebra have already won four races in the one-design Dufour 460 Class. Melanie Rensing's German KH+P Nolde is second in Bareboat 2 and Joaquín Vázquez from Madrid is third with his team racing Aproache Nevis.
"We were here 10 years ago and it has been my dream to come back to Antigua Sailing Week," smiled Suzan Zinth. "Now we are here it is so good. Today we did not sail so well, so we are very surprised and happy to have come first. We are having a lot of fun on the water in great wind with an excellent crew. When we come back to Nelson's Dockyard we all have a party, which I really like so much, everyone is having fun and mixing together."
After racing the Daily Prize Giving was held on the lawn of the Antigua Yacht Club. The top three teams of the day from all 15 classes took to the stage to receive their awards and there was one special award today for Susan Glenny's British First 40 Olympia's Tigress, who successfully recovered an uninjured sailor who had fallen overboard.
"We were 50 metres from our finish when we heard a call on the radio that someone was in the water and we spotted him. Whistler was close to the MOB, but we had a direct line to come to him and we went into our standard procedure for our MOB routine. Tigress has picked up a couple of people before at Cowes Week!"
Racing at Antigua Sailing Week continues tomorrow, Tuesday 3 May with Axxess Marine Y2K Race Day, followed by the 11th Edition of Reggae in the Park in Nelson's Dockyard with Romain Virgo, ANU Collective, Arlen Seaton, The Strays and Kenne Blessin, plus sounds by renowned Exorcist International, hosted by Ibis the Livest.
ENDS/…
---