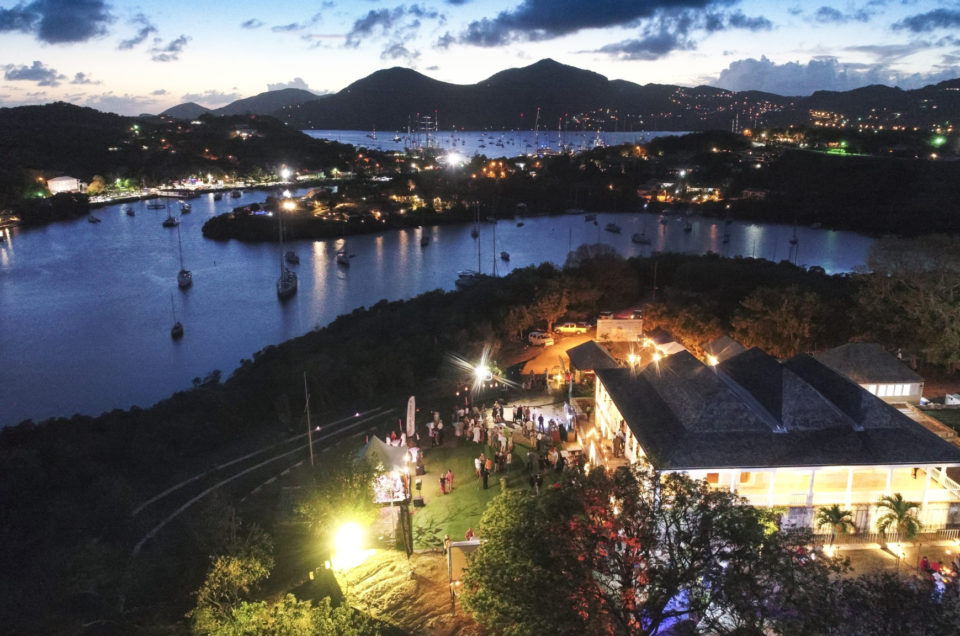 ST. JOHN'S, Antigua, May 5, 2017 –Luxury brand of iconic landmark hotels, The Waldorf Astoria Hotels & Resorts, announced the signing of a management agreement with Callaloo Cay Antigua during Antigua Sailing Week. The new partnership will result in the development of the Waldorf Astoria Antigua, the brand's first new-build resort in the Caribbean.
The announcement was first shared at a press conference and later revealed to invited guests at the invitation only Lord Nelson's Cocktail and Party held at Clarence House. The opulent 18th century Georgian building served as a backdrop for Callaloo Cay to announce its new luxury hotel partner brand.
The multi-million dollar development, which is scheduled to open in 2020, has also been rebranded.
"We are thrilled to announce our development will soon undergo a transformation in regards to branding, bringing one of the most prestigious of luxury hospitality names to the Caribbean," Senior Vice President of Business Development at Callaloo Cay, Dawood Shah said. "I'm pleased to announce that Callaloo Cay will soon don a brand name – the Waldorf Astoria Antigua!"
Senior Vice President of Luxury, Lifestyle, Resort and Corporate Development, Greg Hartman said that Waldorf Astoria Antigua would set a new standard of Caribbean luxury. "Waldorf Astoria Hotels & Resorts' mission is to be the fastest growing, most innovative luxury hotel brand in the world, and hotels like Waldorf Astoria Antigua represent the brand's commitment to continued expansion and delivery of luxury to the world's most sought after destinations."
The hotel development will be based on the south-eastern coast of Antigua at Morris Bay Beach, approximately 20 minutes from the V. C. Bird International Airport. It will sit on a sprawling 30 acres of pristine beachfront, as well as a stunning bluff overlooking Cades Bay.
The US$200 million hotel project will feature 95 guest rooms and 25 branded villas, including beachfront suites and hilltop accommodations, a world-class spa, a beach club and waterside-dining concepts, along with state-of-the-art fitness center. It will boast breathtaking views of the bay and calming lush surroundings, providing the ideal space for a comfortable and exclusive stay. A five-acre natural park will be developed as part of the project, available for guests to enjoy an outdoor experience.
The principals of the development noted that the Waldorf Astoria Antigua will feature an exquisite culinary experience with a specialty restaurant, signature bar and waterside dining concepts. For ultimate relaxation, guests will indulge in the resort's world-class spa, disconnect in the, or enjoy gentle breezes and azure waters on the beach.
"We are pleased to embark on this exciting development with Hilton and build a landmark luxury resort in the heart of this island sanctuary, " said Dawood Shah, senior vice president, business development Callaloo Cay Antigua. "Hilton's nearly 100 years of renowned hospitality, combined with the timeless sophistication of Waldorf Astoria, will help position this resort as the finest choice for luxury travel in Antigua and marquis development in global citizenship."
The principals of the development are also hoping that visitors could take in the island's rich history and culture, or experience one of the island's most famous activities such as sailing and yachting.
Waldorf Astoria Antigua will participate in Hilton Honours, the award-winning guest-loyalty programme for Hilton's 14 distinct brands. Hilton Honors members, who book directly through preferred Hilton channels have access to instant benefits, including a flexible payment slider that allows members to choose nearly any combination of points and money to book a stay, an exclusive member discount that cannot be found anywhere else and free standard Wi-Fi. Members also enjoy popular digital tools available exclusively through the industry-leading Hilton Honours mobile app.
---
You might also like