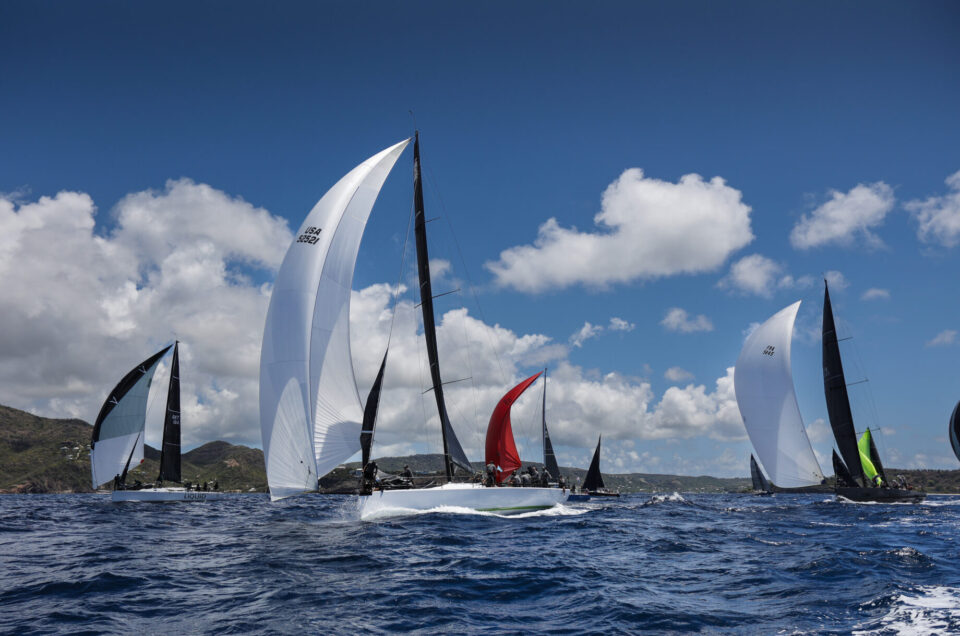 Antigua Sailing Week (ASW) is the must do regatta on the Caribbean circuit for regatta chasers from around the world. Ever evolving, the longest running international regatta in the Caribbean continues to be a melting pot of fiercely competitive international, regional and local sailors uniting at the end of the season for 5 days (plus one optional day) of racing in warm water, big seas and perfect tradewinds.
In 2024, Antigua Sailing Week celebrates its 55th regatta and a wide range of racing classes will be in competition in one of the world's best sailing locations. State of the art racing machines across multiple CSA Classes, Multihulls, Cruisers and Racer-Cruisers, Pocket Rockets and Bareboats, especially Charters are all welcome. Through the Race, Chase, Celebrate mantra, spectators both local and and visitors from overseas can be part of the action on the sea, the island or from the air.

"Racing has always come first at Antigua Sailing Week," commented ASW President Alison Sly-Adams. "It's a week of first-class racing in incredible conditions with the backdrop of iconic UNESCO Heritage site Nelson's Dockyard. A truly inclusive regatta where all classes of boats and sailors are able to compete. On top of that we remain focussed on giving Antiguan youths a launch pad into their sailing careers and showcasing women in the sport with a view to inspiring more to enter and remain in it."
The packed schedule at Antigua Sailing Week, starts on Friday 26 April with the first day of the Antigua Wingfoil Championship. Rivalry between high performance Monohulls  and Multihulls starts on Saturday 27 April with the stand-alone Peters & May Round Antigua Race. The five-day series for Antigua Sailing Week starts on Sunday 28 April with the Final Prize Giving Party on Friday 3 May.
"Good racing has always been our focus and for 2024 we plan on taking it to another level with One-Design. RS Elites were a trial effort last year but we are going all out to organise One-Design with the Elites, the invitational Dragon Class, and the Wingfoils." commented ASW Race Manager Jaime Torres. "We have a diverse range of classes, from Maxis and racing Multihulls to Sportboats and Bareboats. Our aim is to deliver awesome racing, tailored to each class, so that it's safe, competitive and fun."
"Not withstanding the recent fire devastation at the AYC Marina, the Antigua Yacht Club continues to be the heart of Antigua Sailing Week," confirmed Rana Jamila-Lewis, ASW Event Manager. "The venue of the Antigua Yacht Club will again host committee desk, registration, daily prizegivings and function as regatta central."
Each afternoon, the best crews  from each class can look forward to rocking up to the Antigua Yacht Club stage to their theme songs to celebrate their achievements. The afternoons are open to family and friends as a meeting place to exchange stories of the day's activities while having drinks and meals from the various options on hand. The fun doesn't stop after racing at Antigua Sailing Week and celebrations continue with a highly anticipated mid-week concert – Reggae in the Park, followed by the fun-filled beach activities of Lay Day.
A Certified Clean Regatta, Antigua Sailing Week has operated the Sailors for the Sea Clean Regattas programme since 2013. "We're very proud of our 7 year streak with S4S and next year we will continue to take every step possible to make sure our regatta and everyone involved works in a way that's sustainable and minimises impact on the environment.
New to Antigua Sailing Week 2024 will be a shuttle service between Falmouth Harbour and Nelson's Dockyard. "From our sailors' survey this year, we identified that we should provide a scheduled shuttle service from Nelson's Dockyard," continued Rana Jamila-Lewis. "This is to offer participants the convenience of getting the business of registration completed and to get from their respective marinas to the afternoon prize-givings in a timely (and cool) manner."
Antigua's central location is the perfect shipping out lift off point for boats with Peters & May special rates, and airline partner Virgin Atlantic has direct flights to London offering competitor discounts."
For the Notice of Race and on-line entry to Antigua Sailing Week, plus regular updates on the Caribbean's most famous regatta go to: www.sailingweek.com
---