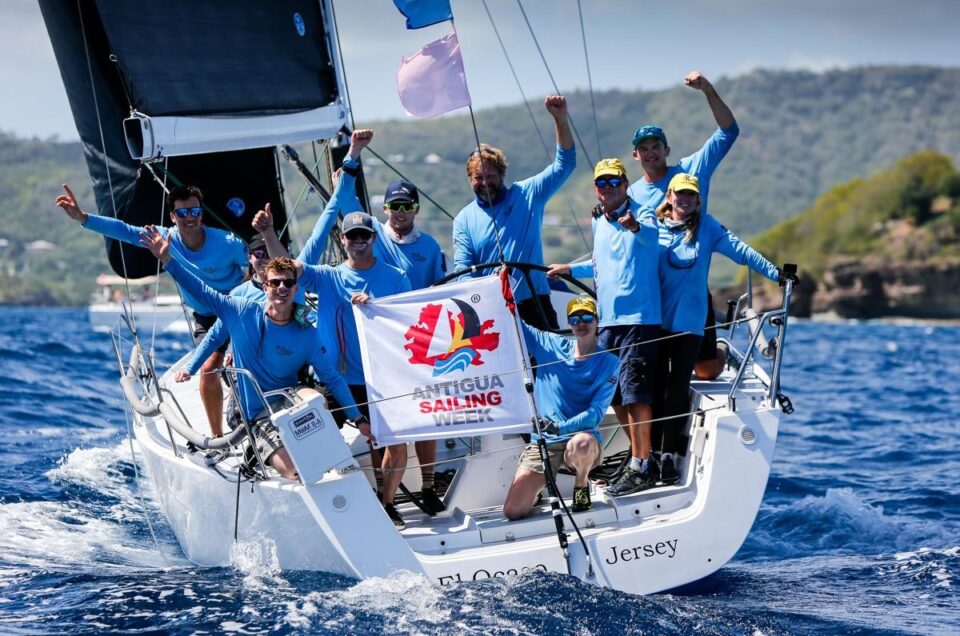 Overall Results can be viewed HERE
Antigua, Saturday 6 May: The 54th edition of Antigua Sailing Week attracted boats and crew from over 20 nations, with sailors competing from six continents. Moderate trade winds and tropical heat blessed the racing all week; sailing conditions were absolutely fabulous. Antigua Sailing Week is the most celebrated regatta in the Caribbean and the 2023 edition added another great chapter to the history of racing in Antigua, dating back to 1968.
The Final Awards Ceremony was a wonderful occasion for the final party. The World Heritage site, Nelson's Dockyard in English Harbour was a perfect setting for the famous awards ceremony. Guests of Honour were Charles 'Max' Fernandez – Minister of Tourism and Economic Development, Gregory Athill representing the Parliamentary representative for St. Pauls, Minister EP Chet Greene, Phillip Shoul – Chairman of the National Parks Authority, and Mrs Ann Marie Martin – Commissioner of the National Parks.
Antigua Sailing Week YouTube: https://youtu.be/Yk3XMnxM4hs
President of Antigua Sailing Week, Alison Sly-Adams welcomed the Minister of Tourism, Charles 'Max' Fernandez to the stage, who gave a warm welcome to the entourage. "Welcome back sailors, I recognise a few of you from last year!" commented Max Fernandez. "The pandemic took away the opportunity to host the number one Caribbean regatta, but our spirits were never dampened and we steered the course and we are here again to complete another week of spectacular competition and fun in our beautiful island paradise."
The National Anthem of Antigua was sung by Janisha Jacobs before Antigua Sailing Week Race Manager Jaime Torres invited Prize Winners to come to the main stage. All of the CSA, Club and Bareboat Class Winners at Antigua Sailing Week were awarded historic trophies and went home with Keeper Trophies and Locman Italy watches.
Chris & Caroline Body racing J/122 El Ocaso lifted the Lord Nelson Trophy to huge applause. The team from the Royal Southern Yacht Club in the UK is sailed by four members of the Body family; Chris and Caroline race with their two daughters, Jessica and Annabelle Body.
"I am completely flummoxed!" smiled Chris Body. "On behalf of the competitors, I would like to thank Alison, Jamie, Rana and the entire team who create and manage Antigua Sailing Week. These regattas don't just happen, they take a monumental amount of effort, and I know every competitor really appreciates the effort to make this such a spectacular event. Thanks to all the sponsors who kindly supported ASW and who provide that all so important lubricant to help make this event happen."
Chris Body continued, "I must say that looking at my wife admiring her new Locman watch this morning makes me hopeful that she might forgive me for spending so much on the boat! A big thank you to all the competitors and not only in our class. It was really great meeting and racing against you guys. As ever, you never give an inch on the race course, but are great fun at the bar. Antigua Sailing Week is one of the best warm water regattas in the world, with a great balance between competitive racing and time ashore, all wrapped up with great and reliable weather and very friendly and welcoming people. Spread the word!"
Second overall winning the Peter Deeth Trophy and winning CSA 1 for the Curtain Bluff Trophy was John Evans & Trey Sheehan's Hooligan USA, scoring eleven race wins. Second in CSA 1 was Daniel Gribble & Dean Ziehl's Prevail (USA), lifting the Global Bank Trophy with a crew from the Balboa Yacht Club, California. Third was Karl Pisec's Black Pearl (AUT) with a crew from the YC Porto Rotondo, Italy.
"I feel very blessed to sail with the Hooligan team," commented John Evans. "Hooligan is a really good boat. I am ecstatic that I came to Antigua Sailing Week. This is the best sailing regatta that I have ever participated in and there is a long list of those! It's very well run, very well organised. The Race Committee did an amazing job, and the conditions were just unbelievable. On the last day we had the most wind we have had all week, it was a bit tough but so much fun!"
Third overall and winner of CSA 4 was Chris Woods' Assuage (GBR) lifting the Catamaran Marina Cup  and the Chippy Fine Yacht Woodwork Trophy. Second in class was Andy Middleton's EH01-Global Yacht Racing (GBR) winning the Gitane IV Cup and the Hinkley Cup for Best Charter Yacht. Third was David Crum's Quintessence 3 (USA). Katy Campbell's Panacea (CAN) was the winner of the Holtman Cup for the Best Women's Crew at Antigua Sailing Week.
Built in 1996, the Frers Swan 48 Assuage is proof that a boat that is nearly 30 years old can make the overall podium and win class at Antigua Sailing Week. Chris Woods has beautifully restored Assuage and sails her with family and friends. "She is a lovely boat and I am glad that I brought it back to some fame," commented Chris Woods. "It has been a week of ups and downs. We busted a few things, but now I am happy as Larry! Assuage is a tricky boat to sail, but when she goes, she absolutely flies at 10 knots upwind! The boat is known by so many people and I am delighted to have raced at Antigua Sailing Week."
El Ocaso was the winner of CSA 2 lifting the English Harbour Rum Trophy and the Fletcher Trophy for the Best British Yacht. Second in CSA 2, winning the Mollihawk Trophy was Pamala Baldwin's Liquid (ANT). Third was Sir Richard Matthews' Holding Pattern (GBR).
The winner of CSA Multihull lifting the A&F Sails Cup was Guy Chester's Ocean Tribute (AUS). Second winning the Commanders Cup was Michel Larroche's Tribe (FRA) and third was Fedrik Moe's Moementum (JAM).
"This is a really good way to finish the season!" laughed Guy Chester. "We have done everything from Barbados Sailing Week, St. Maarten, the BVIs, St. Barths and to finish at Antigua Sailing Week with a win is just fantastic! I first sailed here in Anthony McVeigh's Dragonfly catamaran, I have sailed with Bernie Evan-Wong's Taz and Pamala Baldwin's Liquid, and Robbie Ferron's Oozlumbird, and on the TP52 Conviction. To bring my own boat back here, sailing it from New Zealand, is just frickin' awesome!"
The winner of CSA 4 was a team from Sag Harbor, New York on J/120 J-Aguar (USA), winning the Sanhall Trading Cup. Colin Baldwin's Live Love Antigua (Sete Maris) (GBR) was second in class winning the Delta Cup and Patrick Holloran's Caipirinha (GBR) was third.
"We had an absolutely great week," commented J-Aguar's Jim Ryan. "We put this together just a few months ago. We are all dinghy sailors but this is my seventh Antigua Sailing Week and I love it. I first came here 10 years ago when we won the Hamptons Challenge. This year, we worked as a team and we all got along on a great boat. Winning came down to not making mistakes and working hard, and we all still like each other!"
The winner of CSA 5 lifting the Governor General Cup was Tristan Marmousez's GFA Caraïbes – La Morrigane (FRA). Second was Jules Mitchell's NSA Spirit (ANT), winning the Grant Thornton Trophy and third was Jean François Terrien's Sang Neuf (FRA), which was the winner of the Travelers Trophy. Antigua Sailing Week was unfinished business for GFA Caraïbes – La Morrigane, which was second last year by just two points to NSA Spirit.
"It was very nice to win this year to make up for last year," commented Tristan Marmousez. "This year we had a lot of current and very complicated conditions. We are so happy as we have won in Grenada, St. Maarten, and now in Antigua. We cannot wait for next year!"
The overall winner of the Dream Yacht Charter Bareboat Class was Coleman Garvey's KH+P Nolde (IRL) winning the Dream Yacht Charter Trophy and the AHTA CUP for first in Bareboat 2. Second overall winning the LIAT Caribbean Airline Cup and first in Bareboat 1 for the Antigua Slipway Trophy was Alfred Geisser's KH+P Botero (SUI). Third Overall winning the EE Williams Memorial Cup and first in Bareboat 3 winning the BOAC Cup was Robby Nitsche's KH+P Barbuda (GER). John Howell & Paul Newell racing BESRA in Bareboat 1 won the Royal Southern Challenge Yacht Club Shield Trophy.
"I first came here as a once in a lifetime trip in 2013, but this is my sixth regatta!" smiled Coleman Garvey. "The competition in our class was fierce, so to win overall is just fantastic. Thank you to all the competitors and the organisers of this great regatta. I am sure we will be back again; it has been a wonderful surprise to win overall, at an exceptional regatta."
Antigua Sailing Week has always had the courage to evolve and this year two new sailing events were introduced, Wingfoil and the RS Elite Class.
The inaugural Antigua Wingfoil Championship Pro Class was especially intense, with local Wingfoiler Idani Edwards and Martinique Wingfoiler Anthony Smith battling for first place. Smith won the final and deciding race by just two minutes from Edwards.
Back in February, Antiguan Optimist Champion Emily Gaillard became the youngest competitor to complete the gruelling RORC Caribbean 600. At Antigua Sailing Week, Emily skippered Outdoor World Yamaha (ANT) to victory in the RS Elite Class, with a crew of Shannoy Malone and Alistair Knoblauch. All three are just 15 years of age and lifted the One Design Trophy as well as the Youth Trophy for Antigua Sailing Week. Second in the RS Elite Class was Paul Deeth's Da Boom (ANT) and third was Robbie Ferron's Oozlumbird.
Club Class 1 and the American Airlines Trophy went to Reggie Williams' Legacy (TRI) after a close battle with Mathias Maus' Alpha Centauri of London (GER). Third was Moonflower 3 (GBR) with an all-women team skippered by Chloe Need. The Soverel 43 Legacy is part of the history of Antigua Sailing Week; Legacy is the only racing mark of the course, named after the boat.
"My Uncle Douglas was the first builder and operator of Legacy. I was his apprentice in the 80s and for this regatta my son is sailing with us for the first time," explained Reginald Williams. "We nearly didn't make it this year; our engine was destroyed on the sail up and we had a new one fitted in Grenada. This year it was a wonderful opportunity to sail Legacy in these conditions, a privilege with this group of people. It has been wonderful and we look forward to coming back next year, and we encourage more boats from Trinidad to come. This regatta has beautiful sailing and great competition. We honour all of the competitors and in particular, Sir Hugh Bailey, who is an icon to our family."
Club Class 2 went to Geoffrey Pidduck's Hightide (ANT) lifting the West Indies Publishing Cup by just two points from the teenage team racing Absolute Properties BP, skippered by Carrack Jones, which won the Admiral's Inn Trophy. Third was the developer of the variable scoring system used at Antigua Sailing Week, Sandy Mair, racing Cricket (ANT). Sandy was also announced as the recipient of the Jan Santos Trophy in honour of individuals who have shown dedication to Antigua Sailing Week over an extended period of time.
Octogenarian Geoffrey Pidduck was competing at his 52nd Antigua Sailing Week and was congratulated by 15-year-old Carrack Jones at the prize giving. Pidduck's advice to the young talented sailor. "Learn from your competition Carrack, and very well done to you and your team. For me, your effort has made this a very enjoyable competition."
Internationally renowned Antiguan Band Asher Otto & Itchy Feet played a live set on the main stage after the Antigua & Barbuda Tourism Final Awards Ceremony with DJ Purist spinning the tunes long into a memorable night.
55th edition of Antigua Sailing Week – Make a note in your diary – April 27th – May 3rd, 2024.
Photo Galleries HERE
Video Galleries HERE
---