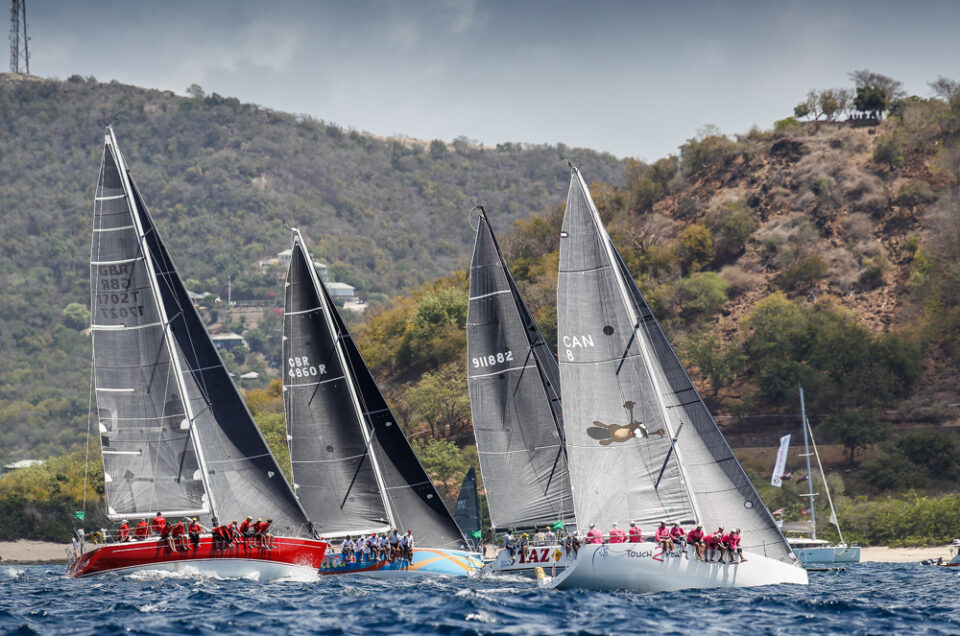 Antigua Sailing Week (ASW) is pleased to announce Sailing Week Sunday – a virtual event with stories, interviews and entertainment transmitting from Antigua on April 25, 2021.
Annually the international coverage of Antigua Sailing Week places Antigua & Barbuda as an unparalleled destination for an active lifestyle. With 2022 on the horizon the event is taking this opportunity to begin to build momentum for what will certainly be a bumper year.
Event manager Rana Lewis stated  "In the void created by the 2020 cancellation we relied on social media flash backs to previous years to maintain visibility and our spot on the calendar. After the cancellation of 2021 we sensed the need to interact with our worldwide audience in a festive manner while sharing the highlights of racing in Antigua & Barbuda. Essentially it is our way of extending an invitation to come as soon as is safely possible to race, chase and celebrate with us."
Telecomms provider APUA Inet have come on board with ambassadors Claudette CP Peters plus Tian Winter performing alongside recurring ASW entertainers 1761 degrees and Asher Otto & Itchy Feet.
The 2 hour program aims to connect with locals, the diaspora and reconnect with an audience who are longtime supporters and participants of Antigua Sailing Week, their friends who have heard great things about it as well as fans of the sport and the destination – any of whom may be considering Antigua & Barbuda as an active or leisure vacation option.
The Antigua and Barbuda Tourism Authority is excited to be a part of Sailing Week Sunday and have partnered with luxury 5 star beachside property the Carlisle Bay Resort. Situated in the south-west of the island on a palm fringed crescent beach with a backdrop of emerald rainforest, the hotel is the ultimate in luxury.
Social media followers of Antigua Sailing Week and Antigua Barbuda Tourism who log on and tune in to Sailing Week Sunday will find out how to win one of 2 great trips to stay at Carlisle Bay for 4 nights. Flights are included from the United Kingdom, North American and Caribbean markets for two lucky couples or friends.
"A flagship event for Antigua and Barbuda, Antigua Sailing Week plays an important role within the yachting pillar of our tourism marketing strategy. This event allows for the creation of jobs and revenue and as such the Antigua and Barbuda Tourism Authority remains committed to supporting Antigua Sailing Week," said CEO of the Antigua and Barbuda Tourism Authority, Colin C. James.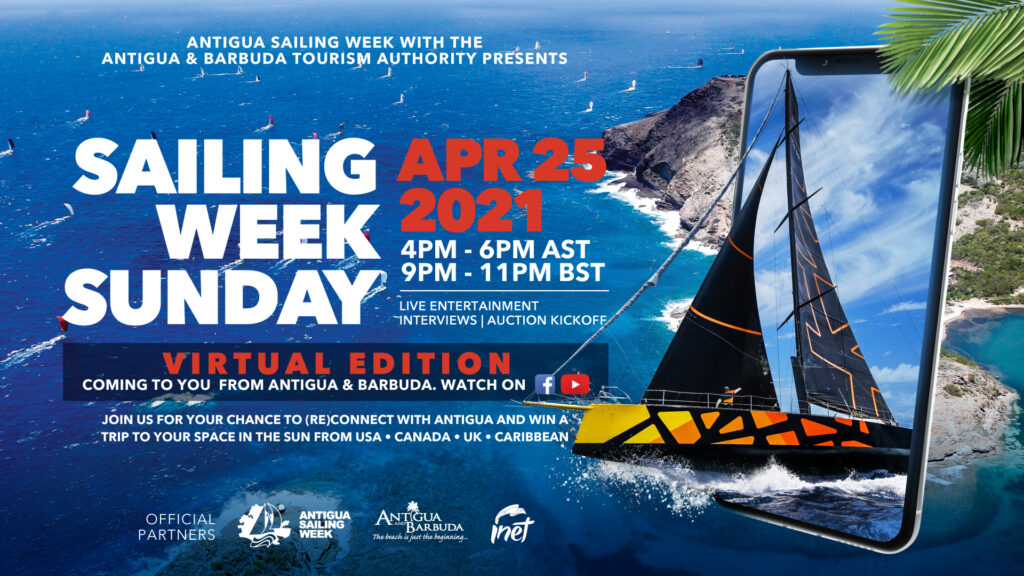 Sailing Week Sunday will be aired from 4pm – 6pm AST / 9pm – 11 pm BST on Sunday 25th April via social media channels Facebook.com/Sailingweek and YouTube – Antigua Sailing Week.
Following Sailing Week Sunday, the Antigua and Barbuda Tourism Authority will virtually host the Antigua Sailing Week Lay Day on 28th April via the ABTA social media channel.
Additionally audiences can look forward to further exciting initiatives announced weeklong through social media.
---