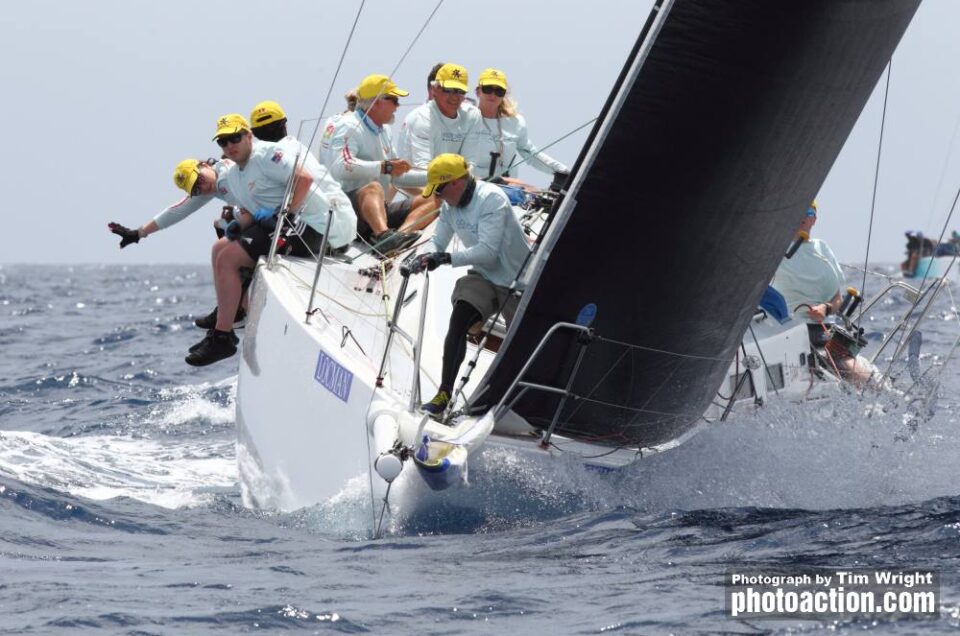 English Harbour Rum Race Day 1

Racing at the 53rd edition of Antigua Sailing Week kicked off today with English Harbour Rum Race Day 1 on the South Coast of Antigua. Eighty-seven teams from over 20 different countries enjoyed tropical conditions at one of the world's best sailing playgrounds. Two races were completed for 14 classes, with the new CSA Sportsboat Class getting an extra helping, with three short sharp windward leeward races. "A solid south easterly breeze of 12 knots built to about 16 knots during the day, with the wind oscillating just 10 degrees, a perfect day," commented Race Officer Neil Andrew for the Windward Course.
Winners on English Harbour Rum Race Day were: Ambersail 2, Tschuss, Mahana, OMII, Blitz, Scarlet Oyster, Hermes, GFA Caraïbes – La Morrigane, Tosca, Rebel, Holding Pattern, PepsiMax ~ Montebello, Blue Skies, Schrodinger, KH+P Culebra, KHS&S Contractors, Braque, and Cricket with Anjo Insurances. Results from Antigua Sailing Week: https://yachtscoring.com/event_results_cumulative.cfm?eID=14323
Hundreds of spectators watched the racing from Shirley Heights Lookout and from the world-class resorts and beaches on the idyllic West Coast of Antigua. Many more race fans enjoyed the action with front row seats on the water with Chase the Race Wadadli Cats.
Quotes from the boats:
CSA – Racing 3
Shahid Hamid's Frers designed British Swan 58 OMII won both of today's races. Jonathon Pudney's Itchenor SC crew racing Lombard 46 Pata Negra was second. Adrian Lee's Irish Swan 60 Lee Overlay Partners II was third.
"This is my first Antigua Sailing Week, but we have a house here and what an amazing place. We have been here for nearly six months, so this is home," commented Shahid Hamid. "We were disappointed in 2020 when everything was cancelled, so it is great to finally be here. Before today, we knew a little about Pata Negra as we raced with them in BVI and St Barths. We were apprehensive at the start of the day, but we did our best and got through!"
CSA – Racing 4
Peter Corr's King 40 Blitz from St Thomas won both of today's races. Chris Body's British J/122 El Ocaso finished the day in second place, edging out Pamela Baldwin's Antiguan J/122 Liquid by a single point into third.
"The competition is really heavy, but I didn't have time to look around, we were just making the boat go as fast as possible and we are quick in light air. It was a really fun day, but I am under absolutely no illusion this is a tough class. I used to race here a lot but haven't been here for a few years and it's good to back!" commented Peter Corr after racing.
CSA – Racing Sportboat
From Martinique, the Surprise 24 GFA Caraïbes – La Morrigane, skippered by Tristan Marmousez won all three races today beating two red hot teams from Antigua. 1720 NSA Spirit, skippered by Jules Mitchell finished the day in second for the class. Ashley Rhodes' Melges 24 Whiplash is third.
"A very nice win today against a high standard of competition," commented Tristan Marmousez. "We did not know this class and these competitors until today and it was tough with light winds, current and a lot of seaweed. We are very happy with our results but our symmetric set-up was a big advantage today, but in more wind, it will be very different."
Club Class
Sandy Mair's Antigua First 35 Cricket with Anjo Insurances was today's winner by just over a minute after time correction from Eduardo Lentz's Vollactus. Peter Hopps racing Spirit of Venus was third. Sandy is a veteran of Antigua Sailing Week and was the inventor of Club Class, according to Race Manager Jaime Torres. Was Sandy embarrassed about the win? Not a bit!
"That was fantastic!" commented Sandy Mair. "It was a great course; we did sail the first beat badly and got way down the pan, but we got in the groove really well and were brilliant after that. We sailed the boat as well as I have in my life! I am looking forward to tomorrow and no worries, we are going to do it!"
CSA – Performance Cruising B
From Guadeloupe, Sacha Daunar's First Class 10 PepsiMax ~ Montebello scored a race win and also a tie after CSA time correction with Gerard Quenot's JPK 1030 Blue Skies. Third after Day One is Remco van Dortmondt's J/105 Jenk from Curacao.
"This is the first regatta for this team, but personally this will be my tenth and it is a pleasure to be here," commented Sacha Daunar. "Guadeloupe has a history dating back even before Antigua Sailing Week. This is only our second regatta for the team, so to win today is perfect, but it is only the first day and I am sure we will have a good battle for the rest of the regatta. It is a long week and we hope to be top at the end of it."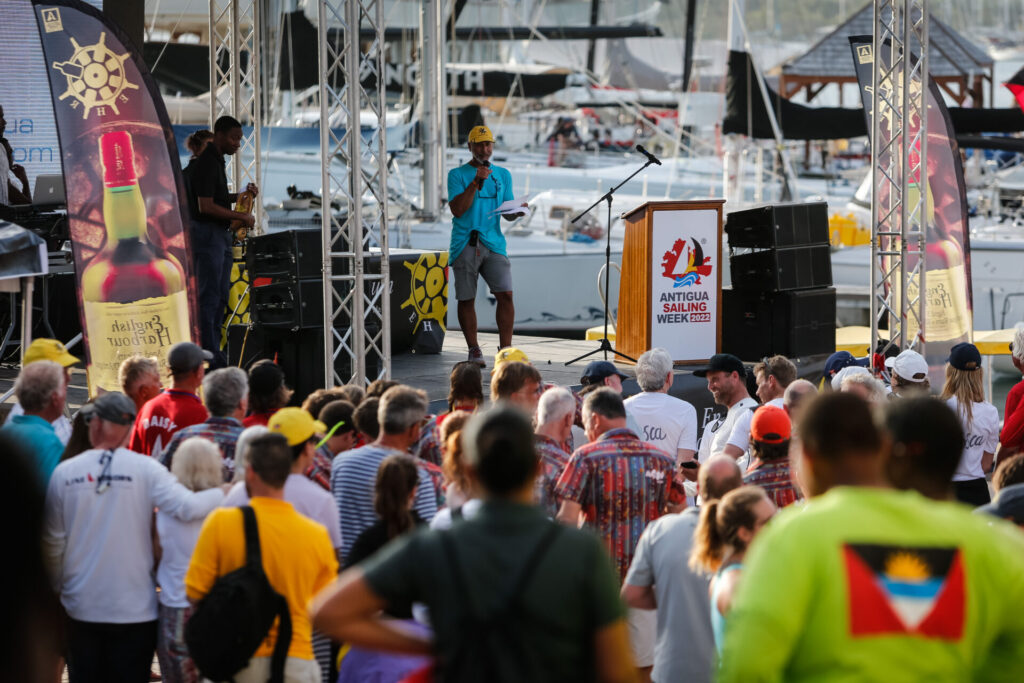 After racing, the English Harbour Rum Race Day Prize Giving was held on the lawn of the Antigua Yacht Club. President and Commercial Director of Antigua Sailing Week Alison Sly-Adams welcomed the Honourable Max Fernandez, Minister of Tourism who welcomed all of the sailors to Antigua Sailing Week. Master of Ceremonies for the English Harbour Rum Race Day Prize Giving was ASW Race Manager, Jaime Torres. After the prizegiving DJ Nez was spinning the tunes to the happy sun-kissed sailors.
Calbert Francis, Global Export Manager for Antigua Distillery said: "We make English Harbour Rum and I must say today has been monumental. It's been a two-year break and I'm so glad to see us back here with all these sailors and of course the success of our local and younger sailors as well. I just want to say welcome back and I hope you have an excellent week of racing."
---