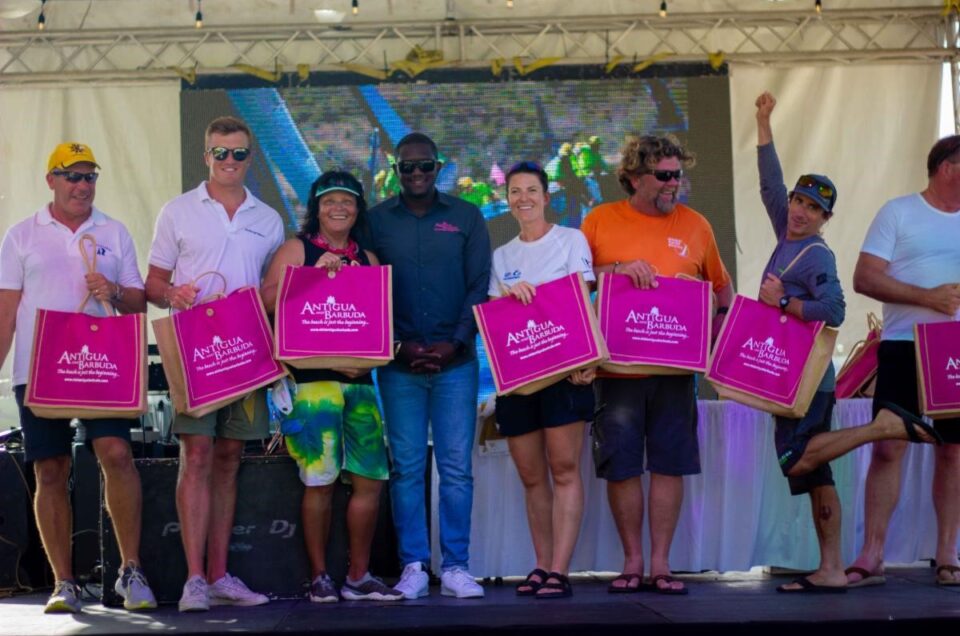 Friday 05 May: Antigua & Barbuda Tourism Race Day
The final day of racing at Antigua Sailing Week was held in the strongest wind of the regatta, with solid south easterly trade winds gusting up to 18 knots. Provisional Overall Results can be viewed here:
The CSA Racing Classes had two races starting off Windward Beach on tight technical windward leeward courses, testing boat handling and crew mettle with class wins in the balance. The Bareboat Classes raced off Rendezvous Bay with courses including the deep water mark 'Old Road' providing exhilarating downwind legs. The Club Classes had a glorious final day of racing with a long course taking in superb vistas of Antigua, including the world famous, award winning Cades Reef.
Standout race winners on the last day: Michel Larroche's Gunboat 62 Tribe, Sir Richard Matthews' Holding Pattern, Andy Middleton's EH01 – Global Yacht Racing, David Ross's Adagio of Lorne, Reginald Williams' Legacy, Katy Campbell's Pancea X, and Colin Baldwin's Live Love Antigua (Sete Maris).
Bareboats Focus at Antigua Sailing Week
Supported by Dream Yacht Charter, the Bareboat fleet at Antigua Sailing Week is separated into three classes. While the boats are designed for cruising the islands of the Caribbean, the racing is red hot, often with boats overlapped going through the finish line. The Overall Winner of Bareboat and the Dream Yacht Charter Trophy will be announced tonight at the Final Awards. Class Winners in the Bareboat Division have been decided.
Bareboat 1
Swiss skipper Alfred Geisser's KH+P Botero, with a team from Lake Constance, leads Bareboat 1 with seven race wins. Second is Jakob Oetiker's KH+P Braque, with Richard Sender's Hawking-DYW in third.
Bareboat 2
Colman Garvey's KH+P Nolde, with a team from the Royal Cork YC, Ireland scored a perfect 12 race wins, dominating the Bareboat 2 Division. Two proven winners at Antigua Sailing Week made the podium. Second was Alexander Pfeiffer's KH+P Nevis and third was Thomas Sparrer's KH+P Anguilla.
"It's been a hard week, especially living with these guys for the last six days!" commented Coleman Garvey. "This is a great regatta, good fun, with close racing every day. We first came here in 2013 as a once in a lifetime regatta, and this is our sixth! This is only our second class win, so that shows you how hard it is."
Bareboat 3
Robby Nitsche's team from the Lindauer Segler-Club, Germany racing KH+P Barbuda scored nine race wins in Bareboat 3 with Tim Ford's KH+P Creole as runner-up. A close battle for third was decided on countback. Anna Seidl's all-women team on KH+P Bequia took third by winning the last race. Seth Rogers' Talitha was fourth.
"This was my 24th Antigua Sailing Week and it was a great time, and I am still enjoying it!" smiled Robby Nitsche. "This year was highly competitive. If you look at the crew lists you can see a lot of well-known, experienced sailors on the helm of these bareboats, and I like that very much."
The sun will set on the 54th edition of Antigua Sailing Week in the historic surroundings of Nelson's Dockyard. Class Winners, plus Special Awards including the winner of the Lord Nelson Trophy will be announced at the Antigua & Barbuda Final Ceremony. The Awards will be followed by the famous after-party. Asher Otto & Itchy Feet will play a live set on the main stage, with DJ Purist keeping it lit until the early hours.
For more information about Antigua Sailing Week: www.sailingweek.com
---