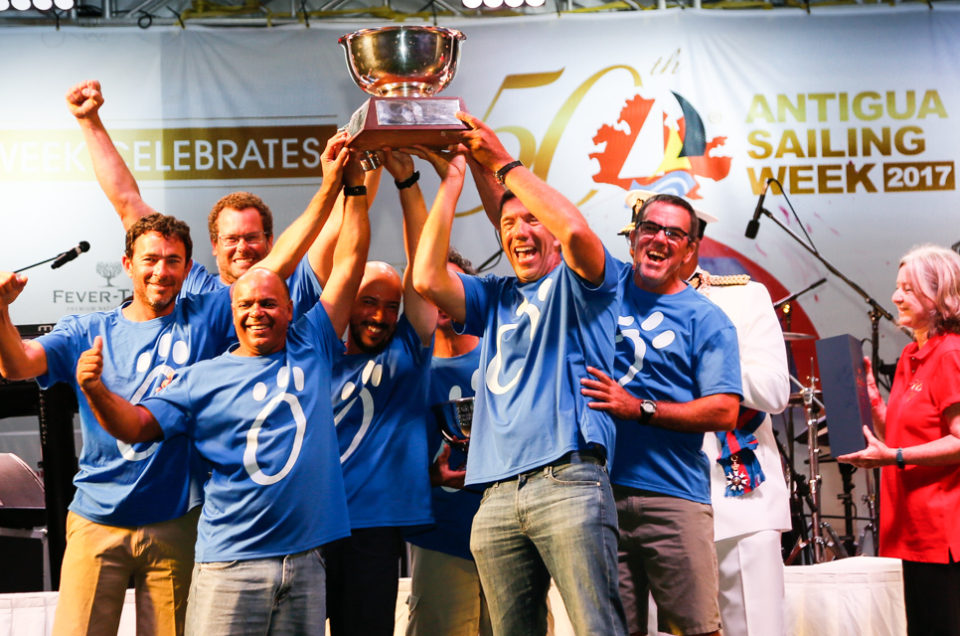 ST. JOHN'S, Antigua, May 6, 2017 –The Grand Awards Ceremony for Antigua Sailing Week was held in Nelson's Dockyard and the UNESCO World Heritage Site was a fitting venue for the 50th edition of this historic occasion. Thousands of sailors attended the ceremony and whilst all of the respective class winners had been posted, there were special awards that were still to be announced, including the biggest prize in Caribbean sailing, the Lord Nelson Trophy.
Asot A Michael, MP, Minister of Tourism, Economic Development, Investment & Energy of Antigua and Barbuda, gave a heart-warming welcome speech to the crowd, which highlighted how important Antigua Sailing Week is to the twin island nation. Guest of Honour, His Excellency Sir Rodney Williams, Governor General of Antigua & Barbuda presented the main prizes.
The stage was glittering with dozens of trophies, many of which have been sought after for decades of Caribbean racing.
Winners took to the stage to receive their appreciation from the crowd, and finally there was just one trophy left. You could feel the tension as MC Tommy Paterson announced the winner of The Lord Nelson Trophy as Sergio Sagramoso's Puerto Rican Melges 32, Lazy Dog.
Sergio Sagramoso and his team took to the stage to tumultuous applause and then crowded around the historic Lord Nelson Trophy after the prize giving, scanning the list of names etched upon it over the years. The last Puerto Rican boat to win the trophy was Tom Hill's Titan XII in 2005.
"It is really amazing," smiled Sergio who had been racing in the highly competitive CSA 4. "I am so proud. The Lazy Dog team will always remember this moment; this is why we do it. This was the toughest regatta I have ever been to with eight races and a very high level of competition."
Ross Applebey's Oyster 48, Scarlet Oyster had been in impressive form all week, however the British charter boat was once again just short of winning the Lord Nelson Trophy. Ross and his crew didn't leave empty handed though, as the team left the stage with a huge haul of silverware for their efforts including: The Governor General's Cup for first overall in CSA 5, Best British Race Charter Yacht, Royal Southern Yacht Club Shield Trophy for the Inter-Yacht Club Challenge and the Peter Deeth Trophy for 2nd overall in CSA 1-6.
Sir Peter Harrison's Super Maxi Sojana racing in CSA 1 was close to winning the Lord Nelson Trophy for the second time and the crew where in good spirits as they took to the stage to receive multiple awards. They broke into song, singing 'Happy Birthday' to both the regatta and Sir Peter who celebrated his 80th birthday during the week. Sojana's trophy haul included: the Curtain Bluff Trophy for the overall win in CSA 1, The Corum Cup for winning overall in CSA 1-6, and the Fletcher Trophy for Best British Yacht.
Fritz Bus's St. Maarten Melges 24, Team Island Water World had an epic battle in CSA 6 with Antigua National Sailing Academy's Cork 1720, Spirit, skippered by Jules Mitchell. Team Island Water World won the class and Best Caribbean Boat in Start Boat A. Spirit was the Best Antiguan Boat in Start Boat A. After a keenly contested duel it was great to see the two teams sharing a photograph at the Awards Ceremony.
The K3 Foundation, racing Kialoa III and Clint Brooks' Bajan TP52 Conviction had a fantastic regatta; both yachts scoring seven bullets to win their respective classes, CSA 2 and CSA 3.
Winning the Big Banana Trophy for Best Caribbean Yacht and the Grant Thornton Trophy for Best Boat Overall in CSA 7-9 was Cary Byerley and Sir Robbie Ferron's Micron 99 Lord Jim from St. Maarten. The team had to overcome a 1.5 point deficit in the last race to their long term rivals, Sir Bobby Velasquez and his St. Maarten team racing L'Esperance. They went on to achieve victory by just two seconds!
"Two seconds and half a point; shockingly dramatic," commented Sir Robbie Ferron. "I could never believe it would be that close. In all my years, I have never won a regatta like that and I doubt if anyone else has. For the last three years, I have been racing against Bobbie in many regattas and we have always just missed out. I have great respect for him so we have a great ambience. Reflecting on how Antigua Sailing Week had evolved, this regatta has done the right things for the competitors and it is getting the appropriate response. Sailors are enjoying the experience and that is why it has such a great turnout and I believe that the momentum will continue beyond the 50th regatta, continued Ferron."
Antiguan, Sir Hugh Bailey won the Lord Nelson Trophy last year and was second in CSA 3 this year with a new acquisition, his Farr 45 Rebel-B. Sir Hugh has been involved in all 50 editions of Antigua Sailing Week.
"Back when it all started, if you told me that 50 years on we would have thousands of people racing in Antigua from all over the world, I would have said that was far from our thinking. I am happy to see the growth and I feel privileged because I am the only captain from the early days still alive and on the race course. This year I really enjoyed my new boat Rebel-B; we have a lot to learn, and I am sure we will get the boat even faster."
Winning the Dream Yacht Charter Trophy and one week Bareboat charter from Antigua was Mike Cannon & Neil Harvey's KHS&S Contractors from Florida, USA. "The team has won multiple times all over the Caribbean, but this was its first trip as a team to Antigua Sailing Week.
"I cannot believe how good this experience has been," commented Mike Cannon. "The crew and the people in Antigua have been just fabulous – unreal. I am not sure why it has taken us so long to come here. I have been to a lot of regattas in my life and this is one of the best places I have ever been and you can be sure we will be coming back!"
The 51st edition of Antigua Sailing Week will take place from April 28th to May 4th, 2018.
For full results, pictures, videos and stories of the Golden edition of Antigua Sailing Week: www.sailingweek.com
More images on the website: https://sailingweek.com/
See epic highlights from the 50th edition of Antigua Sailing Week below:
VIDEOS: All this week's videos can be embedded from this link:
https://www.youtube.com/playlist?list=PLaGPffXR6shaIv4N2hhAMlYYgdXrXQ6zz
PHOTOS: High res images available on request: media@sailingweek.com
---
You might also like