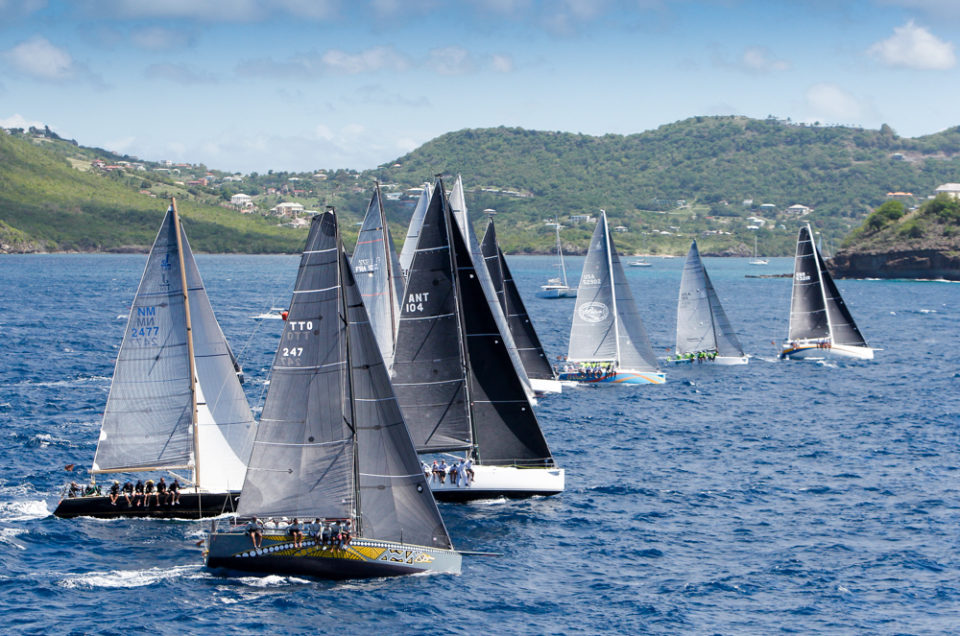 Antigua Sailing Week is booming with 92 teams already chomping at the bit for action from 30th April to 6th May 2022. Antigua Sailing Week is the longest running premier regatta in the Caribbean. The 53rd edition has already attracted teams from 18 nations around the world with over a thousand sailors expected to enjoy thrilling sailing in the spectacular waters of Antigua. The racing programme remains the same with the stand-alone Peters & May Round Antigua Race kicking off the schedule, followed by five days of racing, punctuated by mid-regatta Lay Day on Pigeon Point Beach.
Antigua Sailing Week has always been blessed with a big boat bonanza and this year's entry already has 17 boats over 50ft. The latest boat to sign up for the CSA Racing Division is the VO65 Ambersail II (LTU), skippered by Raimundas Daubaras. Ambersail has competed many times at Antigua Sailing Week and was runner-up in CSA Racing 1 in 2019. The all-Lithuanian crew are looking to go one better this year. Strong competition will come from Seattle USA, Volvo 70 Ocean Breeze will be skippered by Antigua Sailing Week veteran Steve Travis with a team from the Corinthian Yacht Club. Nine Volvo Ocean racers are active in the Caribbean, more entries are expected for Antigua Sailing Week.
The Multihull entry is taking shape with Robert Szustkowski's HH66 R-SIX (POL) back to defend their CSA Multihull Racing title. R-SIX was undefeated in 2019 but this year strong competition will come from Gunboat 68 Tosca (USA), which has recorded a speed of 38 knots, when co-skippered by Ken Howery and Alex Thomson, in the RORC Transatlantic Race. From Bordeaux France, Pierre de Saint Vincent's Outremer 51 Piment Rouge is the first entry in CSA Multihull Cruising.
Six weeks before Antigua Sailing Week, the scratch sheet boasts a magnificent entry of Swan yachts from five different nations. Swan 60 Lee Overlay Partners (IRL), skippered by Adrian Lee will be flying the RORC burgee and defending their class win in 2019. The highest rated entry is the Juan Kouyoumdjian designed, Swan 58 OMII (GBR), skippered by Shahid Hamid and will be flying the burgee of the Société Nautique de Saint-Tropez. Also competing will be Swan 51 Eira (FIN) skippered by Sebastian Gylling with a crew from the Nyländska Jaktklubben. Swan 651 Geronimo (NED) is skippered by Erik Veldhuizen with a team from the KNRZV in Muiden. Swan 601 Lorina (BEL) will be skippered by Hein D'Haene with a team from the YCF in Lummen.
Making their debut at Antigua Sailing Week will be FAST40+ Tschuss (USA), skippered by Johnny Mordaunt with a team from the NYYC and Royal Cork YC. Another first-timer is Jean Yves Thomas', Ice Yacht 52  Mahana (FRA) with crew hailing from Brittany & Marseille. Entries 40ft and over include Ross Applebey's Scarlet Oyster (GBR), defending their class win in 2019 with a team from the Guernsey Yacht Club. Pamala Baldwin's J/122 Liquid (ANT) was runner up to Scarlet Oyster and will be back for another campaign, Liquid has been in fine form having twice won the CSA Traveler's Trophy. Andy Middleton's First 47.7 EH01 was third in class for 2019 and also among the early entries for 2022. Lombard 46 Pata Negra (GBR), skippered by Jonathon Pudney with a team from the Itchenor SC is also back this year. Sir Hugh Bailey won the Lord Nelson Trophy in 2016 and his Antiguan team will once again be flying their colours from Farr 45 Rebel. Peter Corr's King 40 Blitz (USVI) will be racing with a team from St Thomas and Chris Body's J/122 El Ocaso (GBR) is always well sailed. An international match race within their CSA Class is on the cards between two J/121s, Peter Lewis' Bajan team on Whistler (BAR) and Wings (GBR) skippered by Andrew McIrvine's Team Larry, celebrating a big birthday!


Antigua Sailing Week welcomes teams from all over the Caribbean, and so far, this year six nations have answered the call with teams from Antigua, Barbados, St Barths, St Maarten, the British Virgin Islands, and the US Virgin Islands. From Antigua, the pocket rocket in the CSA Racing Class is Bernie Evan-Wong's RP37 Taz (ANT). Antiguan resident, Sir Richard Matthews will be back racing his ST37 Holding Pattern (GBR), which was class runner up in 2019. The largest Antiguan boat is Peter Anthony's Farr 65 Spirit of Juno, third in class for 2019. Sand Mair's Cricket with Anjo Insurances, Patrick Holloran's Caipirinha, and Geoffrey Pidduck's High Tide are all Antigua Sailing Week veterans.
A new class for this year is CSA Sportboat, which already has a fleet of six including 1720s and Melges 24s, which will be belting around specially designed courses. Antiguan NSA Spirit will be skippered by Jules Mitchell, St. Barths, Melges 24 Boost'n sail will be skippered by Mowgli Fox and St Maarten Melges 24 Team Island Water World will have Frits Bus on the tiller. Two Antiguan Melges 24s will be in the mix, Richard Archer's Regardless and Ashley Rhodes Whiplash.
Antigua Sailing Week sponsor, Dream Yacht Charter is experiencing high demand for Bareboats. 35 teams have already entered the CSA Bareboat Division with over half the teams coming from KH+P Yachtcharter based in Stuttgart Germany. The Bareboats will all be based in Nelson's Dockyard providing a wonderful party atmosphere after racing. Teams come from at least six different countries including, Brazil, Germany, Great Britain, Ireland, Switzerland, USA.
For teams looking to enjoy the shoreside fun as much as the on the water action, the CSA Jib and Main and Club Class are just the ticket. "We are putting a massive effort into making the cruising classes cool again, it is the origin of Antigua Sailing Week," commented Antigua Sailing Week Race Manager Jaime Torres. "Our cruising classes are fun, easy to enter and inexpensive. These classes are made for people that want to get into racing without buying a race boat."
For those who want to be a part of the event, and may not be able to participate in the full 5 days of racing,  consider entry to the stand-alone Peters & May Round Antigua Race on April 30th. This one-day race provides an ideal way for yachts to extend their Caribbean racing season before they head back across the Atlantic.
Boats that have already entered are encouraged to pay before rates increase to US $17 per foot, by returning to their Yachtscoring profile before April 8th, 2022.
For more information about Antigua Sailing Week including Notice of Race, online entry and payment visit: www.sailingweek.com
---